Marawi's returnees: Health care and safe water top priority
Manila (ICRC) – Thousands of displaced residents of Marawi City started their journey home earlier this week, several days after the government officially declared the end of armed clashes between its forces and IS Ranao fighters.
Five months of conflict caused low-to-medium-scale damage to around 65 "barangays" (villages) out of 96 in Marawi City. This means that the government will be able to allow more than half of Marawi's estimated 200,000 population to return home in the coming days or weeks.
"Even as we look after the needs of returning residents, we remain deeply concerned about the thousands of people who will be unable to return in the coming months. They will need constant support during this period," said Roberto Petronio, the head of the International Committee of the Red Cross (ICRC) Mindanao sub-delegation, after his recent trip to Marawi City.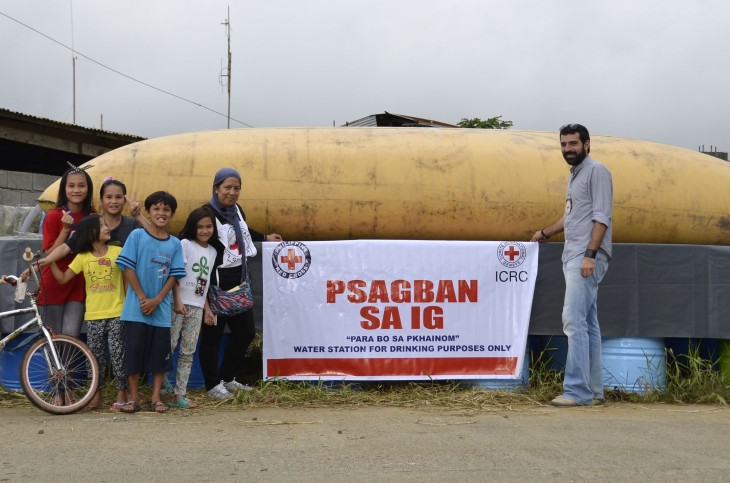 The ICRC is supporting the return of displaced residents by enhancing their access to health care and potable water. Barangay health stations in Basak Malutlut, Poblacion Marawi, East Basak and Bangon have received essential medicines and supplies to meet the health needs of returnees.
Together with the Philippine Red Cross (PRC), the ICRC has set up 11 water distribution points to improve the supply to nine barangays in the west. Two generators have been donated to the Marawi City Water District, enabling it to supply around 62,000 people with 5 million litres of water per day.
"In the coming weeks, our focus will be on the thousands of people who remain displaced in the southern and western parts of Lake Lanao, as these areas are hard to reach and do not receive as much help," said Mr Petronio.
As part of its work to reunite families separated by conflict, the ICRC continues to follow up on cases of people who went missing in Marawi and supports the Philippine Red Cross' tracing services on the ground and online: https://familylinks.icrc.org/Philippines.
The ICRC is a neutral, impartial and independent humanitarian organization whose exclusively humanitarian mission is to protect the lives and dignity of victims of armed conflict and other situations of violence and to provide them with assistance. The ICRC also endeavours to prevent suffering by promoting and strengthening humanitarian law and universal humanitarian principles.
For further information, please contact:
Lany de la Cruz (in Iligan), tel: +63 999 887 0985
Heidi Anicete (in Manila), tel: +63 928 504 7648
Allison Lopez (in Manila), tel: +63 908 868 6884