The ICRC seeks China's cooperation for humanitarian assistance in Afghanistan
"However, the message from the ICRC is that we will continue to work in Afghanistan," said Krähenbühl. At the beginning of September, just two weeks after Afghanistan's "power change", ICRC President Peter Maurer conducted a four-day visit to Afghanistan, a clear message to all that the ICRC will remain operational in Afghanistan and will continue to provide humanitarian assistance to the Afghan people.
"If a conflict lasts for three or four decades, one cannot simply distribute tents every six weeks and food aid every two months," said Pierre Krähenbühl, head of ICRC's Regional Delegation for East Asia and the ICRC president's special envoy to China, in an exclusive interview with Caixin in Beijing. "You have to think: How can we strengthen the ability of the population to digest and combat the continuous impacts [of conflict] in life? However, the ICRC cannot do this alone," he added.
For organizations operating in protracted conflict and volatile political situations, providing humanitarian assistance on both sides of the contact line can be extremely dangerous. Current armed conflicts in many regions of the world are becoming protracted, and unlike previous conflicts between states, the "asymmetric wars" within a country, between government armed forces and non-state armed groups are increasingly being fought in densely populated urban areas. In war-torn countries, communities' access to public services often declines sharply as the conflict continues and infrastructure is extensively damaged.
The changing nature of conflict has prompted humanitarians around the globe to rethink and adjust their approach to humanitarian work. "As soon as this happens, it means that organizations like the ICRC are facing serious obstacles such as ensuring safe access to the region and maintaining open channels for dialogue with parties to the conflict," says Michael Talhami, ICRC's WatHab and Urban Services Advisor. "Because the war takes place in the cities, the demand for assistance on the ground will also grow both in terms of the scale and the impact," he added.
Established in 1863, the ICRC is an independent, neutral organization, working in more than 100 countries around the world. Its main mission is to provide humanitarian protection and assistance to victims of armed conflict and other violence, including ensuring food, medicine, communications and health care, and to protect the rights of prisoners of war. Its core mandate includes promoting compliance with international humanitarian law and its domestic implementation.
Both Talhami and Krähenbühl emphasized that ICRC's continued work in a conflict setting and the safety of its personnel depend to a large extent on the recognition of the ICRC as a "neutral, independent and impartial" humanitarian organization, with the ability to obtain safe access through bilateral confidential negotiations with the parties in conflict.
Afghanistan is undergoing tremendous political change. With the war on the ground intensifying, some humanitarian and development organizations, including agencies of the United Nations (UN), have gradually withdrawn their staff from Afghanistan. In mid-August, after the Taliban announced their takeover of Kabul, many employees of the former Afghan government and professionals such as doctors, engineers, teachers and technical personnel also managed to escape from Afghanistan.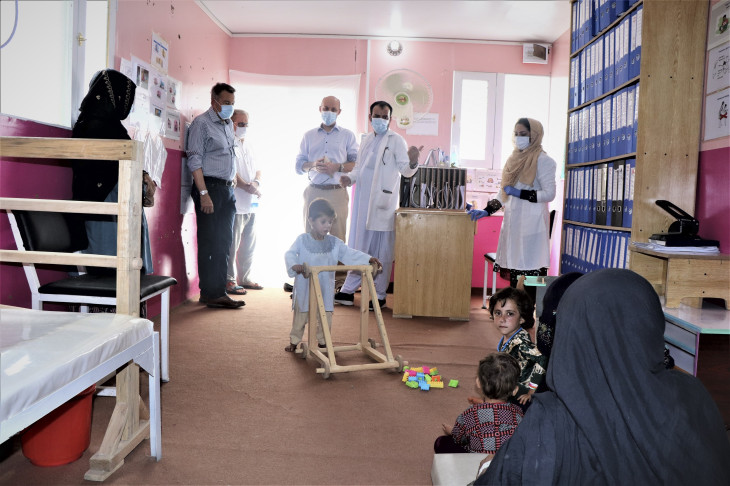 "However, the message from the ICRC is that we will continue to work in Afghanistan," said Krähenbühl. At the beginning of September, just two weeks after Afghanistan's "power change", ICRC President Peter Maurer conducted a four-day visit to Afghanistan, a clear message to all that the ICRC will remain operational in Afghanistan and will continue to provide humanitarian assistance to the Afghan people.
The ICRC has been present in Afghanistan since 1987 and has more than ten subdelegations and over 1,800 staff members, mostly local, in the country.
According to Krähenbühl, in the past 30 years, the ICRC has worked with politicians, members of the armed forces and officials in public services in Afghanistan, including in the Taliban-controlled areas where we have built positive working relationships with senior and local leaders of the Taliban. "That's why, today our colleagues in Kabul are able to say: 'Even if the situation has changed completely overnight, we are still here and we will stay'."
"Maintaining a dialogue with everyone" is precisely how the ICRC maintains operations and protects personnel in conflict settings. In the past 20 years, Krähenbühl said there have been many times when "colleagues failed to return home". ICRC staff on humanitarian missions in conflict areas sometimes have accidents or lose their lives due to targeted attacks. "Our work relies on (local) acceptance. Therefore, we have no other way to protect the team, but to engage in dialogue with everyone," he added.
Krähenbühl further pointed out that in the context of war where trust is tough to earn, ICRC staff must be extremely cautious and "disciplined" to convince all parties of the organization's principle of neutrality. "We stay neutral, not because it is fashionable to do so, but because neutrality is an enabling principle that makes our operations possible. In a complex environment full of disagreements and tensions, being neutral can help you create a space to truly mobilize resources to help people," he said.
At the same time, Krähenbühl admitted that this effort is not always welcome. At the beginning of a conflict, parties to the conflict are often reluctant to accept ICRC's proposal to access and provide humanitarian assistance to the areas under their control. "But as long as what you said in the first visit can be confirmed in the second one, trust can be built gradually. Sometimes, you need to repeat one thing 1,000 times just to achieve your goal. If they can see that what you describe (the humanitarian needs) is true, and they don't find anything political (attached to the humanitarian assistance), then it is possible to create trust," said Krähenbühl.
Since the Taliban's sudden takeover of power, Afghanistan has been plunged into a humanitarian crisis. Billions of dollars of international aid funds for Afghanistan are frozen, further hindering the humanitarian response within the country.
Talhami pointed out that the evacuation of international aid workers due to the political turmoil, the accelerated loss of Afghan technical talent and the drastic reduction of government financial resources, have all contributed to creating a vacuum in public services such as water supply and sanitation in the country. He warned against further catastrophe, including the widespread outbreak of the COVID-19 pandemic and a sharp increase in displaced people, if the social service system in the urban areas of Afghanistan collapses.
In order to help Afghanistan cope with the severe humanitarian crisis and the pandemic, the Chinese government has pledged 200 million yuan worth of food, medicines and winter materials, including three million doses of COVID-19 vaccines, to the Afghan people. The first batch of urgently needed winter supplies such as blankets and down jackets were delivered to Kabul International Airport on the evening of 29 September.
China has also asked that the unilateral sanctions or restrictions on Afghanistan be lifted at the earliest and opposes using Afghanistan's foreign exchange reserves as a bargaining chip to exert political pressure on the country. To alleviate the suffering of the Afghan people, financial institutions such as the World Bank and the International Monetary Fund should unblock the Afghan government's access to funding and economic assistance for various projects, including those relating to poverty alleviation, sustainable development, livelihood-building and infrastructure construction.
Krähenbühl believes that the ICRC can be a "bridge" between the current emergency rescue phase and the reconstruction and development phase in Afghanistan by working closely with the Chinese government "because we understand that China is interested in Afghanistan's peace, development and stability." He cites an example from the 1970s, when the Chinese government assisted in the construction of Mirwais Hospital in Kandahar province in southern Afghanistan. After years of war and power changes, the so-called "Chinese hospital" is still providing medical services to people in Kandahar and the surrounding provinces. It is also the largest and most advanced public hospital in the region. Over the past 25 years, the ICRC delegation in Kandahar has provided extensive assistance to the hospital, including training of medical staff, provision of medical equipment and medicines, and so on.
"If China decides to invest in Afghanistan's health sector, the ICRC is in an ideal position for cooperation," Krähenbühl said. Both parties should be able to identify and discuss areas of cooperation such as health care, infrastructure construction or finance. "I think we already have some very interesting dialogues in this regard, but these should translate into concrete assistance to the people. Because this is what we want to do: we stay in Afghanistan not to express our views on the government, but because we can contribute via some concrete ideas on how to rebuild Afghanistan."
In an interview at the end of September, Luo Zhaohui, the chairman of China International Development Cooperation Agency, had said China was the first country to pledge aid to Afghanistan and among the first to deliver it. Just one week after contact with Afghan counterparts, the first batch of assistance to help people through the winter has already been put in place. Luo Zhaohui also said the Chinese embassy in Afghanistan will work with the interim government and the UNHCR structure in the country to ensure that supplies are distributed among people in need. China's aid comes with no political conditions or self-interest.
Luo Zhaohui said China will continue to provide Afghanistan with much-needed food, COVID-19 vaccines, medicines, etc. When security conditions allow, China is also willing to help Afghanistan rebuild, enhance livelihood and sustainable development capabilities, and help alleviate poverty and achieve economic and social development. At the same time, China calls on the international community, including the UN agencies, to take active steps to join forces in assisting Afghanistan.
Krähenbühl pointed out that China has historically focused more on bilateral cooperation and assistance, but now "we see that China is more interested in its commitments through multilateral mechanisms." He said that in the field of international humanitarian assistance, a country like China brings its own views and experiences to the table, while the ICRC, as an independent humanitarian organization with a long history in the field, can draw on its rich experience to provide added value in identifying specific local needs and become a "safe partner" in China's overseas aid activities.
For instance, the recent spurt in armed conflict in Afghanistan has caused a surge in the number of amputees. Every year, the ICRC's physical rehabilitation centres in Afghanistan help tens of thousands of disabled people regain their mobility, livelihood and self-sufficiency. According to Krähenbühl, China's support in this area will certainly demonstrate its "strong humanitarian assumption" in Afghanistan, which the ICRC would be happy to facilitate.
"The great advantage of being a humanitarian organization is that...we understand how the system will collapse over time," said Talhami. Escalation in armed conflict results in destruction of water or electricity infrastructure, attacks on health facilities, lack of proper operation and maintenance of equipment, or the failure of public service officials to perform their duties out of fear, all of which disrupt people's lives and access to public services. When this happens, organizations like the ICRC can work with the local authorities to develop an emergency plan to minimize the disruption and to restore essential public services.
With regard to crises of a larger scale, higher complexity and longer duration, many humanitarian organizations including the ICRC realize how essential it is to have strengthened cooperation with local public service authorities and other development agencies. So, as much as emergency rapid response plans are critical in the field, equally important is long-term cooperation with government, local authorities, the parties to the conflict, and other development agencies.
Krähenbühl admits that it is only in the past ten years that humanitarian organizations like the ICRC, which are good at emergency response, and development agencies, which focus on social development projects, have agreed to pool their experiences and professional skills in order to cope with protracted armed conflicts and other crises around the world.
He explained that, traditionally, a conflict can be divided into several phases including an ongoing phase and a post-war reconstruction and peace phase. Humanitarian organizations are often on the front line of the ongoing war, treating the wounded and resettling the displaced; development organizations usually start their work when the situation is relatively stable. They provide funding, equipment and technical training to help rebuild the local economy and improve social welfare.
"Development agencies used to say that we have to wait until the 'dust has settled' (that is, after the war is over) before they act. Such a view is no longer valid," said Krähenbühl. He points out that with more protracted conflicts around the world, the boundaries between the different phases of conflict are blurring. This requires both humanitarian organizations and development agencies in the crisis to cooperate in a more timely and effective way, and learn from each other's experiences. However, in the process of strengthening the relationship between the two, how does one address allegations of hidden agendas that might emerge from local communities? For instance, local communities could allege development agencies using assistance projects to advance an ideology and shape local public opinion.
The best way to address this issue, according to Krähenbühl, who has several decades of experience in humanitarian work, is to "listen to the opinions of the local community". This includes engaging with community and tribal leaders, religious leaders, community elders and other male leaders, and also maintaining dialogue with the women in the community to understand their perspective and needs. This comprehensive approach and perspective will allow international good practices to be better integrated with local affairs where we provide assistance.
With a surge in global demand for humanitarian assistance in recent years, the ICRC is also facing rising fiscal pressures. Currently, the ICRC's budget mainly comes from voluntary donations from the governments of the contracting states of the Geneva Conventions, the National Societies and private individuals and institutions. In the past five years, the average contribution from governments has accounted for 82 per cent of ICRC's budget.
"We don't want to pretend that there is no political factor around humanitarian funding," said Krähenbühl. When asked how the ICRC avoids geopolitical influence and maintains the principle of neutrality and independence in the fundraising process, he responded, saying, "The ICRC believes that the only way to deal with this issue is to be completely transparent."
Krähenbühl, who once led the ICRC's global operations, emphasized the fact that whenever the ICRC raises funds from governments, we always make it clear that the goal of our operations in a local context is to "improve people's lives in an impartial manner" regardless of the type of political entity controlling the area.
He further said that donors can provide the ICRC with unearmarked funds, or roughly specify a country or a sector to which the donation is to be used, but the ICRC will not accept funds for a specific area or a specific group. "We make it clear that the funds we accept will be used to provide support for all civilians, regardless of which side they are on in the conflict."
At the same time, the ICRC is also trying to make donors understand that providing funds only to a certain party in a conflict will eventually make it more difficult to achieve the initial goal of the donation. For example, when the pandemic breaks out, each side of the contact line must immediately respond to the emergency to effectively curb the spread of the virus.
Translated from an article published on Caixin.com