Indonesia: Discussing way forward for humanitarian negotiation in Asia-Pacific
Representatives from governments, security forces, non-State groups and faith leaders gathered in Indonesia's capital to discuss the pressing issues of humanitarian access and humanitarian negotiation throughout the Asia-Pacific region.
The landmark conference has been organized by the International Committee of the Red Cross (ICRC) together with the Swiss-based Centre of Competence on Humanitarian Negotiation, the Humanitarian Forum Indonesia and the Paramadina Graduate School of Diplomacy.
Held at Borobudur Hotel, the conference witnessed over 100 participants and delegates from close to 18 countries discuss the current challenges and dilemmas for humanitarian workers across the region.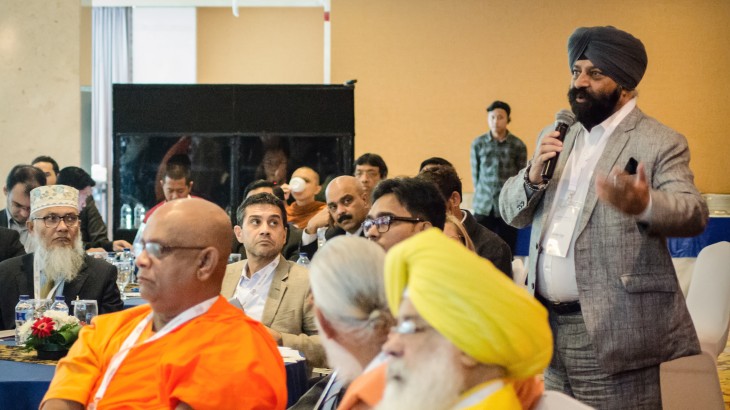 Humanitarian workers, representatives from regional governments, armed forces, opposition groups, experts from academia and think tanks joined leaders from at least four major faith groups – Islam, Buddhism, Hinduism and Christianity – to share their perspectives and encourage mutual understanding on all sides. 
"Obtaining access to people affected by situations of armed conflict has never been easy," said Christoph Sutter, who heads the ICRC's regional delegation for Indonesia and Timor-Leste. "Humanitarian access is crucial in times of both natural and man-made disasters. The ICRC has been involved in these negotiations for decades given the nature of its work, but there is always room for us to learn from others."
"This event comes at an important time for the Asia region. With countries like Myanmar, the Philippines and Bangladesh in the midst of humanitarian crises, it's critical for the key players in the region to share experiences and discuss common challenges," said Shiskha Prabawaningtyas, director of Paramadina Graduate School of Diplomacy, one of the co-organizers of the conference.
The topics discussed during the conference included the increasing limitations on humanitarian access due to security constraints and the diminishing acceptance of humanitarian workers, the politicization of aid and the growing role of faith-based organizations and religious leaders in times of conflict and humanitarian crises.
Sessions brought together panelists from different sectors to share their perspectives, experiences and expertise, as well as to propose possible solutions to the challenges of humanitarian negotiation. While each session tackled particular issues, all panels were mixed to some extent in order to trigger debate between representatives of various sectors, including a number of representatives from the Indonesia's civil society, NGOs and academic circles. 
"Local actors and faith-based organizations are playing an increasingly critical role on the front line of humanitarian crises," said Tomy Hendrajati, the chairman of Executive Board of Humanitarian Forum Indonesia. "This conference provided an important opportunity to hear different perspectives about humanitarian negotiation and access and to strengthen our acceptance and security on the ground."
"There is an important distinction between humanitarian negotiation processes for the provision of essential services from political mediation, peace and reconciliation initiatives," explained Sutter. "If we want to help more people, then it is critical that all organizations working in the field of man-made disasters have a comprehensive understanding of humanitarian access. They also need the skill and capacity to negotiate with the gatekeepers on the ground."