Eight years ago, on July 9, 2011, South Sudan claimed its independence and became the 193th UN member state. But the laughter and celebrations shortly faded and gave way to the sound of gunfire. Yesterday's allies became today's enemies and the unity of the first days quickly disappeared when fighting broke out between forces loyal to President Salva Kiir and those aligned with Vice President Riek Machar in December 2013. Hundreds of thousands of deaths later, a fragile peace agreement has offered the South Sudanese some relief, but the path to stability remains full of obstacles.
A new beginning
On 9 July 2011, South Sudan becomes an independent country and the 193th member of the United Nations.
Broken hopes
Less than two years after the celebrations, a political power struggle breaks out between President Kiir and his former deputy Riek Machar.
January, 2013
Fighting spread and almost 100,000 people flee within few weeks. Despite peace talks, the situation escalates quickly and South Sudan is engulfed in civil war.
January, 2015
Two million South Sudanese have fled their home moving elsewhere inside or outside the country, including thousands of unaccompanied boys and girls. The ICRC and local Red Cross Societies use "Snapshot books" to help both adults and children find missing relatives.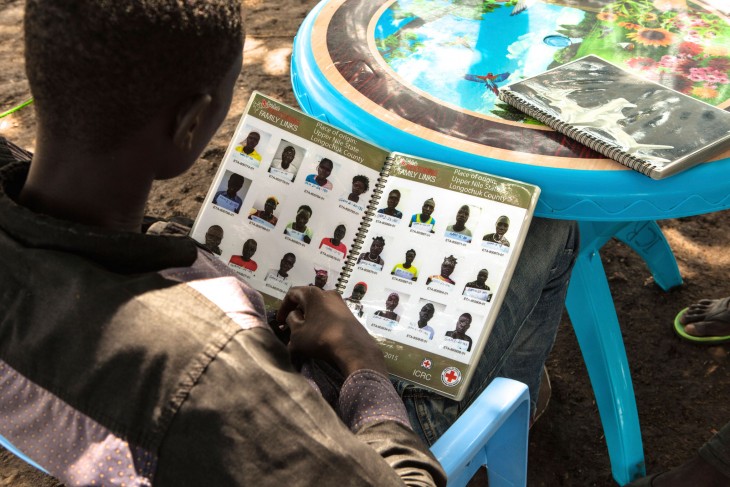 June, 2015
South Sudan faces extreme levels of violence. Near Leer, over 100,000 people flee their homes in just one months.
July, 2016
Following the signing of an Agreement on the Resolution of the Conflict in South Sudan in August 2015, former Vice President Riek Machar goes back to Juba. But peace is short-lived. In July 2016, fighting erupts near the presidential palace and spreads, increasing the scale of the humanitarian crisis and the plight of civilians.
Within a few days, the situation is about to reach a point of no-return and the ICRC teams work around the clock in a very tense environment to deliver life-saving assistance.
1.5 million IDPs and 490 K+ refugees in neighboring countries
- by 2017 -
The endless fall
More than three years of conflict and no peace in sight. The spread of violence to parts of the country where communities rely on farming further affect the humanitarian situation.
February 20, 2017
Famine is declared in some parts of the country. War and drought leave South Sudanese on their knees. The Northern states are the most severely affected and an estimated 5 million persons need of immediate assistance.

July, 2017
South Sudan ranks highest in the world for the number of attacks on aid workers in 2016, 2017 and 2018. On July 11, 2017, several humanitarian workers are trapped and raped by armed men in a hotel in Juba.
September 8, 2017
Lukudu Kennedy Laki Emmanuel, an ICRC staff member, is killed when a convoy of nine trucks and a four-wheel-drive vehicle is shot at by unknown assailants. The ICRC firmly condemned this killing.
July 13, 2018
After five years of conflict, the UN Security Council imposes an arms embargo on South Sudan. This measure aims at stopping the flow of weapons delivered to armed groups. On the ground, the ICRC receives new patients every day at the physical rehabilitation centres it supports.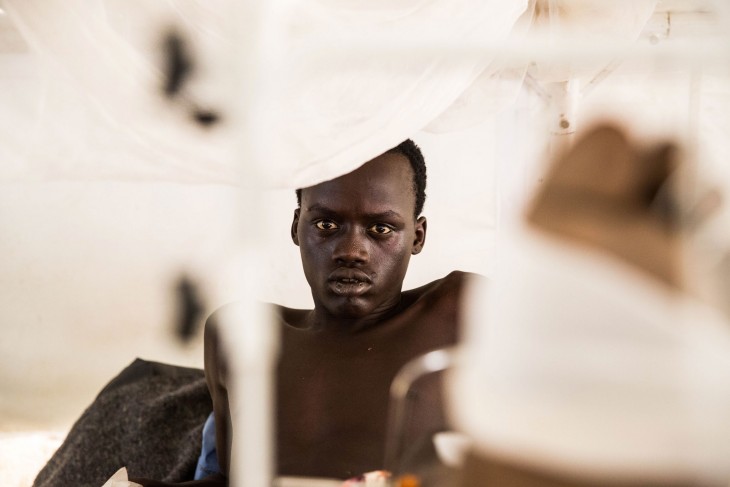 1.8 million IDPs and 2.4 million refugees in neighboring countries
- by 2018 -
A fragile peace
September 12, 2018, South Sudan President and opposition leader sign a peace deal to put an end to a conflict that has caused around 350,000 direct and indirect deaths

May, 2019
The peace agreement holds in most parts of the country but hunger is again on the rise. This fragile peace is the key hope for millions of people. Stability is desperately needed for farmers to harvest, children to go to school, and for the population as a whole to trust that the cycle of violence will stop and they can return home.

June, 2019
In the peace agreement, the ICRC is mentioned as a neutral facilitator for the release of prisoners.
The ICRC helps conflict-affected communities in South Sudan become self-sufficient and reunites families. We visit places of detention, support health care facilities, and promote respect for international humanitarian law.
Photos: Florian Seriex, Giles Duley, Mari Aftret Mortvedt