Leave a legacy to the ICRC
Make a bequest, leave a lasting legacy
Link your name with the history of the largest humanitarian movement of our time. By making a bequest to the ICRC, you take your commitment to helping victims of war and other situations of violence worldwide to a new level.
Why the ICRC?
Bequests are an essential part of our private funding. In 2013, they made up almost half of our total income from individual donors.
Leaving a legacy to the ICRC is an excellent way to ensure people get the aid they desperately need. It also means that your support for the values of solidarity and sharing will live on after you. Last year for instance, a bequest enabled the ICRC to finance a quarter of its relief operations in the south and central Philippines in the aftermath of Typhoons Bopha and Haiyan.
---
How your legacy can make a difference
No-one abandons their home unless the alternatives are worse. Because fleeing can mean death, and it often means separation from those one loves.
That's why protecting and helping displaced people is a core element of our humanitarian mandate. And that's why we wanted to present just one family of the thousands we are privileged to help every day, in part thanks to bequests.
Making a bequest
Any type of property can be bequeathed or donated to the ICRC.
What can I bequeath to the ICRC in my will?
Money: this is what most people choose to bequeath.

Gifts in kind: real estate, jewels, works of art, furniture, collections, etc.
Securities: shares, bonds, etc.
Other assets: patents, royalties, etc.
What kind of bequest should I choose?
Specific bequest: you bequeath one or more specific items. It is important to specifically mention the item(s) bequeathed to the ICRC.

Residuary bequest: in the absence of a rightful heir, you can bequeath to the ICRC your entire estate after settlement of costs and any specific bequests.
Reversionary bequest: you leave what is left of your estate to the ICRC in the event that the original beneficiary dies, after settlement of the part of the estate that goes to the rightful heir, of all costs and of any other bequests.
Tax exemption
The ICRC is exempt from taxation on bequests in most Swiss cantons. In the United States, Germany and France there are also tax exemptions.


A few practical examples:
My wife and I do not have any children. We would like to bequeath all our assets to the ICRC.
If you do not make any bequests, your spouse will inherit the entire estate upon your death. He or she would then have to appoint the ICRC as the universal, or residuary, legatee – that is, the sole heir to your assets.
More simply, you could write a joint will now that leaves the use ("usufruct") of your estate to your spouse and appoints the ICRC as the legatee. Alternatively, you could both write separate wills appointing each other as the legatee and naming the ICRC as the legatee after your spouse's death.
I would like my assets to be shared equally between my niece and the ICRC, but I would like my friends to be able to keep some items to remember us by.
You should appoint your niece and the ICRC as legatees. It will be their responsibility to make the specific bequests you have put in your will.
If you would prefer to support the ICRC now, please donate here.
Writing your will
Your will enables you to leave part of your estate to a cause you believe in. You can revoke or change it at any time.
How do I make a will?
The requirements for a will vary widely from one country to another. In Switzerland, for instance, a signed, dated, handwritten document, stating the place of signature, constitutes a valid will.
You should consult a professional, such as a notary public, lawyer, bank official or financial consultant, to make sure that the will says what you want it to and that it complies with the law, especially as regards the entitlements of family members.
How do I include the ICRC in my will?
Because the term "Red Cross" is open to a variety of interpretations, please make sure that you include your first name, last name, date of birth and address, as well as the name and address of the ICRC:
International Committee of the Red Cross
19 Avenue de la Paix
1202 Geneva
Switzerland
Please specify the kind of bequest and the item(s) bequeathed. Indicate the place and date of signature and, finally, please make sure you sign your will.
What kind of will should I make?
Holographic will: Written entirely in your own hand, this is the simplest kind of will.

Notarial will: Drawn up in the presence of two witnesses and before a notary or any other person empowered to do so, this document guarantees that your will complies with the law.
If you opt for a holographic will, you should take some precautions to ensure that your final wishes are respected.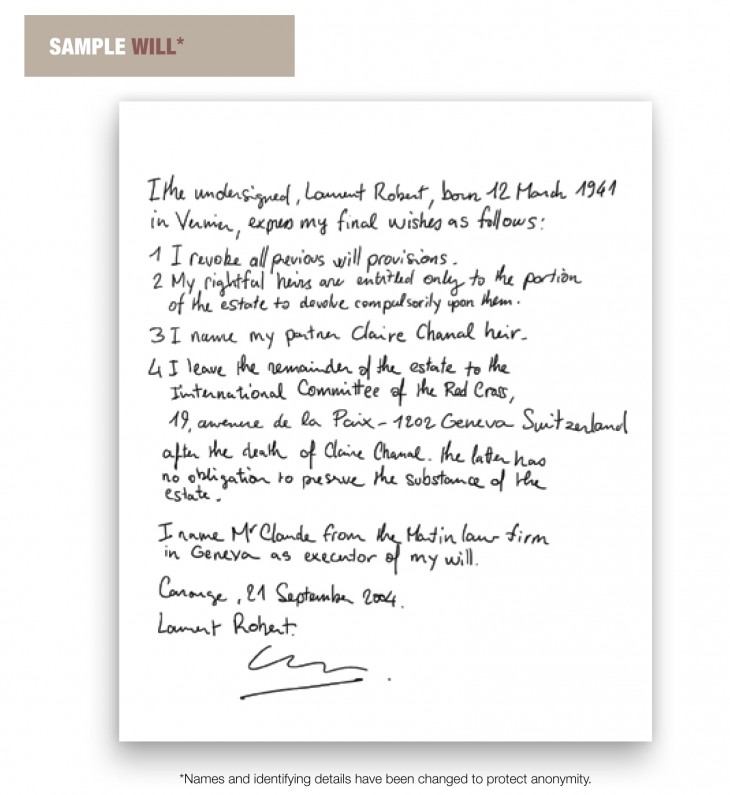 If you would prefer to support the ICRC now, please donate here.
Why should I make a bequest/leave a legacy donation to the ICRC?
By making a bequest/legacy donation, your wishes will continue to have an impact on the people who need help the most, even after you've gone.
You have been lucky in life and want the most vulnerable to share in your good fortune.
If you do not write a will naming an heir, your assets could be passed on to distant relatives you would not necessarily have chosen to leave your estate to, who may then have to pay a lot in inheritance tax. Alternatively, your assets could be awarded to the State. By leaving a legacy to the ICRC, you can make sure that your estate is shared out in line with your values and wishes.
Why should I write a will?
You can make your wishes as clear as possible to your heirs and minimize the risk of disputes after you've gone.

You can decide for yourself how to share out your estate fairly.

You'll be at peace with yourself, knowing you've left things in order.

You can leave some or all of your assets to charities and causes you believe in.
We advise you to contact a lawyer, e.g. a solicitor/notary, if you would like to make a will.
I don't want to write a will: what will happen to my estate when I die?
If you don't leave a will, your estate will be settled in accordance with the law of your country. If you live in Switzerland, the entire estate will be shared between the legal heirs. If you have no heirs, your estate will be awarded to the canton or the municipality where you lived.

Not leaving a will means that your wishes won't be taken into account and your assets may not be divided up as you would have wanted. Furthermore, you will not be able to leave part or all of your estate to a charity that you believe in.
Can my will be contested?
Some people (family, spouse or partner) can contest a will, but only if they are deprived of the share of the estate to which they are legally entitled. However, a will may be declared invalid on formal grounds. So please make sure that your will is drawn up in line with legal requirements.

Should I inform the ICRC of my intentions?
We recommend that you do. We can discuss your plans and guide you through the process. This does not put you under any obligation towards the ICRC: you can change or cancel your will at any time.

Should I appoint an executor of my estate?
We recommend that you do.

Will the ICRC have to pay inheritance tax?
In most countries, the ICRC is exempt from inheritance tax on bequests. However, it is a good idea to contact us first to make sure.
Can I bequeath money for a specific ICRC programme or country?
Yes, you can if you choose something that is already part of the ICRC's work. However, we do not accept donations or bequests for a specific hospital, village, project or group of individuals, nor for a specific area of a conflict zone. As a general rule, we advise against restricting the use of bequests to specific programmes or countries. That way, we can use funds to help those most in need immediately. In addition, the programme in question may no longer exist when you pass away.

I am not rich. Would a small bequest make any difference to the ICRC?
Yes. Whatever the amount involved, a bequest is a meaningful act. It shows support for the ICRC, and helps us to help the victims of armed conflict. Everyone can be a part of what we do by making a bequest, no matter how large or small. We have personal advisers that can provide the right information for you.
Giving professional advice
If you are a notary, lawyer or wealth manager and you have clients who are currently planning their estates and looking for ways to support the ICRC, please download our booklet "Donations and Bequests to the ICRC" below for all the information you need.
If you have any questions relating to a gift that has been left to us or you want to make a payment of a legacy then please contact our Legacy Manager Marie-Jo Girod who will be very happy to help you.


How to name the ICRC as a beneficiary in a will
Please ensure that the exact name and address of the ICRC appears in the will:
International Committee of the Red Cross (ICRC)
19 Avenue de la Paix
1202 Geneva
Switzerland


Motivation of people who make a bequest to the ICRC
Personal reasons
The main reasons that lead people to make a bequest to a charity are:
They have no rightful heirs. Most people who make substantial bequests have no direct descendants.
They want to leave a lasting legacy. A legacy to the ICRC can give ultimate meaning to one's life through a generous and far-reaching gesture.
A generous personality. Many of the people who make bequests to the ICRC have donated to humanitarian organizations during their lifetimes and wish their generosity to be perpetuated.
Choosing the ICRC
Universality: Present and active in all regions of the world, the ICRC works alongside the 190 National Red Cross and Red Crescent Societies. Choosing the ICRC means giving a universal scope to one's bequest.
Efficiency: The ICRC has been working in situations of armed conflict and helping millions of families and victims throughout the world for 150 years.
Trust: The ICRC is recognized as a reliable, worthwhile institution.
Tax exemption
The ICRC is exempt from taxation on bequests in most Swiss cantons. There are also tax exemptions in the United States, Germany and France.