War in Syria
The war in Syria has caused large-scale death and destruction making it the largest and most complex humanitarian crisis in the world
The war in Syria shows no sign of ending. Accessing besieged areas, which desperately need assistance, is becoming increasingly challenging.
The Syrian conflict is characterized by frequent infractions of international humanitarian law: sites, blockades, disproportionate attacks in urban areas and attacks on civilians and civilian services, such as ambulance, water supply and markets.
The situation continues to deteriorate.
Any evacuations, in #Afrin, #Ghouta or elsewhere, must follow basic humanitarian rules:

*Civilians can choose to stay or leave
*Civilians must be protected against attacks – at all times
*Evacuations are temporary – civilians have the right to return
https://t.co/3wY2GUTHOL

— ICRC Syria (@ICRC_sy) March 14, 2018
Millions affected by war
Today, over 50% of the population has been displaced from their homes in Syria. Over 5 million people have sought safety in neighbouring countries. 
As the world urbanizes, so does conflict. Syria's cities have become a battlefield with the ongoing war forcing people to run for their lives.
The people, caught in-between the Syrian war, are exhausted by bombs and missiles thrown into civilian areas, not knowing what has happened to their missing or detained relatives.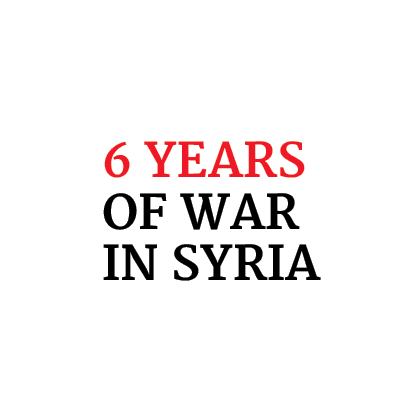 Children in the war zone
Death and destruction mar the lives of the 11 million people who have been forced from their homes. Many of them are children, desperately seeking safety from the hellfire that is the current warzone.
Millions of children are deprived of even a basic education with more people on the move than ever before, wars lasting years and chronic violence on the rise in many areas.
Despite the protection afforded them by international law, children are vulnerable to all sorts of risks. From malnutrition to lack of education, children suffer the most during war time.
How is the ICRC helping?
At the ICRC, working closely with the Syrian Arabic Red Crescent, we are doing our utmost to provide a timely and neutral response to the ongoing humanitarian crisis.
More on the war in Syria:
Spread the word. Share this with your friends