Download the full "Humanity in action" report here
No matter who we are or where we live, we want to give our families enough food and water, a safe place to live, and the chance of a better future. But this is a daily struggle for people living in countries ravaged by war and violence.
The International Committee of the Red Cross saves lives on all sides of a conflict. Our emblem is a universal symbol of hope. Our neutrality facilitates ceasefires and allows life-saving humanitarian access.
We go where others cannot.
2020: Where you helped and what it cost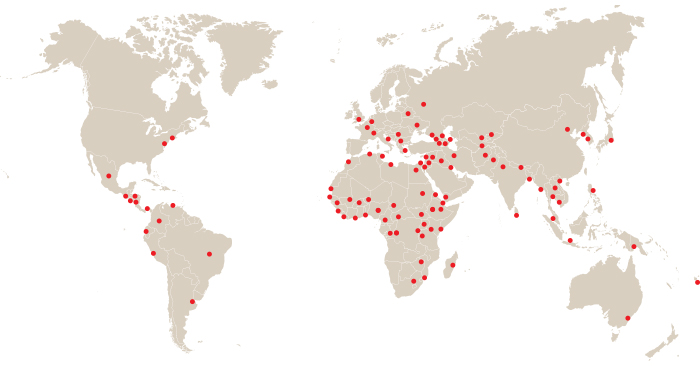 We worked in more than 100 countries
1.69
billion Swiss francs
field expenditure in 2020
93.5%
of every donation went to the field
6.5% was used at headquarters
Numbers in detail
Top ten operations
by expenditure (in CHF millions)
Syria Arab Republic 155.6
Yemen 115.5
South Sudan 113.3
Iraq 99.6
Nigeria 81.9
Democratic Republic of the Congo 78.7
Afghanistan 72.5
Somalia 64.9
Ukraine 63.8
Lebanon 53.9


Expenditure
by programme
22.6% Economic security
11.6% Water and habitat
7.5% Primary health care
10.8% First aid and hospital care
5.1% Physical rehabilitation
0.7% Weapon contamination
6.8% Restoring family links
2.1% Forensics
11.3% Activities for detainees
14.4% Protecting the vulnerable and promoting the law
5.8% Partnering with National Societies
1.4% Other
The people you helped, in figures
Physical rehabilitation
298,460
people benefited from physical
rehabilitation services

327
physical rehabilitation projects
received ICRC support

Health care
599
hospitals received supplies
and other assistance

4,130,719
patients had their hospital
costs covered

Restoring family links
1,504,199
phone calls were made between
family members

1,049
people, including 773 children,
were reunited with their families

Economic security
4,214,606
people received food
or assistance for buying food

1,006,645
people had
their incomes boosted

How you helped
The stories of survival, recovery and growth highlighted here represent just a fraction of what was achieved in 2020. These stories – and many more like them – are only possible thanks to supporters and partners like you. We thank you.
NAVIGATING WHEN YOU'RE VISUALLY IMPAIRED
THE SMILE THAT LIT UP OUR 2020
Sign up to our newsletter
Subscribe now to receive news and updates about our work and how you could join us.