4 August 2020 marks another watershed in the series of dates of distressing incidents from which Beirut and Lebanon have suffered in recent decades.
How does the explosion in Beirut's port affect food imports?
Beirut port is the pipeline for more than 80% of Lebanon's imports. Thankfully, it appears that the damage was not as extensive as feared and 90% of the port activities are resumed and operational.

The remaining lack of capacity mainly affects goods transiting through Lebanon, including relief for Syria. For example, the operations of our food supplier for Syria have been disrupted and they need to find another place for storage.
Far from being confined solely to the port area, the impact of the explosion extended to the whole of Beirut which covers an area of 19.8 km2.
Nothing was left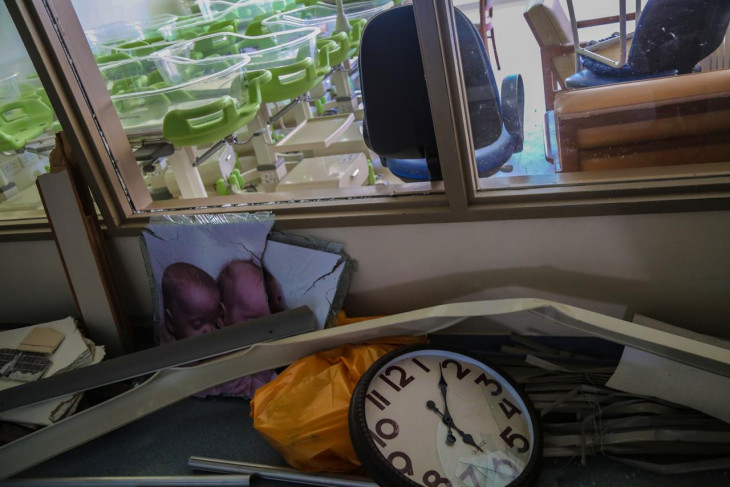 More than 180 dead
6,000 injured
300,000 homeless
including 100,000 children without shelter
in addition to missing persons
Lebanon will continue to suffer from the consequences of the explosion for a long time. Quite apart from the loss of life and the thousands injured, people have lost their homes and their jobs and basic services such as water and electricity supply have been impacted.
Hospitals that were already overwhelmed by the coronavirus pandemic have been damaged and we found first aid workers performing triages in vehicle waiting areas.
Over 6,000 people were injured in the Beirut explosion.

How can you treat them when your hospital was also destroyed? pic.twitter.com/7EvRSBIZM0

— ICRC (@ICRC) August 11, 2020
One of the hospitals that we visited on 6 August had been totally wrecked and was unable to treat any casualties at all. This was a hospital that had been admitting more than 8,000 patients and 14,000 emergency cases in a single year!
We are responding with all our resources to the consequences of the explosion.
Within minutes after the horrific explosion, Lebanese Red Cross teams rushed to the scene of the incident to treat casualties and provide assistance.
Beirut Port Explosion: 10 teams from the Lebanese Red Cross are evacuation intensive care patients from St. Georges Hospital in Beirut pic.twitter.com/WVbPjLANho

— Lebanese Red Cross (@RedCrossLebanon) August 4, 2020
In light of our initial assessment to date, we expect that the Red Cross will require about 40 million euros this year in order to meet urgent needs.
Our assistance to Beirut so far 
We support hospitals, primary healthcare centers, and emergency medical services by providing medical supplies and mobility aids. We also provide free medical services including reconstructive surgery, physical rehabilitation, and psychosocial support to the affected people. We distribute food parcels and respond to the urgent needs of those who lost their houses and belongings. We help the Lebanese Red Cross support families searching for their missing loved ones. We assess the damage to the infrastructure including water services and provide engineering and other support as much as possible. Below are the latest facts and figures on our aid so far.
20
tons of medical supplies are distributed to 26 hospitals and 6 emergency medical services and 7 medical centers
5241
Families received food parcels (total of 8705 people)
63
Hospitals were assessed for their urgent needs
50,000
Palestinians received hygiene kits in 5 refugee camps in Lebanon after the spike in COVID-19 cases
Latent consequences of the explosion
Although this was not a wartime occurrence, its far-reaching consequences for the mental health of the Lebanese resemble those ensuing from wars
The impact will be long-lasting and will necessitate the provision of psychological support and tender care for the victims.
Loved ones lost.
Homes destroyed.
A city devastated.

Beirut is still reeling a week after the explosion: https://t.co/BnMnlEK44R pic.twitter.com/6czL4RZn2s

— ICRC (@ICRC) August 11, 2020
We will not leave Lebanon all alone… What about you?
Lebanon is in urgent need of assistance and the smallest amount might save someone's life. It is now your turn to donate and provide assistance through the link below.
Get involved
Donate for Lebanon