Doctors at a Nepali hospital: "We are in a war without enemies"
The medical team at Dhulikhel Hospital, half an hour drive from Kathmandu, has been working round the clock to save lives after the earthquake on 25th April. On 12th May, the hospital had to face the challenges of a second major tremor.
When Chandra Yogal reached Phulping Khoti, eight kilometres from the Chinese border, he only found a handful of women and children, amid the rubble of what had once been a vibrant village. "Most people had left. We met on the road two packed buses, heading outside the district. The clinic, one of Dhulikhel Hospital's outreach facilities which serves many communities, was badly damaged. We immediately started taking material out, in order to resume medical services as soon as possible", said Yogal. This is when the mountain came to life: huge boulders rained over the narrow valley, and after the massive cloud of dust from the landslide had cleared, the road had been cut. This 12th May, a temblor 7.3 magnitude, the second highest after the initial quake, had struck Nepal, bringing more devastation and terror in its wake.
"An army helicopter managed to land in spite of the difficult terrain, and evacuated two seriously injured villagers, with me to look after them", added Yogal. For lack of space, his four member team, who were unscathed, were left behind, and could only be rescued the following day.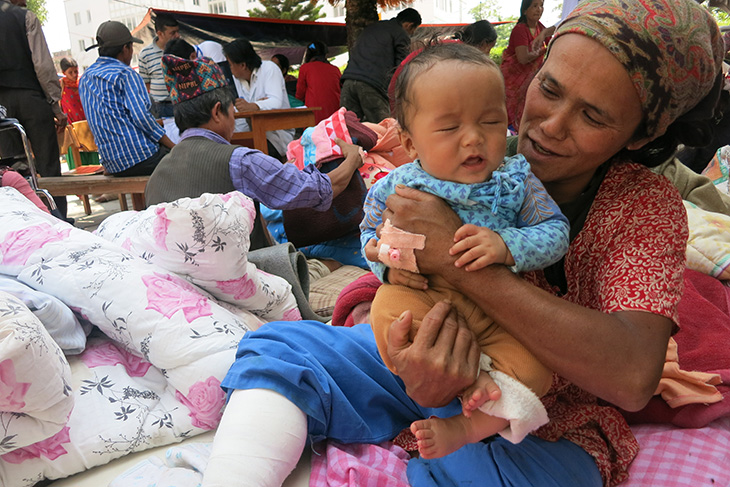 At Dhulikhel hospital, the two villagers were quickly attended to, alongside another 70 injured people, brought mostly by helicopter from the worst affected districts. It was nothing new for the doctors and nurses at this pristine facility overlooking a lush valley: "On the 25th April, we attended over one thousand patients, quickly prioritized according to the severity of their injuries", recalled Dr Ram Shrestha, Vice Chancellor of Kathmandu University. Medical students lodged nearby were mobilized, and 700 staff worked round the clock for one week, attending cases of multiple trauma, massive bleeding, and later patients with badly infected wounds because their remote communities could only be reached days into the disaster.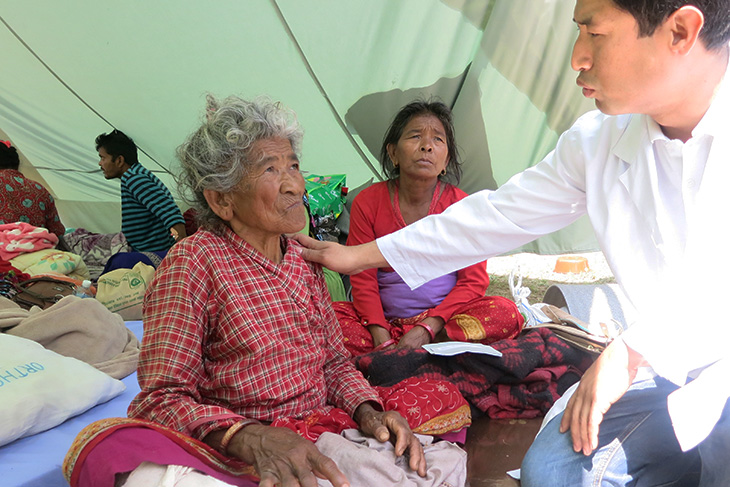 The hospital treated the second highest number of patients in the country in a highly professional and orderly fashion, despite the odds. Dr Rohit Shrestha, trauma surgeon, was particularly grateful to the Emergency Room Trauma Course (ERTC) run by the ICRC: "These trainings are a perfect preparation for managing a massive influx of patients in a stressful situation, and for doing what surgeons call "damage control", for example saving people's limbs while postponing skin grafts to a later stage." Since 2010, the ICRC, in collaboration with Dhulikhel Hospital, has trained 267 doctors from all over Nepal through ERTC. Following the first earthquake, ICRC provided dressing kits, set plaster, and crutches to the hospital.
Dr Ram Shrestha likened the earthquake response to "working in a war situation without enemies", and wishes to transform Dhulikhel Hospital into a training centre for medical staff in this hazard-prone country: "We have to turn this terrible catastrophe into an opportunity."