From Hebron to Gaza: Reunited after 14 years
Originally from Gaza, Neamah, a 65-year-old Palestinian woman, moved to Hebron in the West Bank when she married, and has settled and lived there happily with her husband and children ever since.
But she always missed her Gazan family, especially as, over the years, travel between Gaza and the West Bank became increasingly difficult. 14 years passed without Neamah seeing her older sisters Zeinab and Fatma, as she saw her permit requests to travel from Hebron in the West Bank to Gaza repeatedly refused by the Israeli authorities. Her longing to see them grew as the years passed, and as her sisters' health became more precarious.
New technology gives us a great way to communicate, but nothing replaces hugging my sisters and relatives.
This past July, Neamah asked the ICRC team in charge of restoring family links for help. A few weeks later, the ICRC, on behalf of Neamah, arranged a permit from the Israeli authorities for Neamah to spend two weeks in Gaza with her relatives.
Neamah entered Gaza via the Erez-Beit Hanoun crossing, where ICRC field officer Elham accompanied her to her family home in Jabaliya. The entire family had been anxiously awaiting her arrival, which turned out to be emotional and joyful.
I can't find words to describe how I feel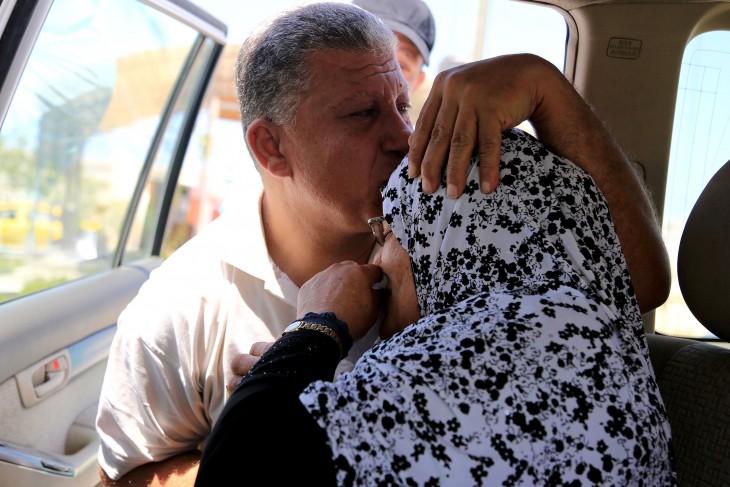 A flood of happy memories washes over Neamah: "My two nephews, accompanied by an ICRC team, were the first to welcome me. When I arrived, everything looked different: Jabaliya had changed completely, and my family was much more numerous than I had expected!"
The two weeks passed quickly. As Neamah's return drew near, one of the young men in her family advised her to join Skype so they could talk occasionally. "Well, new technology gives us a great way to communicate," Neamah admits, "but nothing replaces hugging my sisters and relatives.
The last thing I said to my family was that I hoped to be able to have another visit.
Neamah returned to Hebron with mixed feelings. On the one hand, she was happy to come back home to her husband, children and grandchildren there. On the other hand, she was heavy hearted upon leaving her sisters, especially not knowing when or even if she would ever see them again.
"The trip was like a dream come true, tearfully explains Neamah. "I did not believe I would really reach Gaza until the moment I passed the terminal crossing point. "Of course, I missed my family and home here in Hebron. But I continue to think about my sisters in Gaza." Perhaps Neamah will have the opportunity to visit them again.
Photos: CC BY-NC-ND /ICRC/N. Alwaheidi