Oman: Training course on chemical, biological, radioactive, and nuclear incidents and handling mechanism of hazardous materials
In November 2020, the Oman Ministry of Health and the ICRC have launched the first phase of a 4-phase training course on the management of Chemical, Biological, Radiological, and Nuclear (CBRN) hazards in Muscat. Eighteen participants of clinical and non-clinical staff, selected from MoH structures from 6 governorates, participated in the first phase, for the duration of one week.
News release
24 December 2020
Kuwait
The ICRC is organizing this training course for the first time in the region, hosted by the Sultanate of Oman with a dual objective, to enable MoH clinical and non-clinical first responders to respond to CBRN hazards and constitute a training of trainers team. The second phase ran for two days on the  23rd and 24th of December in Sohar University and was centered on scenarios and practical exercises.  The 3rd and 4th phases, clinical and training of trainers respectively will be completed in 2021. The subjects included the basic principles of risk management in relation to CBRN emergencies related to decontamination, and establishing and operating a field decontamination zone.
This training course aims at CBRN risk mitigation for individuals or groups exposed to CBRN agents through avoiding or reducing the exposure of the medical team to these materials, the removal of contaminants from skin and hair and exposed clothes, getting the proper medical care and antidotes to help control the symptoms of poisoning, in addition to learning about the recommended means and methods of protection and isolation according to the material the person was exposed to. The same group of participants will pursue the training in 2021 to accomplish the clinical phase and the training of trainers module.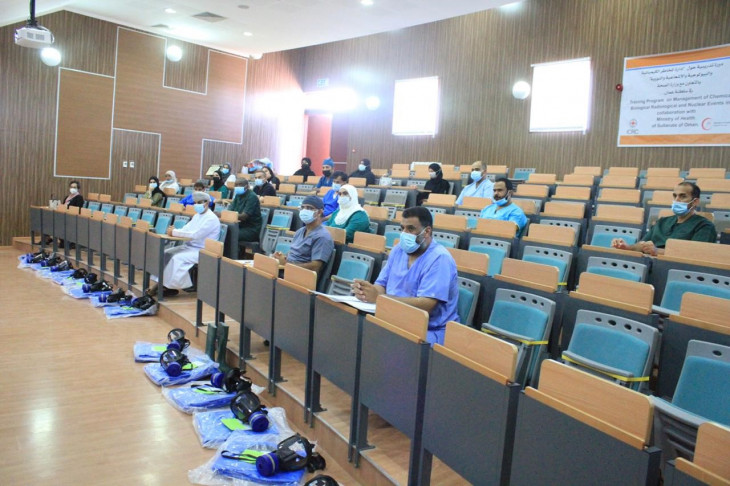 Dr. Rashid Bin Hamad Al Badi, the Director of the Emergency Management Centre in Oman, said "This training is of utmost importance, and aims at increasing the efficiency of the medical sector in responding to incidents that involve hazardous agents, whether in the field or inside health institutions" He further underlined that  "this aspect is given special attention considering the fast development the Sultanate is witnessing in the industrial and logistical fields on the regional level, and the risks this development entails. Therefore, preparedness ensures a proactive response to reduce the risks of the affected people.  Oman Emergency Management Centre of the Ministry of Health expressed its readiness to pursue its collaboration with the ICRC to build and strengthen national capacities"
For Steve Wallis, ICRC CBRN Specialist "It is necessary that clinical and non-clinical first responders have a comprehensive understanding of the standard procedures of decontamination and safety."
Jamila Hammami, Head of ICRC Mission in the Sultanate of Oman underlined that ICRC welcomes the collaboration with MoH in the CBRN field. This is the first time the ICRC organizes a training course that brings together clinical and non-clinical first responders in collaboration with the Ministry of Health."
 It is worth noting that ICRC has been engaged in the Sultanate of Oman since 2015, and it cooperates with Oman Ministry of health on a number of activities, in particular, reconstructive surgery for Yemeni war-wounded patients present in Oman,  and organizes war surgery seminars, aiming to improve the capability of medical staff."