Pakistan: Young Muhafiz Force volunteers stand ground against COVID-19
The ICRC joined hands with the Pakistan Red Crescent Society's (PRCS) Muhafiz Force volunteers to spread awareness regarding preventive measures against COVID-19
The rapid spread and unprecedented global scale of COVID-19 pandemic have underscored the importance of raising public awareness of standard health and safety procedures. Keeping this in view, the International Committee of the Red Cross (ICRC) joined hands with the Pakistan Red Crescent Society's (PRCS) Muhafiz Force volunteers to spread awareness regarding preventive measures against COVID-19.
The volunteers covered 24 cities and directly benefited more than 103,000 people across Pakistan through door-to-door campaigns, 51,000 safe behaviour demonstrations, food distribution activities, awareness drives in commercial areas and by involving religious leaders to reach the community. The ICRC helped ensure that the volunteers remain safe by providing personal protective equipment.
Here are some stories of fighting on the front line and what spurred the Muhafiz Force volunteers in their work.

Usama Mehmood, 22 years, student, Gujranwala
"I joined the PRCS as an intern in 2017 and the experience sparked such an interest in serving the community that there has been no turning back since. When the pandemic broke out we stepped in to create awareness and help the poor through different relief programmes. But it was quite challenging to win people's trust and make them listen to us. So we reached out to the local imam (religious leader) and other influential community members to bridge the gaps and effectively deliver our message."
"Although there were other ongoing media campaigns, the best part about the Muhafiz campaign was that we were connecting with common people through on-ground activities and providing them needed assistance at their doorsteps. There were days when I struggled to continue working but knowing that I am able to help my community and getting positive feedback from them pushed me forward. My advice for everyone is to continue following health and safety procedures and the government's instructions. We are only as strong as the most vulnerable member of our community."

Maryam Islam, 22 years, student, Islamabad
"I joined the Muhafiz campaign because I felt it selflessly served humanity. While everyone was told to stay inside, my team members and I were out on the streets raising awareness on preventive measures such as maintaining hygiene, handwashing and social distancing. Though the campaign was during the month of Ramadan and we were also fasting, the thought of serving people made up for our mental and physical exhaustion."
"While most people paid attention to what we shared, it was very challenging to convince some who were not following the standard health and safety procedures. We tried to engage with them by first listening to their concerns and views and then presenting evidence-based information with empathy. Slowly we started seeing more and more people follow our advice. It is our moral and ethical duty to cooperate with front-line workers and health-care professionals who are working for the community."
"...it was very challenging to convince some who were not following the standard health and safety procedures."
— Maryam Islam, Islamabad

Tahmass Durrani, focal person for youth & volunteer development, PRCS, Muzaffarabad
"I led the Muhafiz Force in my area because I could see how COVID-19 was affecting people and businesses and I wanted to do whatever I could to protect my community from the effects of the virus. My motivation was that if I am able to save even one life, it will be worth all the effort. We were working in a mountainous region and it was difficult to access far-off areas. Yet we managed to reach out to nearly 7,000 households and raise awareness on maintaining hygiene and following basic health and safety procedures."
"Initially, our relatives and friends treated us differently because they were scared that we will spread the virus. But we used masks and gloves and observed all safety measures and not a single volunteer from my team contracted COVID-19. This changed people's attitudes towards us and also caused them to trust our word more. I also made sure that female volunteers were involved in the campaign to reach out to and educate women in the community who usually don't step out of their houses due to cultural barriers."
Zahra Ghulam, 24 years, student, Quetta
"I belong to an area where the community faces a lot of issues, especially the women. So I joined the PRCS as a volunteer in 2013 because I wanted to be part of bringing positive change around me. In response to COVID-19, I led a team of the Muhafiz Force that focused on helping the huge population of refugees in our area. We arranged food for poor people who had lost their sources of income and had been starving for days. Before the campaign began I had been quite apprehensive about people's attitude."
"Those around me were also concerned for my health and my family's safety. However, I knew that if I and other volunteers like me won't step up to the challenge, the people in my city will suffer. I encourage all women to join such campaigns and never let any difficulty discourage them. If I can do it, so can you."
"I knew that if I and other volunteers like me won't step up to the challenge, the people in my city will suffer" 
— Zahra Ghulam, Quetta
Dr Jatindar Singh, pharmacist, Peshawar
"I belong to a religious minority group in Pakistan but I was never treated differently during the Muhafiz Force awareness campaign. In fact, the community used to listen to me more attentively. Data entry for ration distribution was a particularly difficult process in my area as people were unwilling to provide their ID card numbers because of unpleasant experiences in the past."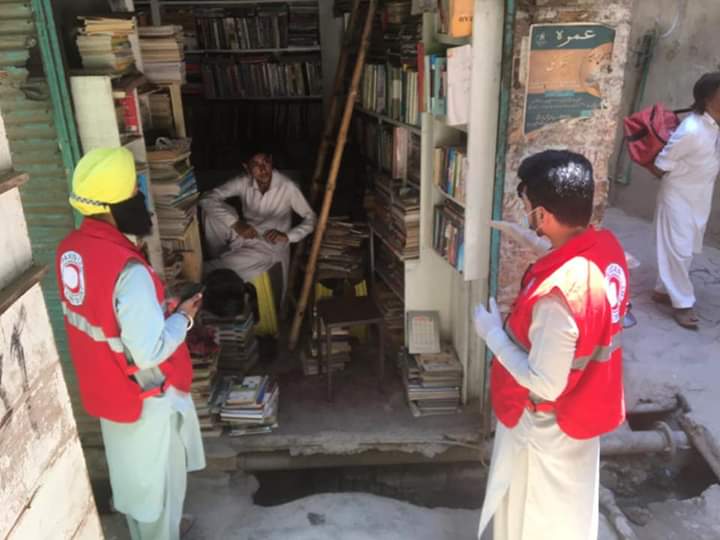 "However, we were able to build trust by talking to them about our work, our history and explaining the International Red Cross and Red Crescent Movement's mandate. In my opinion, the most positive outcome was actually seeing people wear masks, avoiding physical contact, washing their hands frequently and fully complying with the safety measures after our campaign."