At Peshawar Ability Sports Festival, no mountain too high for over 400 bravehearts
The "Ability Sports Festival" brought together over 400 disabled sportspeople and children from across Khyber Pakhtunkhwa for a mega sporting meet organized by the International Committee of the Red Cross and Friends of Paraplegics, among other organizations, at the Hayatabad Sports Complex in Peshawar on Wednesday. The event was part of the upcoming celebrations to mark International Day of People with Disabilities on December 3rd.
The participants, including sportswomen, belonged to 15 districts and agencies of Khyber Pakhtunkhwa and Federally Administered Tribal Areas (Fata). They participated with gusto in games like T-10 wheelchair cricket, wheelchair table tennis, standing table tennis and badminton, among others.
Khalid Afridi, who is a paraplegic sportsperson and heads the wheelchair cricket team of Fata, captured the essence of the sporting carnival when he said: "Occasions like these reaffirm our conviction and determination to focus on our abilities, and not our disabilities."
Head of the ICRC office in Peshawar, Patrick Somxaysana Vilayleck, thanked and congratulated all the teams for participating in the Ability Sports Festival. "It was a stunning show of ability from people who have defeated their disabilities and shown us that with strength, passion and the right opportunity, they can fulfil their dreams."
Engineer Irfanullah from the Friends of Paraplegics, an organization working with and comprising of paraplegic patients, thanked the participants, the media, residents of Peshawar and the players for making the event a success. "It is heartening to see so many organizations and individuals unite to support and encourage us to excel. This is a harbinger of an inclusive society for all in Pakistan."
Since the event was attended by people from all walks of life, it provided everybody with an opportunity to interact with disabled people and understand their issues.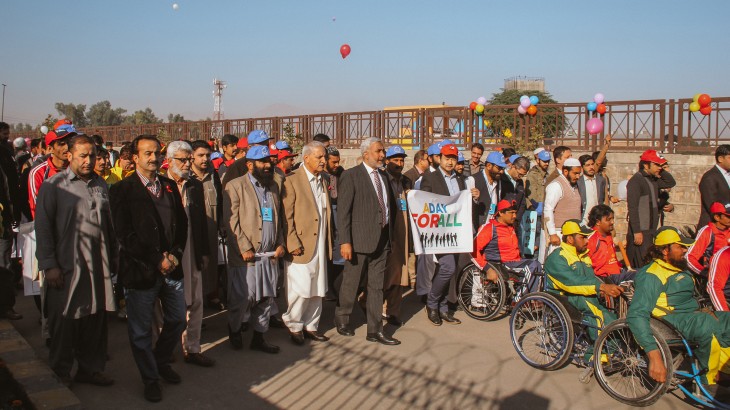 The event received overwhelming support from Peshawar Zalmi Foundation, Paraplegic Centre Hayatabad, IM Sciences, Pakistan Red Crescent Society, Akbar Kare Institute, Al-Khidmat Foundation, Association of Rehabilitation for People with Disability and Directorate of Special Education, Khyber Pakhtunkhwa.
The ICRC has been providing physical rehabilitation services in Pakistan since 1982. Currently, the ICRC supports 22 physical rehabilitation centres run by its partners across the country. By the end of 2017, more than 40,000 people will have received rehab services from these centres. The ICRC also strives to provide social and economic inclusion opportunities to the disabled people by supporting sports events, educational and vocational training sessions.
For more information, please contact:
Yasin Kamran, ICRC Peshawar, 0301 856 16 01