Violence in Congo's Kasai Region even harder on disabled people
People with reduced mobility have been the most severely affected by the violence in the Kasai Region of the Democratic Republic of the Congo (DRC). They can find themselves exposed to the worst of the violence because they cannot keep up when it is time to flee, and their families may not wait for them.
"It was everyone for themselves," said Véronique. "Everyone was fleeing to safety, and my husband abandoned me. I was helpless in the confusion." Both of Véronique's legs are paralysed as a result of polio. She was left behind with her five-year-old daughter.
The Kasai Region is located in the centre of the DRC and is made up of 5 of the country's 26 provinces. The violence there broke out in August 2016 between a local militia group and the national security services. Since January, there have also been armed clashed between communities, killing thousands and displacing over a million people.
When the violence began, Véronique was living in Tshikapa, a town in Kasai. She didn't expect to survive alone in the middle of the fierce fighting: "I thought it was the end. Because I couldn't move like everybody else, I stayed at home waiting to die with my daughter. I couldn't stop crying as I saw people fleeing without us."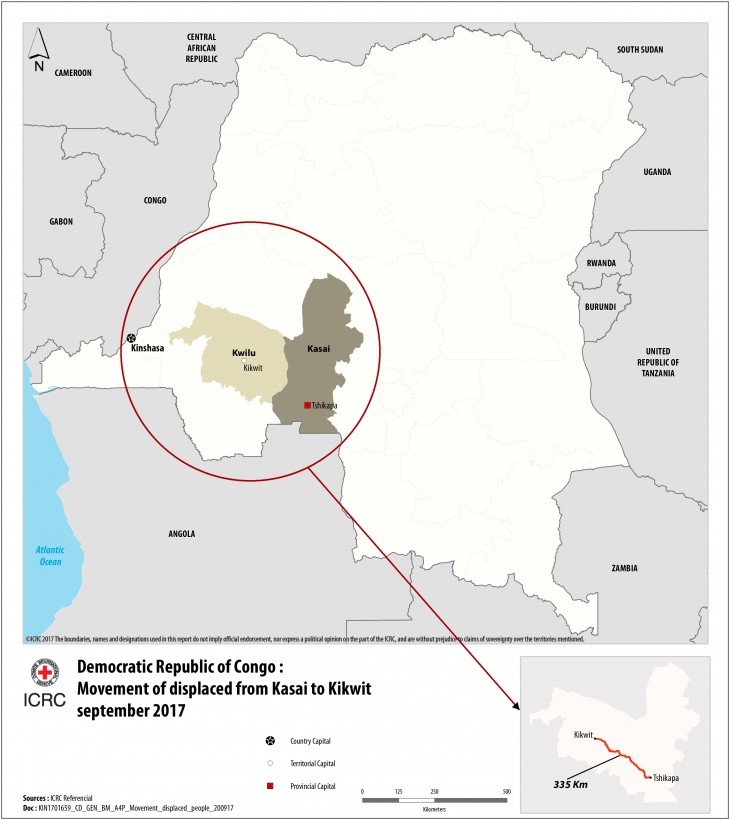 A stroke of luck saved Véronique's life. She saw some friends of her husband pass by her house on their way out of town, and told them about her situation. "They put my daughter and me in their car and we left straight away. In my panic, I left everything behind."
The next day, Véronique and her daughter were in Kikwit, in the province of Kwilu, 300 kilometres away. They'd never been there, and they didn't know what to do. They had no possessions and no food. They had to beg to survive.
The authorities in Kikwit made some arrangements for people who'd been displaced from Kasai, and Véronique was placed with a host family. But the challenges were still too great. Her daughter fell ill several times and she couldn't afford proper treatment. And the host family couldn't afford to feed them every day.
It was thanks to the hot meals distributed by the International Committee of the Red Cross (ICRC) and the Red Cross Society of the Democratic Republic of the Congo that Véronique and her daughter stopped going hungry. Other displaced people helped her and her daughter to get to the closest distribution centre at lunchtime.
Véronique has received money as well as food from the ICRC. The aim of this financial support, provided in cooperation with a bank in Kikwit, is to give displaced people cash to cover many of their essential needs and, if possible, help them set up a small business to generate revenue and give them a degree of autonomy. As she left the bank, Véronique said: "First and foremost I will use the money to treat my sick daughter. Then I think I'll buy biscuits and soap to resell. I might sell packets of peanuts too, because that works well here."
Véronique still hasn't found her husband or even heard from him.
The ICRC and the DRC Red Cross are currently helping 29,000 victims of violence in Kasai. Between August and September, they provided hot meals and financial assistance to 9,000 displaced people in Kikwit.