Humanitarian crisis in Ukraine and neighbouring countries
It is hard to exaggerate the toll that the international armed conflict between Russia and Ukraine has had on civilians in recent months. This comes on top of nine years of grinding armed conflict in Donestk and Luhansk.

Civilians have been killed and injured. Many have lost homes and loved ones. Millions of people have poured into neighbouring countries to seek safety. Others have lived much of the last months underground seeking shelter from bombs. Homes, schools, hospitals, and other critical civilian infrastructure have been destroyed. Entire cities have been heavily damaged.
IF YOU ARE IN NEED OF HELP IN RELATION TO THE international armed conflict between Russia and Ukraine, click here FOR INFORMATION AND CONTACT DETAILS.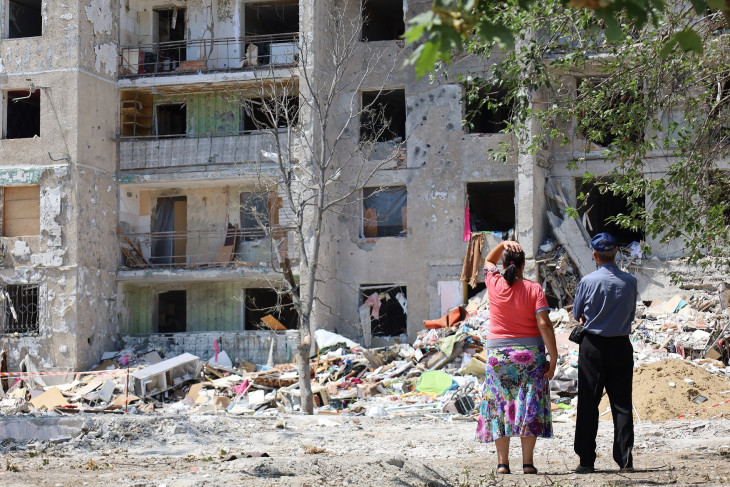 The ICRC has worked in Ukraine since 2014. To meet the rising needs, the International Committee of the Red Cross has scaled up its work across the areas directly affected by the hostilities and in neighbouring countries in close coordination with the Ukrainian Red Cross and other Red Cross and Red Crescent partners.
Our staff work in Lviv, Vinnytsia, Kyiv, Poltava, Dnipro, Odesa, Luhansk and Donetsk alongside our partners the Red Cross and Red Crescent Movement to save lives and alleviate suffering of civilians.
To support our regional response, we set up new offices in Moldova, Hungary, Poland and Romania and expanded the operational capacities of our delegation in Russia, which we opened in 1992. We deployed hundreds of staff to support the response, including surgical teams, weapons contaminations experts, and other specialists.
For the past year, the Red Cross Red Crescent Movement has been responding to the humanitarian needs of people affected by the Russia-Ukraine international armed conflict.

Learn more in our report: https://t.co/fx7E3dQk4i pic.twitter.com/TLjGA6NmVj

— ICRC (@ICRC) February 23, 2023
EMERGENCY RELIEF
With the Ukrainian Red Cross and other Red Cross partners, the ICRC is providing emergency assistance to people living in conflict zones or those displaced by the fighting. This includes food, hygiene items, kitchen sets, household appliances, for over 894,000 internally displaced people. More than 346,000 people received cash assistance to help them cover emergency expenses. In Moldova, the ICRC, together with the Red Cross Society of the Republic of Moldova, delivered food parcels and hygiene kits to 5,000 families, while another 600 families received cash assistance in the Transnistria region.
Today I visited Nova Buda, a village in Ukraine where half the homes have been damaged or destroyed. I met people who've lost their homes homes to violence which leaves physical, emotional and mental scars.
We're bringing cash assistance so people can begin to rebuild. pic.twitter.com/zTYTLahMMr

— Robert Mardini (@RMardiniICRC) August 30, 2022
HEALTH
The ICRC, together with the Ukrainian Red Cross and other Red Cross partners, is helping people get timely access to medical care, including the wounded and sick. We are also helping care for the invisible wounds of the international armed conflict, with a psychosocial support hotline, psychosocial support sessions in displacement centres and psychosocial support trainings for Ukrainian Red Cross staff and volunteers.
Being injured or sick makes people vulnerable, especially when fighting is happening around them.

That's why we helped last week to evacuate injured & sick people from areas affected by fighting in the #Donbas region. pic.twitter.com/AEvvoJl7l7

— ICRC (@ICRC) July 4, 2022
ESSENTIAL INFRASTRUCTURE
The ICRC also stepped up its efforts to mitigate disruptions to essential services like water and electrical supplies. This includes trucking water to areas affected by supply disruptions, providing water trucks and tanks to local service providers, and helping local water boards with water treatment chemicals and repairs. The ICRC has also donated power generators to key facilities like health centres, water-pumping stations, and displacement centres, as well as working to restore heat to over a million people through the frigid winter months. Our teams have also provided families in armed conflict-affected areas materials to repair their homes. This work is benefiting millions of people directly affected by the armed conflict.
In #Irpin, #Ukraine, extensive damage to the city's infrastructure, including the water supply and sewerage system left
residents without access to these essential services for a year.

We partnered with local authorities to restore these critical systems. pic.twitter.com/OoisiEwNS2

— ICRC (@ICRC) April 22, 2023
PROTECTION OF CIVILIANS AND INTERNATIONAL HUMANITARIAN LAW
"I'm still getting glass fragments out of my body".

Katya's home in Serhiivka, #Odesa region was damaged by shelling. Her daughter saw her bleed & feared they'd die.

She recalls saying, "No, honey, we'll live."

We supported Katya & her neighbours with food & essential items. pic.twitter.com/JUq1QuwNng

— ICRC Ukraine (@ICRC_ua) August 15, 2022
The ICRC continues to remind the parties to the international armed conflict between Russia and Ukraine of their obligations under international humanitarian law, or the laws of war. This is one of ICRC's less visible areas of work, but it is no less constant or vital. It means we speak directly and confidentially with the parties about their responsibility by law to protect civilians and the infrastructure they rely on as well as other protected groups like prisoners of war.
These bilateral, confidential conversations with the sides of the Russia-Ukraine international armed conflict also allowed us to facilitate the evacuation of thousands of civilians from Mariupol and Sumy. It has also allowed us to start visiting some prisoners of war, which we are entitled to do under the Third Geneva Convention, and share news with their families. We continue to speak with the parties about our right to visit all prisoners of war held in relation to the Russia-Ukraine international armed conflict, wherever they are held, as more families await for news from their loved ones.
"We are virtually in a combat zone, just a few kilometres from Chasiv Yar."

Constant hostilities in communities near the frontline in #Donetsk region prevent civilians from accessing the most basic services. pic.twitter.com/1tjPtSZoEF

— ICRC (@ICRC) April 13, 2023
RESTORING FAMILY LINKS
The ICRC set up a dedicated bureau of the Central Tracing Agency for the humanitarian crisis in Ukraine in 2022. The CTA Bureau collects, centralizes, and transmits information about the fate and whereabouts of people, both military and civilians deprived of their liberty, who have fallen in the hands of the enemy. Additionally, the CTA Bureau, in coordination with its wider network of ICRC delegations and Red Cross and Red Crescent national societies, helps any families who have been separated due to the armed conflict to find their missing relatives.
The last 6 months has taken a huge toll.

Our teams along with #RedCross #RedCrescent partners have been working across #Ukraine & neighbouring countries to help millions of people in need.

We know there is so much more to do. pic.twitter.com/KTGhXDHIjW

— ICRC Ukraine (@ICRC_ua) August 26, 2022