Afghanistan: "My children are collecting waste to feed themselves"
The nation-wide crisis is personal for Nafisa and her six children. "We don't have oil and flour. There is nothing to eat at home," says Nafisa, who lost her husband amid conflict. "Every day, I go to the streets to beg but I don't even get 20 afghani (AFN) (about $0.20) because there are too many beggars in Kabul. If the neighbours bring us something, we eat it. If they don't, we all go to bed hungry. Sometimes, my children collect wasted food from a hotel to feed themselves. But they don't succeed every day," she shares. Living in extreme poverty, Nafisa cannot send her children to school. "They need notebooks, pens and pencils. I cannot afford it," she adds.

(Masoud SAMIMI/ICRC)

"If we don't receive assistance before winter sets in, there is no doubt that somebody from my family will die," says Mohammad Hashem, who left Balkh province because of the dearth of jobs in the area. In Kabul now, he scours the streets for waste plastic, scrap metal and other such items to sell. "One kilogram sells for about 15 to 20 AFN ($0.20). I can't find a proper job so I do this to feed my children. They are always hungry as I can only provide just enough that they don't die of starvation," he says. Hashem has not been able to buy enough bread to feed his family for three days now. "The price of staple food has been increasing. I am concerned about the coming winter. I don't know what to do."

(Masoud SAMIMI/ICRC)

At just 13, Musafir, who lost his father to an illness, must bear the burden of being the only breadwinner of his family. Instead of being at school, he now finds ways to feed his family in Kabul. "I polish shoes and sell plastic bags, but I don't earn enough money to buy flour for the family. It is very difficult to even make as little as 100 AFN a day (about $1.1), which is what I need to buy five loaves of bread," he says. Musafir is one of tens of thousands of children in Kabul engaged in hard labour, begging, cleaning shoes, collecting scrap materials and washing vehicles to be able to buy food. Most of these children have lost a parent to illness or conflict. Many still carry the hope of attending school, but with the load of providing for their families and the lack of financial means, it is a distant dream for them.

(Masoud SAMIMI/ICRC)

Breakfast for 65-year-old Mohammad Ebrahim's family is half a loaf of bread and boiled water. Even on a good day, that is not enough for his nine-member family as it is the only meal they eat. "We are all very hungry," says Ebrahim, who fled Logar province for Kabul because of the decades-long armed conflict in the region. Unable to find a job and weakened by years of hard work, he now sits along the roadside waiting for someone to help him. "I used to work as a mason earlier but I can no longer find work," he says. Now, he collects and sells plastic bottles or looks for someone to help him buy bread for his family. "We can barely eat once a day. I do my best to earn about 100 AFN ($1.1), but it is not enough."

(Masoud SAMIMI/ICRC)

Like many other people who lost their jobs, Mohammad Reza attempted to start a small business by selling plastic pots on the streets of Kabul to feed his family of nine. But customers are few as people struggle to make ends meet amid the deteriorating economic situation. "I work the whole day but I don't even earn 100 AFN ($1.1). We have nothing at home. We don't have flour, oil or rice," he says, echoing what many others share. The coming winter is a particularly concerning time for Reza. With already limited customers, there will be even fewer buyers when it gets cold outside. "How will I manage," he asks.

(Masoud SAMIMI/ICRC)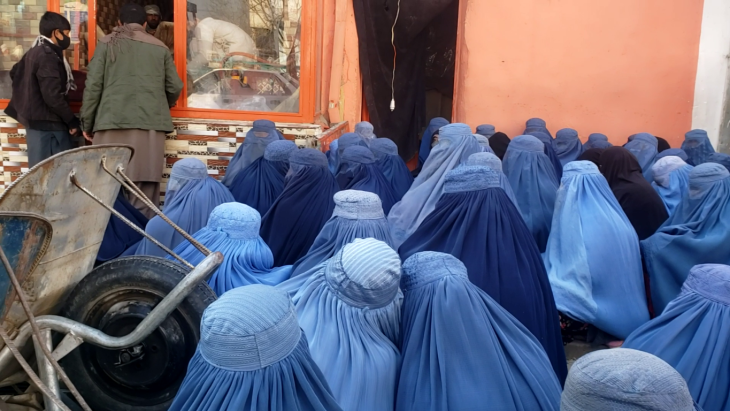 Women queue up in front of a bakery in Kabul, looking for someone to buy them a loaf of bread to stave off hunger. (Masoud SAMIMI/ICRC)
As many as 20 million people in Afghanistan lack access to nutritious food and more than 24 million are in dire need of humanitarian assistance. The worsening crisis is driving millions of people into extreme poverty, with many being forced to eat scraps or pick waste to avoid starvation. Widows and orphaned children are among the worst affected and too often unable to eat even one proper meal a day.
On the streets of Kabul, thousands queue up in front of bakeries waiting for someone to give them some food or wander about the city looking for jobs. Even if they find work, the hours are long and conditions dire and they only make enough money to buy bread to survive. Since August 2021, nearly 700,000 people have lost their jobs in Afghanistan and nearly 90% of those employed earn less than $1.9 a day. They are particularly concerned about the approaching winter, which will aggravate the food crisis.
The International Committee of the Red Cross (ICRC) is responding to the humanitarian crisis in Afghanistan by:
Supporting 33 hospitals that have a total capacity of 7,057 beds, reaching about 26 million people
Donating millions of litres of fuel to electricty supply company to provide electricity to tens of thousands of people for at least two hours a day
Providing physical rehabilitation services to people with disabilities
Giving cash grants to particularly vulnerable groups, including widows and disabled people
Improving access to clean water
Starting cash-for-work programmes in different parts of the country.
Yet, the humanitarian needs are massive. Without help from the international community and development agencies, the situation will continue to deteriorate.