Bangladesh: Challenges for journalists in situations of violence
6 August 2015, Dhaka - Experienced media professionals covering diplomatic assignments in Bangladesh came together to discuss the challenges for their profession's ethics and principles, in times of violence or emergencies.
Organized by the International Committee of the Red Cross (ICRC) together with the Diplomatic Correspondents Association, Bangladesh (DCAB), the orientation was initiated with the aim to offer support and advice to journalists in situations of violence.
Journalists encounter various difficulties when reporting from violence affected areas. It is thus important to equip them with the knowledge that may assist during these times. Hence, Masud Karim, President of the DCAB said: "This orientation has allowed 28 of our members present today to understand the different dynamics when reporting in situations of violence; and in a context like Bangladesh, we have found this very useful as our country experiences different types of disasters and situations of violence, with journalists sometimes not fully aware of the regulations and challenges involved."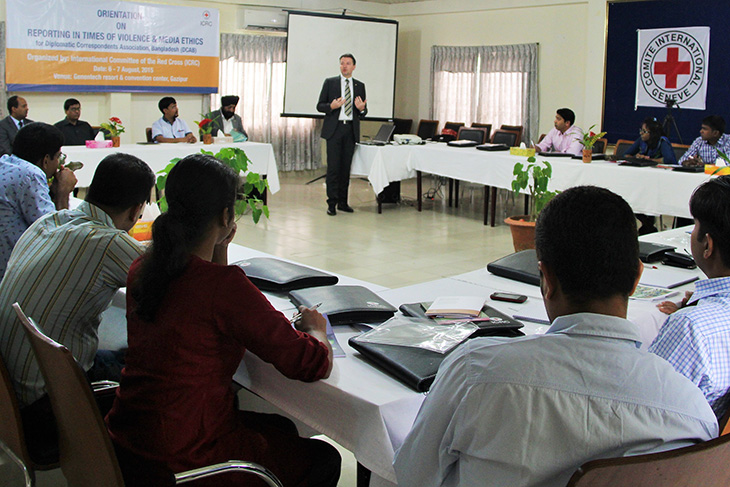 Sessions about the various practical situations and constraints faced by the journalists were led by a professor from University of Dhaka and an ICRC expert on the issue.
Concluding the event, Christine Cipolla, head of the ICRC delegation in Bangladesh, noted the developing cooperation with the DCAB, and added: "It is natural to seek the exchange and learn from each other about the situations that affect humanitarian workers and media professionals alike, around the world as well as in Bangladesh where the ICRC, in partnership with the Bangladesh Red Crescent Society, aims to address the needs of the victims of violence and natural disasters."