Tips and suggestions for mooting
Speech Delivered at the 9th ICRC Moot Court Competition, Xiamen, Fujian, 6 December 2015
Sten Idris Verhoeven
Dear organisers,
Dear coaches and students,
It is a pleasure to address you at the end of the 9th ICRC Moot Court Competition in which you had to address various controversial topics of international humanitarian law and answer the numerous and sometimes difficult questions of the judges. I have to say in all the rounds I judged I was impressed by the level of the performance of all teams, all teams did well to very well in pleading their case to the bench. You should all be proud of your achievement.
I am aware of the level of preparation you went through and the pressure on your shoulders when presenting your case. As a student, I went through the same when I participated twice in the Philip C. Jessup Moot Court Competition. The skills I have obtained during that competition are still useful in my professional life, years after the competition has ended. The journey to obtain these skills was long and hard, but I have no regrets to take up mooting, which I still continue to do, now as coach for the teams of the University of Macau.
As judge, coach, and former participant, you may wonder whether I have some tips and suggestions for all of you who have participated in this year's ICRC Moot Competition. Let me start with some simple truth about mooting: there are no secrets or shortcuts; in order to become good in mooting there is only the way of hard work and preparing as much as you can for the competition. Of course, some persons are naturally better in mooting than others – I was far from a natural talent in mooting – however everyone has the capacity to be a good moot participant through continuous practice.
So, what are the suggestions I can give you, beyond this general advice. First, work as a team. A group of persons knows more than one person and can help each other to perform better. Your team members are your soundboard to test your ideas and your arguments. Write together with them on the memorials, until all of you are pleased with the text; plead in front of them and let them challenge you, like judges would do, with questions and let them scrutinise your answers. Keep on doing this, until you are all satisfied with the answers given.
Second, have a broad research during your preparation and the writing of the memorial. International humanitarian law and international criminal law is part of international law and this context should not be neglected. For instance, you should know the sources of international law well and how treaties are interpreted. Furthermore, do not be afraid to think outside the box and come up with creative ideas. Even if they do not work, you now know that they do not, so that if another team makes this argument you know how to respond.
Third, not only should your knowledge of the law be wide and deep, but you should master the facts of the case. You need to know the facts by hard and be aware how far you can extrapolate them. In doing so be very careful not to draw too many interferences from the facts. Stick to the facts, even if they are not in your favour, and never invent new facts, since this damages your integrity and credibility and there is nothing more important for a pleader than these.
Fourth, when pleading, make sure that you address your strongest points first, or as soon as possible. Of course, the role you play will make this more difficult to achieve. The prosecution must address all elements of the crime, even those that are not disputed. In such case, mention them and move on quickly to the points you need to address in more depth and therefore will require more time and more discussion in order to be persuasive.
Fifth, answering questions is fundamental for any moot court competition. Consider questions as invitations to demonstrate how well you and your team have prepared. Questions allow you to show your level of knowledge of the law and the facts. Do not lose too much time in providing answers: give a to the point answer, which contains the facts and the source of law you rely on and jump back into your pleading. Use the question to catapult you to a next point you want to make in the pleading. Hence, you have to be flexible in the structure of your pleading. Be ready to argue a point before another, even if that is not according to the initial structure of your pleading, if it helps you to answer a question.
Sixth, you have to be aware how far you can concede the argument. There is not necessarily a need to win each and every point, only on the most important points you cannot give in. If the argument is vital to the success of the case, you cannot give in, even if pushed by a judge. Defend your position even if in the end the judges are not convinced and move to the next argument.
Seventh, do not neglect the rebuttal and surrebuttal. When two teams are close to one another, the rebuttal and surrebuttal may determine the outcome of the round. It is the final moment to impress the judges and to undermine the arguments of the opponent, make good use of it. Do not merely repeat the arguments you have made in your pleading, but attack the arguments of the opponent by finding inconsistencies, wrong use of fact and law, ... and point them out to the judges. A well-crafted rebuttal may leave the opponent with no good response, and an excellent surrebuttal could cast doubt on the final arguments of the opponent and therefore his or her credibility.
I hope these tips and suggestions will help you to do well in your future mooting career. Although they are basic tips, never neglect the basics, and this will bring you already a long way on the path of success in mooting.
Thank you for your attention.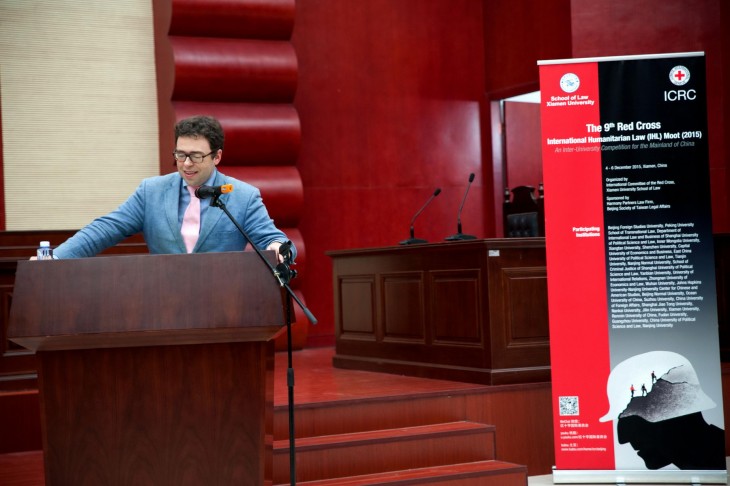 Sten Idris Verhoeven participated in the Philip C. Jessup International Law Moot Court Competition in 2002 and 2003 for the Katholieke University Leuven (Belgium) and achieved 36th place as oralist in the competition of 2003. He subsequently became the coach for the various Jessup teams of the Katholieke Universiteit Leuven between 2004 and 2009, with as best result reaching the quarter final and winning the Dillard Award (award for best memorial in the international and national rounds). In 2009 he became assistant professor at the University of Macau where he teaches various courses in international law and European Union law. In 2012 he coached the Jessup team of the University of Macau and in 2013 and 2014 he coached the ICC Moot Court Competition team of the University of Macau, winning best memorial in 2014.