Democratic Republic of the Congo: Between Ebola and machetes
Fighting an outbreak in an area rife with violence comes with unique challenges.
"Ebola changed our life here in Beni. Everyone is afraid. You're scared of even your brother and your friend because you don't know if they're sick or not," says Euloge, a nurse at a private health centre in Beni.
Like Euloge, many people in Beni are worried and feel caught between a rock and a hard place.
"Will I escape this outbreak or will I be caught by it? We live under a fear that adds to another. Beni is threatened – in the east you face machetes and in the west, where we were supposed to flee, now there's this disease," Euloge explains.
No more handshakes or hugs
No more handshakes, hugs or sharing your plate with others. Now, you have to stop at control points between cities and communes to wash hands, have your temperature taken and register your entry and exit. Your hands smell like chlorine all day long. Colourful plastic handwashing points on wooden stands have popped up at entrances of stores, schools and workplaces. Some have even installed one at home. The positive side, as some locals joke, is that at least now they always have clean hands and water and soap to wash them.
Frustration, wariness and the feeling of being isolated are palpable when talking with people in Beni about how the current Ebola outbreak has forced them to change their routines and adjust to their new life.
"When I come home from work, my wife usually hugs and kisses, me but now she has to wait for me to clean up to not put herself at risk," says Euloge. "And the kids, they weren't used to washing their hands all the time but now they've learned that after each contact they have to do it."
20 years of conflict and violence — and now Ebola
Before the Democratic Republic of the Congo's (DRC) 10th outbreak was declared in the Beni region in the north of North Kivu on 1 August 2018, the area was infamous for its volatile history of over 20 years of violence and conflict between various armed groups and the military. The lives of numerous families had already been shattered by the loss of loved ones, fleeing and leaving everything behind, starting over and over again, while living under the constant fear of the next attack.
Des volontaires de la Croix-Rouge blessés lors de l'enterrement digne et sécurisé d'une victime d'Ebola en RD Congo alors qu'ils effectuaient un enterrement digne et sécurisé dans la ville de Butembo au Nord-Est de la République Démocratique du Congo (RDC) pic.twitter.com/tSdjkb3U9e

— Croix-Rouge/RDC (@crrdc1) October 4, 2018
The outbreak started in Mabalako health zone, in Mangina, a city of 230,000 inhabitants some 40 kilometres from Beni. Mangina and its surroundings are relatively calm compared to the rest of the region and have thus become popular host communities for displaced families who fled fighting in other parts of North Kivu and Ituri provinces. By early November, the virus had spread to the bigger cities of Beni and Butembo, with a few cases in the nearby health zones of Kalunguta, Masereka, Musienene and Oicha in North Kivu province. Some cases had also been reported from Komanda, Mandima and Tchomia health zones in Ituri province.
The Ebola outbreak adds another layer of trauma for the children, women and men from the region – among whom the oldest have lived amid conflict and violence for over two decades now. "I got goosebumps when I first heard [of Ebola]. There are ten, five deaths at a time. That made me so scared because it reminded me of the massacres," Adeline, a Red Cross volunteer of 17 years from Beni, says. A mother of nine, Adeline leads the Red Cross' safe and dignified burial teams in Beni as part of the Red Cross Ebola response.
The outbreak has had an impact on people's lives from home to work. Despite the horrors and trauma, many have grown used to the reality in Beni.
Euloge says that fewer patients are coming to the health centres out of fear of being infected or being taken to an Ebola treatment centre. Elyzé, another nurse from Beni who works in a private dispensary, says he had to stop working since his patients weren't coming in anymore. He thinks an added reason behind the decreased patient footfall was that health care had been made free at certain public medical facilities, a measure that is usually taken during an outbreak to encourage people to seek immediate care and help detect Ebola cases early on.
It must be a joke
Disbelief was the first reaction of many because despite the Ebola virus being endemic in the DRC, an outbreak had never hit the region before. Rumours and misinformation started circulating quickly when people were trying to make sense of what was happening.
"At first people thought it was a joke," says Kavira, a Red Cross volunteer in Mangina. "They were saying it was because of a poison or something mystical. But now they're starting to understand it's an outbreak and that it's dangerous. They've been talking about it on the radio as well, and people are tuning in to keep themselves updated."
Kavira is one of the first local Red Cross volunteers who were trained to raise awareness about Ebola by going from door to door, organizing community education sessions and broadcasting radio shows or theatre pieces within their communities. She is a mother of two who makes her living out of cultivating manioc, beans and peanuts. Kavira joined the Congolese Red Cross four years ago after her son was hit by a motorcycle taxi and saved by a Red Cross first responder. She now wants to give back and help others in return.
Paluku, a Red Cross health advisor and first responder from a village some 15 kilometres from Mangina, took part in the same training module as Kavira. Father of six, Paluku has been with the Red Cross for over 25 years. Apart from being a health advisor, he also grows beans, rice, peanuts and palm oil and feels it's his duty to promote health-related matters in his community. So, he decided to hop on a motorcycle taxi and come all the way to Mangina despite it being declared the epicentre of the Ebola outbreak.
"I'm not scared to be here. I want to help the people deal with this disease and after getting trained here, I'll go home and sensitize my community. People keep hearing rumours about Mangina but they've never been here. So, they want to know what's really true," he explains.
At the beginning of the outbreak, and before the number of Ebola survivors started to grow, many people were in denial about its gravity and did not seek treatment quickly enough. The delay meant lower chances of survival. They did not want to accept the possibility of being infected and resisted a visit to the treatment centre. There were some people who refused to get vaccinated and even avoided speaking to the Red Cross volunteers or community health educators.
"We have to raise awareness, but not everyone wants to listen"
Many locals, including the health workers, Red Cross volunteers and journalists, have been doing their bit to tackle this resistance and misinformation. "It's a difficult job because not everyone wants to listen to you," Euloge says.
Despite this, he decided to take part in one of the first training sessions on preventive and infection control measures that the Red Cross organized for health workers and community members in Beni in September.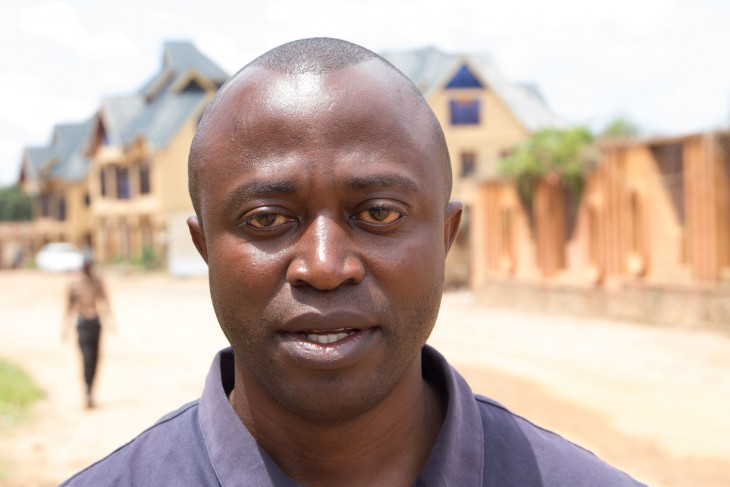 Health workers like Euloge are the most exposed to Ebola and are not always adequately equipped. "I feel like I am better prepared now," he says after the training module. "It is important to maintain hygiene and also to keep a distance from those who are ailing. When people come to a health structure, we have to first lead them to where they can wash their hands and have their temperature taken. We can protect ourselves if we respect the rules."
Deborah, a community outreach volunteer, followed the same training course to learn ways to inform her community and fellow students about Ebola prevention. "I want to be able to defend myself when facing a mass of people who don't want to accept that this disease exists. The virus is really dangerous and can be misleading as its symptoms mimic those of malaria, typhoid or cholera. Ebola spreads because people who're infected don't seek treatment and some even go into hiding," she explains.
The idea is to make people act swiftly, without wasting any time. Of late, people have started to alert local health authorities about possible Ebola patients. "A young man in my community fell ill and suspecting something serious, we immediately informed the health authorities on the helpline number. Thanks to timely care, he is doing better now," Deborah says.
She knows that speed is of the essence when fighting the Ebola virus, but she is also aware that people need proof of the virus' existence and also need to see the hope of getting cured.
"People have to call the helpline number as soon as the symptoms appear. The sight of people falling prey to Ebola is traumatizing. But after seeing our neighbour [get cured], we're much less scared now, and that gives us hope each time a call is made to the authorities for help," she says.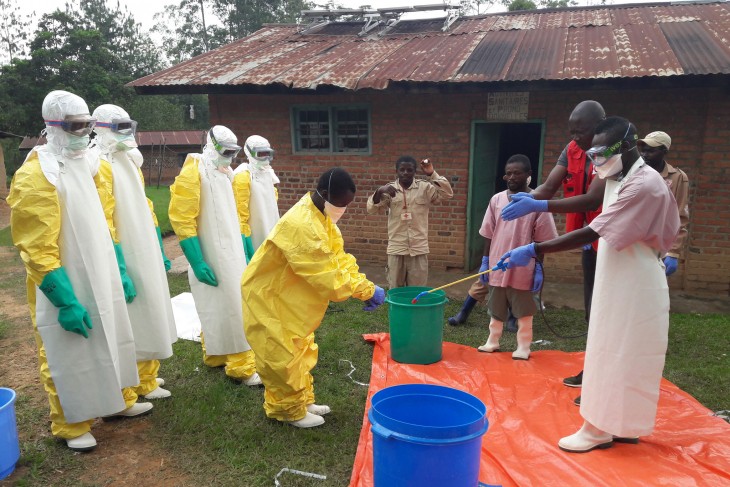 Local media, too, is playing a key role in this fight against the disease. "Journalists are a part of the Ebola response mechanism because they help spread awareness. This is especially relevant in the Great North Kivu, where people rely on the media for credible information and believe most of what is presented via the journalists," Yassin, a local media person, explains.
Besides actively talking about the need to get vaccinated but making his neighbourhood aware about the ground realities in Beni, Yassin also shares daily updates about the disease and ways to prevent it by sending messages in various WhatsApp groups. Calling on other journalists to join this cause, Yassin says the advisories issued by the media have a greater chance of being followed by the people because of the high reliance on journalists in the region.
Safe and dignified burials and white body bags
Tackling misinformation plays a key part in helping people accept the safe and dignified burials conducted by Red Cross volunteers and local civil protection services. The body of a person who died of Ebola is highly contagious and cannot thus be prepared or buried by the family themselves. Naturally in the moment of sorrow and because it goes against the local way of burying and if people don't believe Ebola is the reason of death, it can be hard for them to accept that a team wearing yellow plastic suits and big goggles have come to bury their loved one.
Adeline leading the Red Cross burial teams in Beni understands why some people are resistant. She explains that traditionally bodies are buried with bare hands and not wearing gloves and special clothing. "What we are doing is new. People are used to the traditional way, not the modern way," she says.
To help people accept the "modern" way, the burial teams always invite one member of the family to take part in preparing the body, wearing the full protective suit. This allows them to see the body as well, which can be important in some cultures. Few accept though, Adeline says, since they are afraid to wear the suit or be infected. The rest of the family can participate in the funeral and perform any rituals they like, respecting the safety distance of one metre to avoid any contamination.
The awareness-raising sessions have also been adapted to help resolve misunderstandings. People weren't used to putting their loved ones in body bags and not seeing the body once it was in the bag. Some community members even claimed that the bags or the coffins were buried empty or filled with rocks and that bodies or body parts were stolen. To increase transparency and to stop the rumours, a demonstration of the use of the body bag from start to end has since been included in the sensitization sessions.
By early November, more than 150 local Red Cross volunteers were trained in North Kivu and Ituri provinces to conduct safe and dignified burials. Adeline and other burial team leaders explain that not every volunteer is able to do it. It's a tough and sad job that requires mental and physical strength and a certain sense of observation and vigilance. The volunteers who choose to be part of the burial teams also have to think about the consequences on their families.
Adeline's family accepts her role in the Ebola response. "They know that my role is to help alleviate suffering and the community. I take precautions when I come from the field to not contaminate them," she says.
For Denise, one of the burial team leaders in Mangina, it's more complicated. "Our children, our husbands, even the wives of other volunteers are scared, they believe that we can contaminate them when we come back home," she explains but says she wants to respect the principles of the Red Cross to serve her community despite the challenges.
Fighting Ebola in a conflict zone
Fighting an outbreak in an area rife with violence has its own challenges. Displacement and insecurity make tracing cases much harder while some communities are in the "red zones" which aren't accessible to all organizations involved in the Ebola response. Attacks, demonstrations and some violent incidents with certain community members have slowed down the response and created gaps in tracing people potentially infected with Ebola, in vaccinating them and burying the victims.
Solutions have been found. For example, the Red Cross trained local civil protection teams in safe and dignified burials to be able to conduct them in areas that are inaccessible to the Red Cross and other humanitarian actors due to insecurity.
November 1, 2018
After the first wave of shock has passed and people have come to accept that an Ebola outbreak has hit their region, more and more people start to collaborate with the Ebola response teams. In many cases community resistances seem to be limited to certain neighbourhoods only or caused by certain groups of community members, and not the affected families themselves.
Local people like Euloge, Deborah, Yassin, Elyzé, Adeline, Paluku, Denise and many others continue to do their utmost to help contain the outbreak. For them it's about protecting their families, their community and their lives. Once the outbreak is declared over and the response teams gone, they will still be there and will have to start over once again.
Update:
Over 32,000 people have been sensitized about Ebola through door-to-door awareness-raising activities conducted by DR Congo Red Cross volunteers.
360 safe and dignified burials have been conducted by 12 Red Cross teams in 9 health zones in North Kivu and Ituri provinces. The families request the Red Cross assistance whenever they have a doubt regarding the reason for the death.
Photos: Hanna Leskinen, Céline Degen, Paulin Bashengezi and Pedram Yazdi