Ethiopia: Second humanitarian law moot court competition held
Law students from various universities have been testing their international humanitarian law (IHL) knowledge and skills at the second national moot court competition, which was organized by the ICRC in partnership with Addis Ababa University (AAU).
After a review of written submissions by 16 universities teams comprising 32 students, the top eight teams were selected to take part in the oral rounds that took place from 11 to 13 May 2017 at AAU. This year saw newer universities such as Wolaita and Wollo universities progressing into final rounds. After the quarter and semi-finals, Debremarkos University and AAU competed in the final on 13 May, taking the role of prosecution and defence, respectively. A panel of five judges, comprising prominent Ethiopian lawyers and Jelena Nikolic, legal adviser at the ICRC delegation to the African Union, judged the final and crowned the team from AAU the winner.
Amen Taye from AAU, 21, was named the best orator during the competition. He described his experience: "The research and rehearsals I conducted in preparation for the moot competition in the last three months helped me to widen my knowledge on IHL. I have also developed my skills on how to organize, construct and present persuasive arguments as well as to easily counter the opponent's arguments in a lawsuit."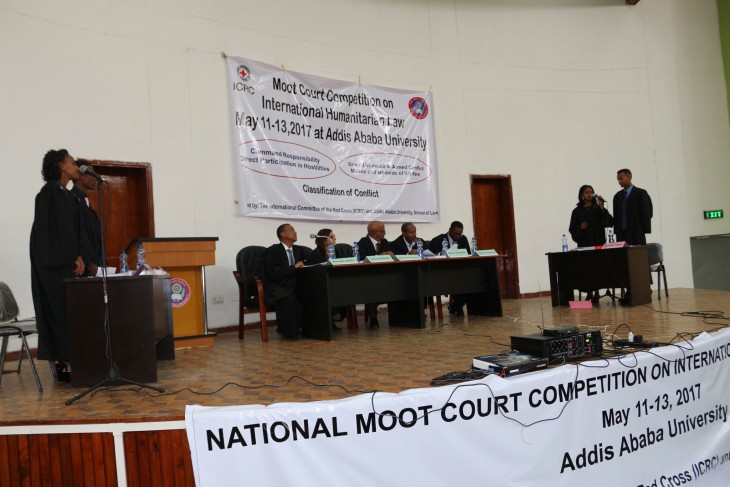 Another competitor, Filagot Mulat, from Debremarkos University, said, "It was a golden opportunity for my colleagues and me to test our skills and knowledge of IHL and related laws, which we had acquired theoretically in college, and were able to further develop in the course of preparation for the competition."
In his closing remarks, James Reynolds, head of the ICRC delegation in Ethiopia, said, "Competitions such as this one are highly important as opportunities to promote IHL and other related laws, as they bring together dynamic and motivated students who are interested to put into practice what they learn."
Dr Solomon Negussie, dean of the School of Law and Governance Studies at AAU, said that the competition supported the curriculum of the law school. Dr Solomon also shared his sincere belief that in addition to the competing students, all those who were involved in various capacities such as coaches, judges, volunteers or otherwise, found the experience enriching.
The team from AAU and Noah Yusuf from Wollo University, who was selected as the second best orator along with Lea Mehari from AAU, will participate in the All Africa IHL competition which will take place in Arusha, Tanzania, in November 2017.
As part of its mandate to spread awareness about IHL, the ICRC in Ethiopia promotes the law through education, training and moot court competitions involving a wide range of groups and individuals, including legal professionals, law students, instructors, decision makers, and members of the police and armed forces.