Ethiopia: Authorities enhance prison management skills
"One of the most important lessons I learnt is that making good use of available meagre resources could change the quality of life in prison," says Deputy Commander Woubalem Tefera. Deputy Commander Woubalem was one of the 33 prison managers of Oromia region who attended a five-day prison management training organized by the Oromia Region Prison Commission and the ICRC. The training was conducted in Adama city, 90 kms south of the capital, Addis Ababa, in mid-November.
"The main objective of the training was to empower participants with prison management skills and make them take the initiative to improve their own place of detention through implementing tools of project management," remarked Paul Geurts, Regional Prison System Advisor with the ICRC.
Deputy Commander Woubalem said, "We clearly understood that talking more about money could not solve problems. Rather we should talk more about what we can do with our management capacity to change the quality of life in prison."
Commander Abebe Teshome commented on his part, "We realized that it is possible to tackle prison problems through the application of smaller projects by avoiding our habit of expecting more funds from the government or from partners."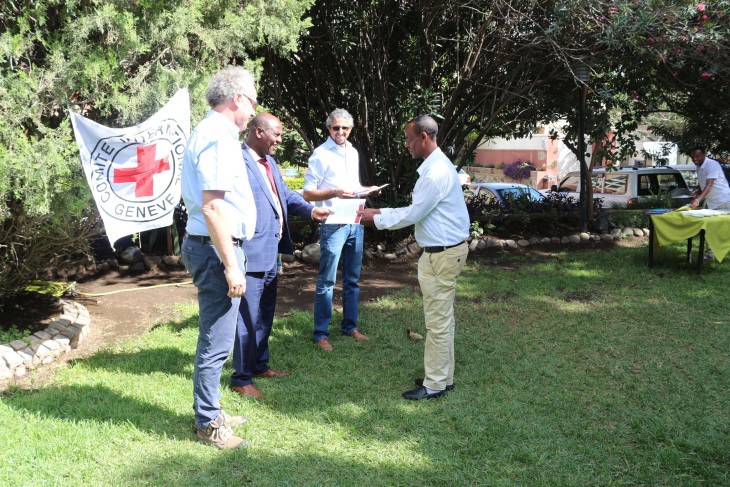 The ability to work on the improvement of prisons as a system and paying more attention to what you can do yourself as the responsible manager of a prison, through the development and implementation of small projects are among the topics covered in the training, according to Paul.
Inspector General Deme Fufa is the head of Gimbi prison in West Wellega Zone of Oromia region. He spoke of the importance of treating prisoners in accordance with the law and acceptable standards in bringing about responsible citizens.
In Ethiopia, the ICRC conducts its visits to prisons both at the federal and regional level. It works to improve conditions of detention and treatment of persons detained in relation to conflict and violence but also to improve access to services in prisons and support in finding a sustainable and replicable solution to the infrastructure problems. In this light, working to enhance the capacity of prison authorities through the provision of trainings in and outside of the country, is an important part of this approach.