Ethiopia: Parliamentarians discuss IHL and Red Cross activities
Thirty-one Members of Parliament (MPs) discussed the fundamentals of International Humanitarian Law (IHL) in Addis Ababa at a seminar organized jointly by the International Committee of the Red Cross (ICRC) and the Ethiopian Red Cross Society (ERCS). The objective of the seminar was to enhance parliamentarians' knowledge of IHL and inform them about the activities of the Red Cross/Red Crescent Movement so that they can play their role in strengthening domestic implementation of IHL and providing support to the ICRC and ERCS.
Petros Woldesenbet, Chairperson of the Legal, Justice and Administrative Affairs Standing Committee of the House of Peoples' Representatives, said "the discussion we held with the Red Cross, which undertakes its works in compliance with our constitution and other laws, has an important contribution in the formulation and monitoring of the proper implementation of relevant laws by the Standing Committee." He also reaffirmed that the House would continue working with the ICRC/ERCS and consolidate further its healthy relations and cooperation with both institutions in the years ahead.
On his part, James Reynolds, Head of the ICRC Delegation in Ethiopia, noted that, "As law makers play a key role in ratifying IHL treaties and ensuring their proper implementation, it is important that they have an enhanced understanding of IHL to enable them discharge their responsibilities effectively in this regard. "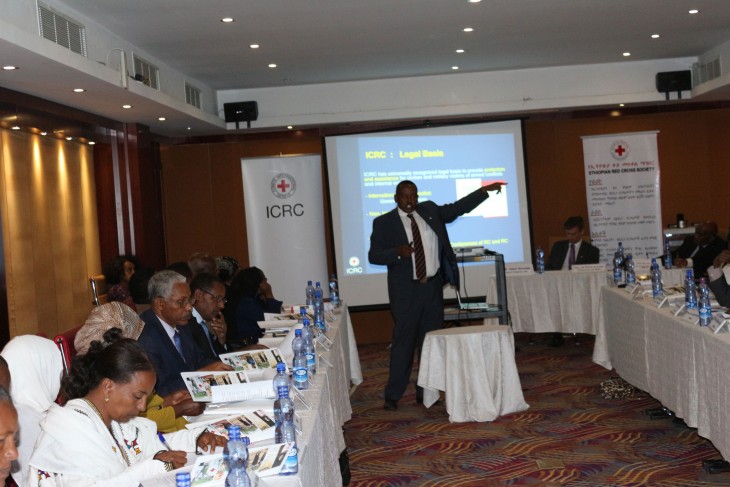 Girma Mekonnen, member of the Foreign Affairs Standing Committee said: "The seminar created an opportunity to enhance our knowledge about IHL," and suggested a similar session be held for other parliamentarians, a view echoed by many of the MPs who attended the seminar. Participants also emphasized that MPs should have a dialogue with their constituencies with a view to raising awareness of the Red Cross, thereby garnering the necessary support and acceptance.
Ways of further enhancing future areas of cooperation between the ICRC/ERCS and the Ethiopian Parliament were discussed in the course of the seminar.
As part of its mandates to spread the knowledge of IHL, the ICRC in Ethiopia promotes the law through the provision of relevant education and trainings to decision makers like MPs, legal professionals, law students/instructors, members of the police and armed forces, among others.