Ethiopia: Red Cross distributes emergency aid to 35,000 people
Merima Musa is a mother of five children whose farm fields were in danger of lying empty. The family, already buffeted by the effects of both repeated poor rains and intercommunal clashes, had nothing to plant, but a donation of maize and sorghum seeds has the 55-year-old hopeful about an upcoming harvest.
"Had it not been for the supply, my farm would have remained idle," she said.
The International Committee of the Red Cross (ICRC) and the Ethiopian Red Cross Society (ERCS) have jointly distributed emergency aid to more than 5,700 households in 17 localities of eastern Ethiopia affected by intercommunal clashes.
An estimated 35,000 family members from affected households in Gursum and Meyu districts of East Hararge Zone are expected to benefit from the June 6-9 delivery of essential household items or seeds and farming tools, assistance aimed at improving living conditions and restoring livelihoods.
"The inhabitants in 14 localities in Gursum district are living in a difficult conditions following the intercommunal clash that resulted in their displacement. The current drought has exacerbated the food problem they are facing," said Samson Shimelis, head of the district's Disaster Prevention and Preparedness Office. "The supply of the seeds and tools to 2,700 families will help them to re-cultivate their farms and ensure their food security."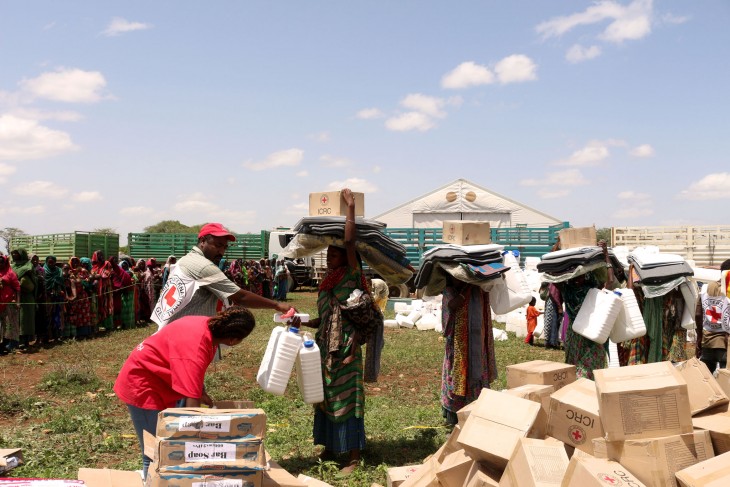 Musa, the mother of five, said: "Thanks to those who gave us these items I will be able to cover my farm with maize and sorgum seeds in the coming rainy season."
The seeds will enable the re-cultivation of 2,700 hectares of farmland in the affected areas, said Tsegahun Tesfaye, who is in charge of economic assistance programs for the ICRC in Ethiopia.
Two blankets, one tarpaulin, two jerry cans, two sleeping mats, and a kitchen set were among the items provided for the more than 18,000 family members in three districts in Meyu woreda, East Harage Zone, according to Adem Abdurahman, secretary of the zone's ERCS office.
Jibril Abdi Adem, head of the administration in the Mojo-Woldiya locality, said: "The supplies have a valuable contribution in mitigating the problems of our communities who were robbed of everything they have during the clash."
One of the beneficiaries, Mohammed Adem, 71, is a father to seven children. "I am very happy that my family got something to wear (blankets) and something to sleep on (mats) at night, utensils to cook with, and jerry-cans to fetch water."
The ERCS and the ICRC will also distribute essential items next week to another 4,000 households in four localities of Meyu district that have been affected by intercommunal clashes.
The ICRC's economic security program in Ethiopia focuses on providing assistance -- shelter materials, household utensils, seeds and agricultural tools and fodder -- to people affected by inter-communal clashes.