Ethiopia: Wheelchair basketball expert helps Ethiopian players, coaches advance
The International Committee of the Red Cross (ICRC), in partnership with the Ethiopian Basketball Federation (EBF), organized a 10-day training from September 29 to October 8 in Addis Ababa for 95 players, coaches, referees and classifiers of wheelchair basketball.
Some 30 players, 25 coaches, 21 referees and 19 classifiers and players drawn from six regions -- Addis Ababa, Dire Dawa, Amhara, Southern Nations, Oromia and Tigray -- and universities took part in the training, the first of its kind to be held in the country. (Note: A classifier is a technical official who evaluates and assigns players to a classification to attain even levels of competition on the court based on functional mobility.)
"Sport plays a prominent role in helping the disabled recover both physically and emotionally thereby facilitating their integration into society," said Jess Markt, ICRC's Sport and Inclusion Advisor, who provided the training. "Thus, the main objective of the training was to enable the participants to acquire professional skills in their respective areas of interest which, in turn, will contribute to producing more players with physical disabilities," he added.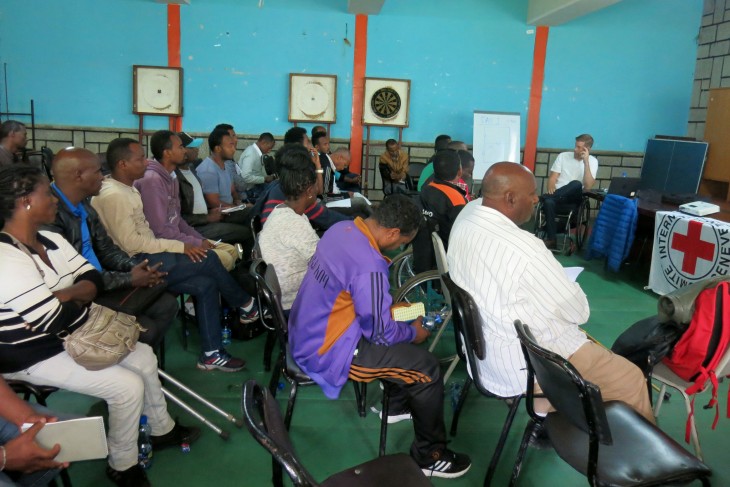 The training will also be a roadmap to the creation of a national wheelchair basketball association which will allow Ethiopia to get recognition and support from the International Wheelchair Basketball Federation (IWBF), according to Solomon Berhanu, a physiotherapist and the person responsible for social inclusion through sports at the ICRC.
Tariku Endayehu, one of the trainees, said "the training not only helped us to acquire skills, but also enabled us to build our confidence."
Since 2014, the ICRC has been working closely with the Ethiopian Basketball Federation to increase the social inclusion and participation of people with physical disabilities in wheelchair basketball. The initiative was created to help facilitate social inclusion through sports for people who attend physical rehabilitation services at ICRC-supported physical rehabilitation centers. Happily, the initiative resulted in people with disabilities from all over the country benefiting.