Flowers of Tomorrow: The stone of hope for Gaza youth
 "I want to be handsome," says Ahmed Habib, while performing a sketch. Ahmed, 15, is a boy from Shujaeya neighbourhood in Gaza City, which was heavily affected by the 2014 conflict. To this day, many Shujaeya residents still live in parts of their destroyed homes or in caravans that now replace their demolished homes.
On 3 August 2014, shrapnel hit Ahmed while he was fetching water for his family near his uncle's house, where his family sought shelter. It left him with a serious head injury and Ahmed lost the ability to move his right limbs.
"I will always remember how I rode my bike with my two hands, which I am no longer able to do since the injury. I really wish I could ride a bike again," Ahmed said.
Ahmed was one of around 50 Gaza youth who attended the "Flowers of Tomorrow" youth camp, jointly organized by the ICRC and group of 15 young Palestinian facilitators, in August 2016.
The participants were between 12 and 16 years old and included many youth with disabilities.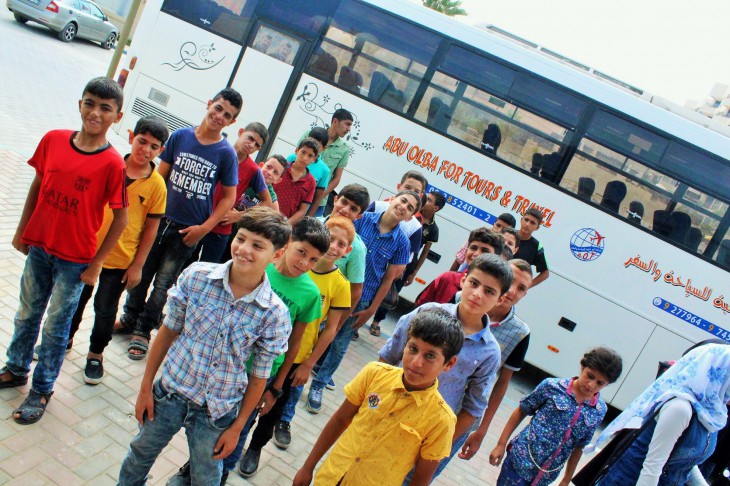 Set by the Gaza beach, the camp hosted an array of activities including theatre, music, Palestinian dance, performance, scouting, arts, storytelling, entertainment activities and swimming. The youth were also provided with psychosocial support sessions. They learned about the dangers of unexploded remnants of war, the importance of including of persons with disabilities and the roles of the ICRC and Palestinian Red Crescent Society in times of emergency.
When Ahmed first arrived at the camp, he shied away from playing or interacting with other participants. But very quickly, he became noticeably different and was eager to take part in every activity. One facilitator said, "it was striking for everybody, and especially for Ahmed's family, how he changed over the six-day camp."
Although Ahmed was quite sad, lonely and depressed before the camp, his mother says that throughout the camp, he could not wait to be there every day. He waited for the bus one hour ahead of pickup time every morning and when he was back from the camp, he would not stop telling everyone in his neighbourhood about it.
Organised with the purpose of motivating and training Shujaeya's youth, the participants' families say the facilitators created something very special with this camp. They listened to the stories and dreams of the youth and inspired them to unleash their creativity.  
Ahmed's mother said, "he learned to love himself and his life." She added that he changed a lot since the camp. "He is now more positive and open."
At the end of the camp, Ahmed took the lead role in a mime performance. "Throughout the activities with the other youth and the facilitators, I realised I want to pass a message to everyone; a message that I'm beautiful, strong and that I can now free myself from my fears and desperation. This is why I wanted to take part in the mime performance. Today, my family saw a different side of me."
The determination in the shiny eyes of all participants during the ceremony conveyed an important message to all of us: By hope, we continue, by will, we progress!