Georgia / Abkhazia: Remains returned to families provide relief and dignity
The unresolved issue of missing persons continues to burden Georgian and Abkhaz families and society many years after the end of the 1992–1993 armed conflict in Abkhazia. ICRC records show there are still over 2,300 people unaccounted for as a result of the conflict.
Below are stories of two families – one Georgian, the other Abkhaz – whose loved ones went missing in the conflict and who, after 22 years of ambiguity, have finally received answers as to the fate of their family members, Zurab Okruashvili and Almas Kapba, whose remains were among those identified.
The poetry of pain
Zhuzhuna and Valerian Okruashvili have been married for 60 years. She is 84 and he is 90. They have been sharing for years the sorrow of losing their two children.
Their older son Zaza was 17 when he died in a car accident. The pain of that loss was still fresh when their younger son, Zurab, went missing during the war in Abkhazia. He was a passenger in a plane shot down in September 1993. 'Babushera plane', referring to the location where the plane was shot down, became synonymous with the disappearance of over 120 people.
Zhuzhuna recalls: "Zurab was a gifted boy – a good painter and a poet. He left home secretly to join the volunteers going to Abkhazia. I did not know where he was, nor that he was on that plane. Seeing the footage from the scene of the plane crash on television, I felt it had something to do with me. That night I dreamt of a huge fire on the horizon and I could see Zurab in the fire asking me to help him. It was a premonition." Two days later the terrible news came, confirming that Zurab was indeed a passenger in the doomed plane.
Zhuzhuna and Valerian were devastated. She attempted suicide but survived and Valerian, despite many efforts, failed to find any information about Zurab.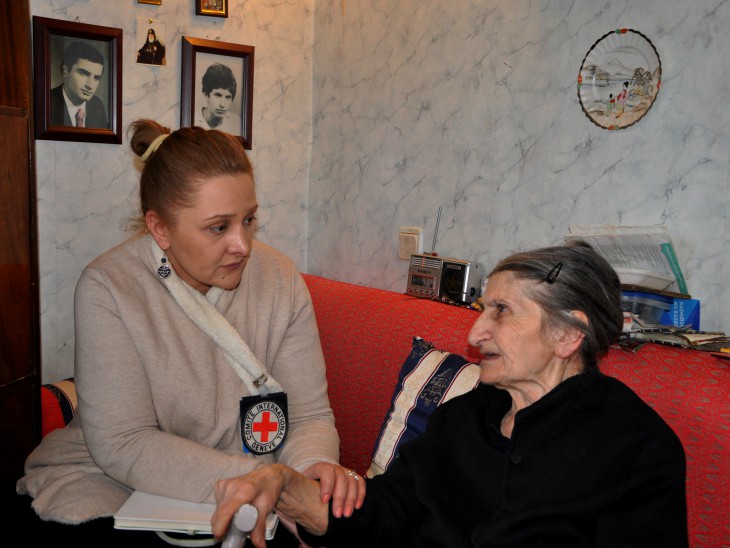 Zurab was missing for 24 years, until finally the grave of the victims of the Babushera plane was excavated by ICRC forensic experts. Valerian recalls: "I was afraid that it would take the Red Cross a long time to identify all the victims and, considering our age, we would not live to see the day when Zurab's remains would be identified."
In April, Zurab Okruashvili's remains were identified and he was buried with dignity in the family cemetery next to his brother. Zhuzhuna and Valerian say that it was a huge relief to see their son buried with honour, that his motherland had finally expressed gratitude to him. "We are somehow now relaxed, at last, knowing that both of our sons are together in the same cemetery."
Zhuzhuna writes poems and has published two books. "Poetry was the way to cope with my pain," she says, signing books 'To people of the Red Cross with gratitude for Zurab'. "Many of the poems are about Zurab, about my emotions and feelings about his disappearance. The mother's heart knew that one day I would receive his remains, and this day has come with the help of the ICRC."
A mountain of grief
Firuza Chamaghua Kapba is the mother of Almas Kapba, who went missing during the 1992–1993 conflict. She is head of the Sukhumi branch of the association of 'Mothers of Abkhazia', which unites families that have lost loved ones.
The Kapba family lived a peaceful life in their native city of Sukhumi before the war started. Firuza worked in the local printing house, where Almas started working when he turned 16 after graduation from school. He was just 17 when the war started and he went to fight.
Almas disappeared in 1993. For 22 years, the family knew nothing about his fate. "Sometimes I thought he was alive," recalls Firuza. "The uncertainty was painful. I didn't know which grave to approach in the Park Slavi [Park of Glory], where the non-identified remains of over 60 people were buried."
Their desperate search for Almas's remains took them to various locations, including Akhbiuk Mountain where in July 1993 a helicopter crashed with several people on board.
Firuza recalls: "When we first went up the mountain, we saw bones. Some bodies were completely burnt. I remember an old man who found a copper plate with the number 1013. We learnt that it was his son's, whose remains were identified some time later. All the bones from the crash site were eventually gathered and put into two coffins. Since then I have always wondered how the remains would be identified."
A mass grave in Park Slavi was the first to be excavated by ICRC forensic experts. The remains of 64 people were recovered there, including those of Almas Kapba, which were identified in 2014. The painful uncertainty of 22 years for Firuza had finally ended.
"Now I bring flowers to his grave on his birthday and on the date that he died. I sit there, cry and talk to him," she says. "As a member of 'Mothers of Abkhazia', I know there are many families who have not yet found their loved ones. This is why what the ICRC is doing is very significant for all of us."


ICRC's work in favour of the families of missing

Since 2010, the ICRC, as a neutral and independent intermediary accepted by all parties, has chaired the coordination mechanism on persons unaccounted for in connection with the 1992–1993 armed conflict and its aftermath.
This mechanism functions on purely humanitarian grounds and is mandated to address the right-to-know of the families of the missing. Composed of Abkhaz and Georgian participants, it is expected to contribute to the process of providing answers to families on the fate and whereabouts of their relatives, and to decide on relevant actions.
Between 2013 and 2015, with the involvement of ICRC forensic experts, 162 sets of human remains were recovered: 46 in Georgia proper and 116 in Abkhazia. Of those 162 sets, 81 have so far been identified and handed over to their respective families. Work continues to identify the other remains.