Nepal earthquake: Two years after devastation, prosthetics come to Marmendu's rescue
Two years ago, Marmendu Tamang's world changed in just a few minutes. On 25 April 2015, Nepal was hit by one of the most devastating earthquakes recorded in the past eight decades. The earthquake claimed the lives of several of her family members, including her father. It left her with an injury so severe that her leg had to be amputated. Today, she talks of this being not just the end of life as she knew it but also a new beginning.
Marmendu, 52, was at her parents' house – close to her own residence in Samundrataar village of Nuwakot district – when the ground first shook two years ago. They were mourning a death in the family and offering food to relatives as part of the rituals.
The earthquake was so intense the roof collapsed burying Marmendu under the debris.
"I was in immense pain as one of the zinc sheets landed deep in my ankle joint, but I thought to myself that maybe this was just a dream," she said recollecting the first few seconds of the tragedy.
Stuck in a remote village, it took the relief efforts two days to reach Marmendu. She was flown by an Army helicopter to the Army Hospital in Kathmandu.
She regained consciousness only to find one of her legs amputated below the knee. The delay had caused immense damage and the doctors had to resort to amputation to save her life. Accompanied with excessive loss of blood, her family nursed little hope of seeing her alive, but she battled and survived the ordeal.
Life at home presented new challenges for her. There were chores to be done but her only means of mobility, crawling, left her with scraped knees.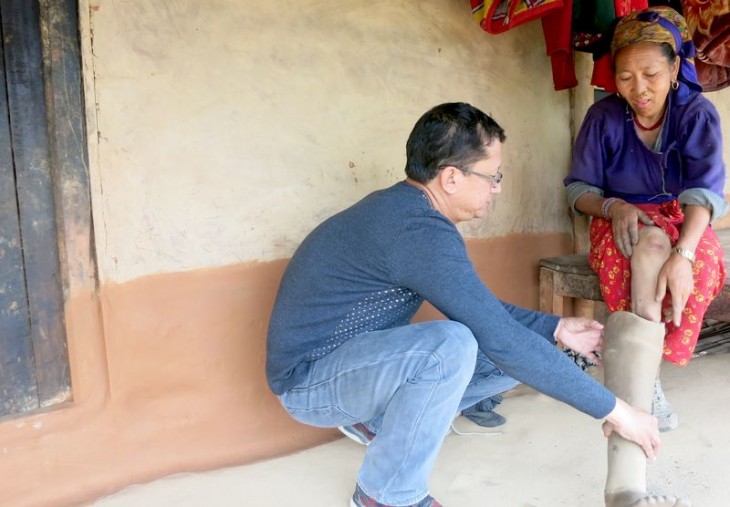 Visit to Yerahity Rehabilitation Center
In January 2017, 20 months after losing her leg, Marmendu was taken to the Yerahity Rehabilitation Center, run by the Nepalese Army in Kathmandu. She spent four days at the center and learned to walk with a prosthetic leg. The Centre in Kathmandu and the Green Pasture Hospital in Pokhara are supported by the ICRC.
"The two centers received a total of 60 earthquake-related cases for physical rehabilitation services," said Jagadish Shrestha, head of the health department at the ICRC mission in Kathmandu.
"Before the earthquake, I made my living by farming in the fields," Marmendu said. "I can't do that work anymore but with the artificial limb I can cook again and do other household chores while my husband goes out to work."
Her husband, Min Singh Tamang, 58, said, "Though an artificial leg does not replace the human leg, this has brought us some respite," adding, "Now when I go to work or to run errands, I am not that worried for her. She can take care of herself which would not have been the case had she been dependent on a walking-stick."
Marmendu sometimes feels it would have been better if she had perished in the quake but her thoughts quickly turn to her grandchildren and her face lights up again. "With the new leg not only can I do household chores, but I can be around my grandchildren to see them grow up," she said. "Most importantly, I can walk on my own."
Marmendu still needs more guidance on how best she can use her prosthesis. She plans to visit the Army Rehabilitation Center in May for physical rehabilitation under the direct supervision of the technical staff. "This time I will stay longer so that I can return home more confident," she said.