The ICRC Donor Support Group
The ICRC Donor Support Group (DSG) brings together the organization's major government donors. Since its inception in 1998, the DSG has met regularly for open and frank exchanges about the ICRC's policies and programming. Its members and the ICRC believe that this regular and cooperative dialogue is the right way to discuss issues that are of strategic importance for both donors and the ICRC.
Membership of the DSG offers unique access to the ICRC's operations and staff as a means of better understanding the humanitarian challenges that the ICRC seeks to address.
For example:
The ICRC regularly invites the permanent missions of DSG members in Geneva to briefings and consultations on operations or topics at ICRC headquarters.
DSG members have exclusive access to written information from the ICRC, mainly through the ICRC Extranet for Donors. This includes field reports, results of assessments and analyses of political issues that have consequences in humanitarian terms.
Belgium chaired the DSG till early summer 2015 and after Switzerland's chairmanship ended in June 2016, Germany has taken over for the next 12 months.
DSG meetings
DSG members and the ICRC meet on average three times a year. During these meetings, donors and the ICRC examine a wide range of issues of mutual interest. The discussions are an opportunity for the ICRC and DSG members to better understand each other, and even, at times, review their positions on specific issues.
Subjects of discussion include:
operational issues;

policy;

thematic topics;

ICRC management and human resources policy;

financing and reporting.
DSG field trips
Field trips provide ICRC donors with a unique opportunity to understand a context, with its specific humanitarian, geopolitical and economic challenges, and the ICRC's response to local humanitarian needs.
DSG members agree on the focus for each field trip. Activities include accompanying ICRC staff during their usual activities, meeting victims and the beneficiaries of humanitarian aid, local authorities and representatives of governmental and non-governmental organizations.
At the end of each field trip, the DSG participants write a report that includes recommendations to the ICRC. The reports are distributed to all DSG members as resource material for continuing discussions. Recent DSG field trip destinations have included South Sudan and Myanmar in 2015, and Afghanistan and the Central African Republic in 2016. In 2017, donors travel to Mali/Niger as well as Lebanon.
Key data:
Donor Support Group: Summary of contributions in 2016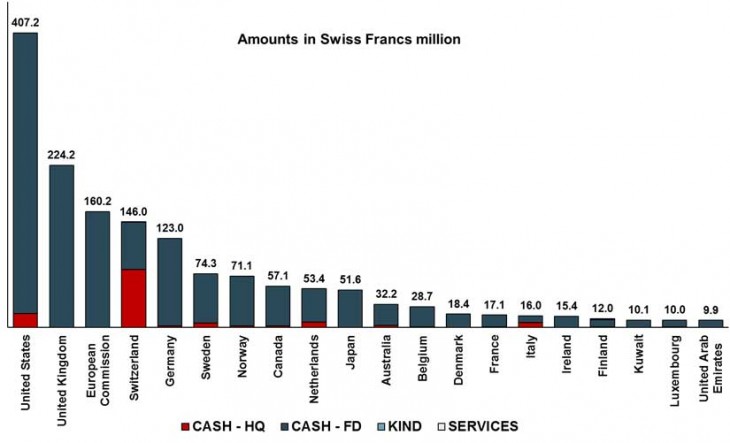 All contributions in 2016 by type of donor