ICRC, Egyptian Red Crescent celebrate Red Cross, Red Crescent day
Cairo (ICRC) - Under the slogan #BeHumanKind, the International Committee of the Red Cross (ICRC) and the Egyptian Red Crescent (ERC) celebrated World Red Cross and Red Crescent Day on Saturday, with the participation of 250 volunteers at a ceremony that was held at the ERC's headquarters in Cairo.
Article
16 May 2022
Egypt
This comes in light of the global celebration of the work of the International Red Cross and Red Crescent Movement's staff and volunteers, and the diverse humanitarian services they provide in different communities. This is the first time the celebration was held after two years of suspension on the back of Covid-19 restrictions.
Minister of Social Solidarity and Vice president of the ERC Nevine El-Qabbaj expressed appreciation for the Red Cross and Red Crescent volunteers, who are always on the frontlines of any crisis. She especially praised the efforts of the volunteers who provided aid during the recent crisis in Ukraine. "Volunteering is about giving, and today we celebrate the volunteers who are the backbone of the movement's efforts around the world," El-Qabbaj said during her speech.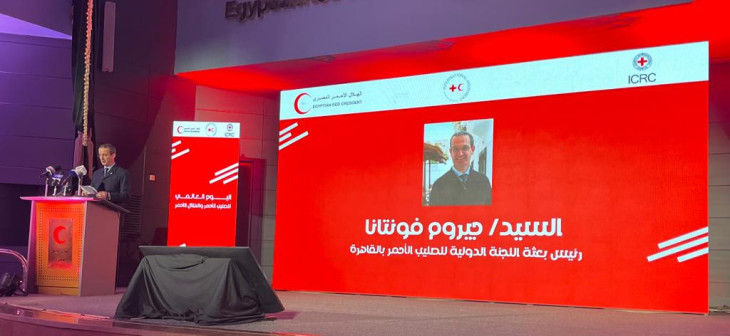 During the ceremony, some volunteers shared their experiences in volunteerism and helping others. They spoke about small acts of kindness that made a difference in people's lives.
"Today, we celebrate the volunteers in the ERC and worldwide for the incredible and invaluable work they do to serve their communities. We acknowledge their commitment, courage and tireless work to help people in need, conveying the very core values of our Movement," said Jerome Fontana, head of the ICRC delegation in Cairo.
The event concluded by honoring the volunteers participating in the ERC's relief efforts on the Ukrainian-Polish border, as well as the most active volunteers in various branches of the ERC.
Every year, on May 8, the commemoration of the International Red Cross and Red Crescent Movement as a humanitarian network of 14 million volunteers around the world is celebrated. This date marks the birthday anniversary of Henry Dunant, the founder of the Movement. The international Red Cross and Red Crescent is the largest humanitarian network in the world, working to help millions of people in situations of armed conflict and natural disasters.
The ICRC and the ERC work together as partners in Egypt to provide assistance to those affected in crises and emergencies. They cooperate in several fields such as rapid intervention in emergency situations, restoring family links, promotion of the international humanitarian law and the dissemination of the seven basic principles of the International Red Cross and Crescent Movement Red: humanity, impartiality, neutrality, independence, voluntary service, unity, and universality. The ICRC and the ERC are also working closely together for the upcoming COP27 in Sharm El-Sheikh.
Each year, the components of the international movement renew their commitment to providing humanitarian services to societies in all emergencies and disasters. 
For further information, please contact:
Nesma Nowar, ICRC Cairo, tel: 0100 0708515, email: nnowar@icrc.org