ICRC, ERCS deliver emergency assistance to IDPs in Northern Ethiopia
The ICRC, in partnership with the Ethiopian Red Cross Society (ERCS), delivered emergency assistance to people displaced, following ethnic violence in West and Central Gondar zones of Amhara region.
Around 20,000 people displaced as the result of the conflict between different ethnic groups have been assisted with a multi-sectoral response aiming at addressing basic urgent needs of the displaced, declared Katia Sorin, ICRC Head of Operations.
The distribution of non-food items, comprising of plastic shelters, blankets, sleeping mats, jerry cans, kitchen sets, and soaps, took place between 23 February and 13 March in Aykel, Chandeba and Sankisa in Central Gondar, Metema and Genda Wuha in West Gondar, Amhara Region, as well as in Humera in Tigray Region.
The ICRC had also built water and sanitation facilities in one of the areas where displaced people are sheltered with an objective of helping them to get access to water and sanitation services. A 10,000 liter-water tanker connected to a water distribution point with pipelines was built. Moreover, four and two blocks of emergency latrines and shower catering services for both males and females respectively were constructed.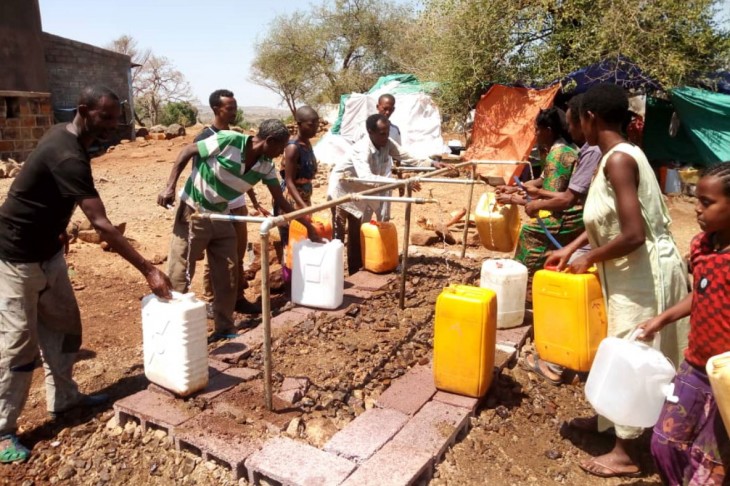 The ICRC will continue assisting the IDPs in the stated areas through the provision of water and sanitation facilities.
Meanwhile, drugs and medical equipment were supplied to health centers in West and Central Gondar in support of the IDPs.
There are an estimated 90, 000 internally displaced people in Amhara Region, according to official figure.
In Ethiopia, the ICRC provides direct assistance to displaced people, consisting mainly of essential goods, seeds and farming tools, and re-establishes basic services such as water supply and health care, with the objective of protecting the lives and restoring livelihoods of communities affected by ethnic violence.