Russian Federation: ICRC helps Ukrainian families
The ICRC has distributed 16,000 food parcels and hygiene kits in southern Russia so far this year to people who fled the fighting in neighbouring Ukraine. We are carrying out these operations with the local authorities and the Russian Red Cross.
Many people who fled from south-eastern Ukraine in 2014 have returned home over the last year, but thousands are still far from their home towns and villages. Some are living in southern Russia, either because of the ongoing hostilities or because their homes have been destroyed.
The ICRC is planning to provide humanitarian aid in the Rostov region, Krasnodar Krai and the Republic of Adygea throughout 2016.
Red Cross assistance arrives just in time
Crossing the border was difficult for Yana and her husband. "Summertime. Heat. Long queues. We wanted to go to the Crimea, but we were directed to a collective centre in the Rostov region." The collective centre closed in Autumn 2014, soon after they arrived. It was hard for the couple to find new accommodation without a permanent job.
After searching for a month, Yana and her husband were allowed to live in an unfinished house. "Three small rooms with a corridor, and the walls were very thin. We didn't know how we would survive in winter. My husband and I did everything with own hands – the construction work and the insulation. Then I found out I was pregnant. We had to work quicker and I could no longer go to work. That was when we started receiving supplies from the Red Cross. Just in time."
Yana has been receiving food and hygiene kits since April 2015. "Without the ICRC's help, life would have been very hard for us. We wouldn't have been able to manage, with not having a regular salary. It was with your help that we survived, and our little Alisa was born a healthy baby!"
Now the house is almost finished, and Yana is thinking about going back to work. Alisa is already nine months old, and ICRC parcels are not only providing food for her family, but also helping her take her first steps.
Nothing but problems
Dmitry moved from Lugansk in eastern Ukraine to the Rostov region of Russia with his daughter's family in the summer of 2014. Their journey was an ordeal. "We had to wait for three hours at the border, the queue was enormous," he explained. "Checking everybody's documents and distributing immigration cards took ages. It was hot. Everybody was tired. Suddenly, shelling began. Shells exploded near the cars. It was terrifying, but we were unharmed. But our problems didn't end there."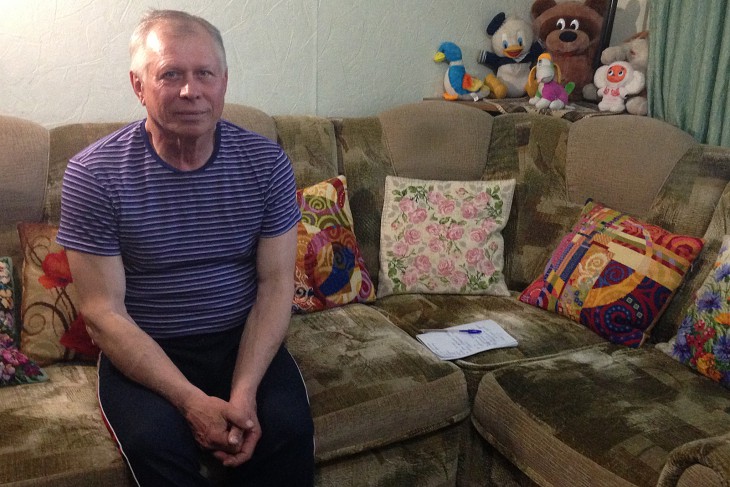 Before the outbreak of hostilities, Dmitry broke four vertebra working on a building site. The family had to flee from Lugansk immediately after the operation. Dmitry had no time to recover and no time to obtain the status of a disabled person. "My back hurts, but I had to take a job on a building site here. What else can I do? I have a family to support. And I'm diabetic."
Dmitry is spending all his salary on medical bills. Despite his age, he cannot get a pension or disability benefits. "I don't know what I'd do without the ICRC supplies. They help a lot! As soon as I get the food, I start planning. I try to make it last as long as possible. And this Sunday is my birthday, so we'll bake pies for the family."