"The last time they saw her, she just had a fever"
A colleague's reflections from Ebola's epicentre
Zawadi's sorrowful cry stabs me in the heart. I see her body bend and shrink as her breath seems to fight against her rage. Five unrecognizable human beings wearing yellow and white plastic protective suits have just arrived with a body bag holding their family matriarch – a mother to some, a sister or aunt to others.
I am at an Ebola treatment center in Butembo, North Kivu, in the Democratic Republic of the Congo. Everything here is sterilized, chlorinated, neutralized. Everything but the pain. One of the five yellow minions opened the body bag to uncover the dead woman's face. That's when the crying starts. The hygienists leave the shelter, giving Zawadi's family privacy. An colleague passes by and tells me:
"Some things... we just never get used to." His words unleash my emotions. I instantly get the chills and my eyes start watering.
I have been working in conflict zones for the International Committee of the Red Cross for more than six years. I have seen the suffering of displaced people. I have buried unknown bodies. I have heard the unbearable melody of firearms.
But this is my first epidemic, and this one is found in a conflict zone. I hadn't understood what I was getting myself into.
When I hear Zawadi burst into tears, I suddenly realize how many people were behind the numbers and statistics I have been seeing in PowerPoint presentations. And my heart breaks a little once more.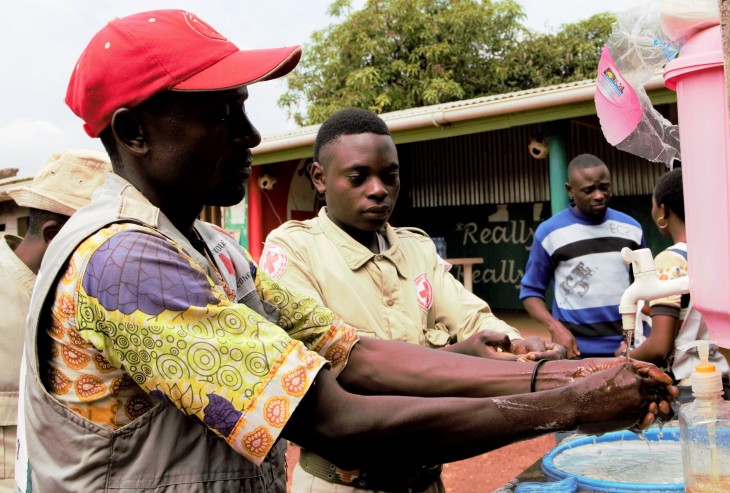 The Ebola epidemic in North Kivu was officially declared in August 2018 in a part of the Eastern DRC province that has suffered from attacks by armed groups, kidnappings and terror for years.
A massive World Health Organization response has been put in place to contain the virus, and this city of 1 million seems to go about its business as usual – unless you scratch beneath the surface.
All hotels are fully booked, and hand-washing stations have popped up in every single one of them. After washing your hands with chlorinated water, you get your temperature checked with the "Thermoflash". My hands are dry and smell like my childhood swimming pool. Constantly. You also have to get soles of your shoes sprayed, so the bottoms of my pants look like they were hippie–style-bleached. Hand-sanitizer is ubiquitous.
This highly sterilized environment comes with a human cost: the "no-touch" policy. Ebola is transmitted through fluid. Tears, sweat, semen, blood. So the best way to avoid getting it is not touching anyone. Ever. We don't shake hands. Don't even think about kissing or hugging. The most daring ones will touch elbows to greet each other but it is as much action as you can get here.
I haven't intentionally touched a living human soul in 25 days, which makes me feel like I am slowly rotting inside. If I feel like this... imagine the families of the victims.
As Zawadi's tears have come to show me, grieving in this part of Congo includes a good amount of crying and shouting, demonstrating your pain and attachment to the deceased.
Ebola is disrupting the grieving system.
Mortuary rituals typically include crying over the body, dressing up the loved one, and many other gestures that touch the remains. Zawadi's family will not be able to perform these rites. Instead, they will say goodbye through a transparent plastic sheeting while her body is sprayed with chlorine before being put in a body bag, then a coffin and finally buried by strangers in scary suits.
The last time they saw her, she just had a fever. They thought it might be malaria. Then she was transferred to the Ebola treatment centre. And reappeared in a plastic bag. Inexplicable. Unacceptable. Violent.
- - - - 
Not everybody comes to die at the centre, thank God. When hospitalized as soon as the first symptoms show, a victim can be cured. Here those people are referred to as "vainqueurs" or "winners". Machozi is one of them. He survived Ebola. Now he is helping us sensitize residents about the virus.
He joins our Congolese Red Cross colleagues several days a week in churches, schools and markets and gives his testimony about the treatment centres and the virus as he tries to beat back the community's fear. These are brave acts. It is not easy to stand in front of your peers and tell them the fear they have is justified but the rumours they hear are not true.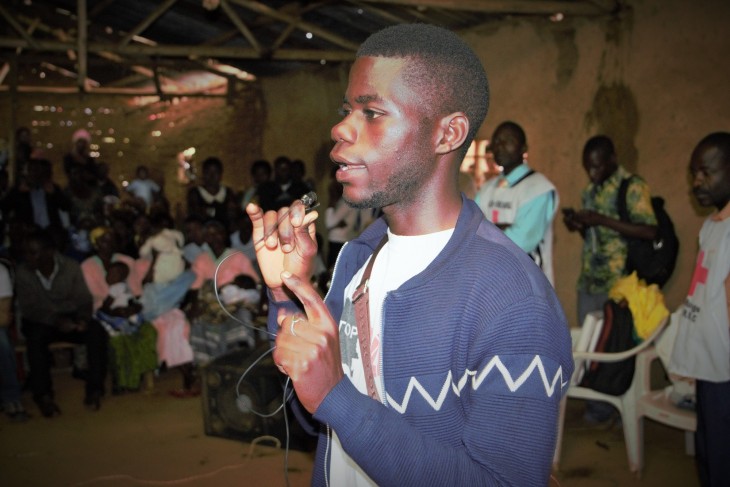 No, he says, the foreigners are not here to steal our organs. No, you cannot heal from Ebola with a traditional healer. Yes, you need to go to the treatment centre as soon as you have symptoms. No, the humanitarians are not getting money from each death.
An army of workers, community leaders, communicators, psychologists is working to dismantle false ideas and convince the population that fighting Ebola means fighting rumours and prejudice. Ebola is real and must be treated.
Epidemics are not a typical part of the ICRC's mission. We have been present in the Butembo and Beni area for eight years because of the conflict.
The Ebola outbreak has brought the International Federation of Red Cross and Red Crescent Societies (IFRC) into the picture, supporting the international response with their expertise in safe and dignified burials. They are the ones who coordinate the Congolese Red Cross teams who go pick up the bodies and bury them according to very strict protocols to avoid any further contamination.
The ICRC supports with our knowledge of the area, our relationships with the authorities and by making sure all teams work in a secure environment.
I watch the ICRC's vehicle drive the coffin away. Zawadi's family is walking towards the exit, crying and shouting.
Another pick up arrives at the same time and inside I see the smallest coffin I have ever seen. A two-week-old baby died last night after being hidden by her grandmother for three days.
Her mother died four days ago of Ebola but the family did not believe it. Even the child-size body bag is way too big for her. As the hygienists uncover her little head I think about my family and my friends.
For a short moment I want to be home, surrounded and protected – with love, not plastic.
By Celine Degen