Iraq: Technician training keeps water flowing in rural areas
The ICRC has been training water technicians in Iraq since 2011. Clean water is hard to come by in the Iraqi countryside. Drought, falling water levels in the Tigris and the Euphrates, low water tables, overuse of water and poor maintenance of water systems are all contributing to shortages. To make matters worse, water technicians often lack the necessary skills, leading to supply failures.
Abu Aissa is a small village on the banks of the Euphrates, 15 kilometres from Najaf in the south of Iraq. Its 2,000 inhabitants grow grapes and fruit, but more and more are abandoning agriculture.
The village used to suffer from frequent water cuts, especially in summer. Mohamed Muhssen Jabr was born here. Now middle-aged, he had to carry water from the river three or four times a day until recently. "All our daily activities were difficult; taking a shower, washing clothes, cleaning the house, everything!"
Hussein, a teenager, also remembers carrying water from the river. "We only used river water to wash dishes and clothes. We never drank it or cooked with it," he explains. Families in Abu Aissa do not trust tap water for drinking. They buy filtered water from shops, where they have to pay 500 dinars (50 US cents) for 20 litres.
Abu Aissa gets its water from the Euphrates, and failures in the water systems were leading to frequent cuts. Hassen Abdel-Amir operates the water treatment unit in Abu Aissa that pumps water from the river and treats it before distributing it to the village network. "It sometimes took days to make a repair and get the water flowing again," he explains. "Every time a piece of equipment failed, we had to call the maintenance team, who would take it to Najaf for repair."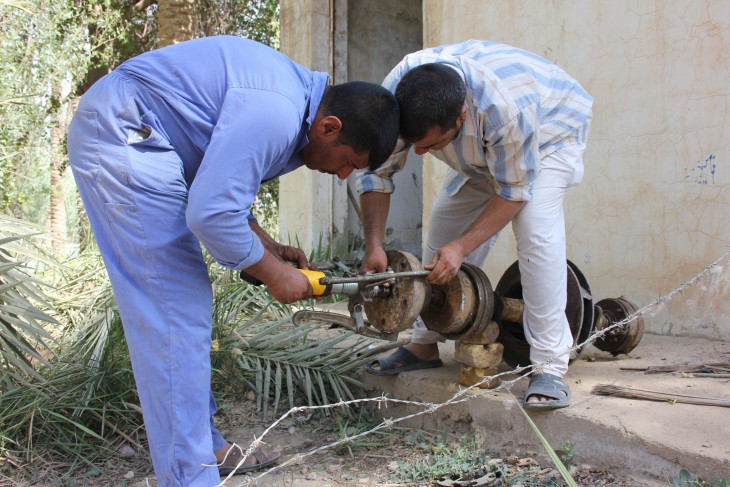 The shortage of skilled technical staff is having a direct effect on the performance of Iraq's water infrastructure. The problem started in the early eighties during the war with Iran, when the majority of trained staff in the water directorates had to join the armed forces. Some stayed in the forces for up to ten years. Many were killed, others retired at the end of the war.
After 2003, the authorities started to build new water facilities to meet the demand, providing 400 new facilities in southern Iraq between 2003 and 2011. But there were too few skilled staff to run them properly.
Since 2009, the ICRC has built or repaired 30 water treatment units in southern Iraq. But again, we soon realized that lack of operator training was causing technical and maintenance problems at some locations.
"The staff operating the machines need a number of basic skills if they are to run the water facilities properly, maintain water quality and avoid cuts in supply," explains Imad Chiri, the ICRC engineer in charge of water projects in southern Iraq. "They need to be able to operate the mechanical dosing system that adds aluminium sulphate and chlorine to the water pumped in from water sources, and they need to be able to solve the most common mechanical and electrical problems without an engineer's assistance." Operators in the southern rural areas were lacking such skills, in particular with regards to dosing and electrical failures. They also lacked essential knowledge of maintenance procedures and safety precautions.
Since 2011, the ICRC has been working with the water directorates in southern Iraq to run training programmes for technicians in Najaf, Babil, Karbala, Basra, Muthanna, Thi Qar and Missan. The courses were given by Basra Technical College, Najaf Technical Institute, the University of Karbala and the University of Babylon. They involved training 285 operators of water treatment units in rural and remote areas in welding, maintenance and electrical skills
Abdul-Kadhim al-Yasiri is Dean of the Technical Institute in Najaf. Speaking after last September's ten-day course in Najaf he explained: "The ICRC's training has really made a difference, because now a technician can fix a broken water pump or a chlorine dosing system without having to wait for an engineer."
During the course, 15 technicians learned how to repair pumps, make electrical repairs and ensure that the dosing of chemicals is correct. The operators also received health and safety training. According to Ali Hussein Darweesh, a supervising engineer of water projects in Abbasiyah area, "Since the course, operators no longer need advice for every single problem. They can organize their daily work better, and that has given people a more reliable supply of clean water."
Back in Abu Aissa, things are easier now for Mohamed Muhssen Jabr. "We have fewer water cuts. I just turn on the tap and water comes out!"
This article was first published on 9 April 2013. At that time, we had trained 285 technicians in Iraq. Since then, the number of technicians undergoing training has risen sharply, with 800 receiving training in 2015 alone.