Lebanon: Healing wounds from conflict, inside and out
Patients are not just fitted with prostheses at the Weapon Traumatology & Training Centre (WTTC) in Tripoli, Lebanon, they also receive psychosocial support to help address the trauma they have experienced as a result of the ongoing conflict in Syria.
People receiving treatment at the WTTC, mostly Syrian, Palestinian and Lebanese, have had their lives changed forever by the brutal conflict in Syria. They have lost limbs to explosive weapons, but they also suffer from deep mental wounds and trauma.
Rehabilitation sessions to help the healing process
"As part of the psychological rehabilitation sessions, we explain to patients that the way they feel and think is absolutely normal after what they've been through," says Nercesse Armani, a psychologist at the WTTC. "Mental health has been a major challenge for us because of cultural attitudes. So we structure sessions in a dynamic and participatory manner."
Psychologists at the WTTC hold group therapy sessions with patients and also one-on-one psychotherapy consultations.
Psychosocial support provides comfort and relief
"When someone loses a limb, people think that their entire body has been shattered and that they will be depressed for a very long time," says Nercesse Armani, an ICRC psychologist at the WTTC in Tripoli, north Lebanon.
"In truth, they bounce back a lot faster than one would expect. What they really need is time to deal with their new situation. At some point, they all move on and resume their productive lives."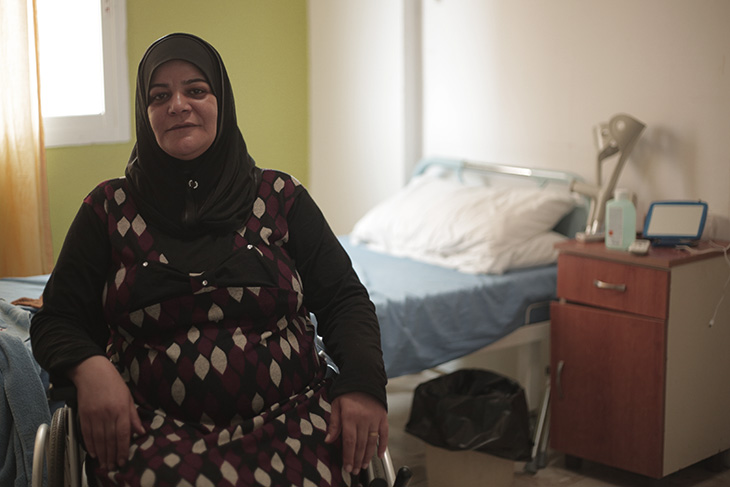 "I want the sessions to be longer. I never want them to end," Maram says while re-arranging flowers in her room. "When we are together – I mean patients and staff – it's like we are at home and not in a hospital. I feel we are one family, randomly knit, but a family nonetheless. Who wouldn't want to spend time with their family?"
"I go into these group sessions in a down mood and leave in a completely positive state of mind. The sessions take me away – even if for an hour or so – from the difficult things in my life."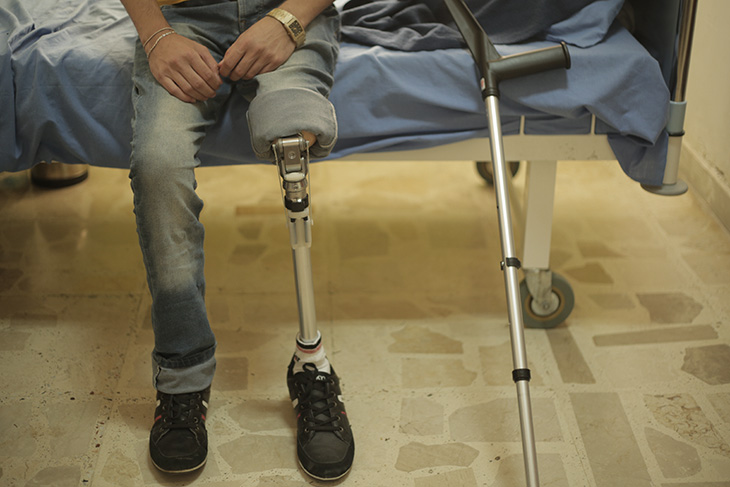 "Rehabilitation sessions helped me to realize how important communication is for my overall health, not just my physical wellbeing. Talking about it and interactive discussions have convinced me that others have the same feelings," said Hussein, who had a prosthesis fitted.
"I sometimes share my feelings now and what I have lived through. I believe that others understand where I come from. This makes me feel that what I say and feel is important; that people listen."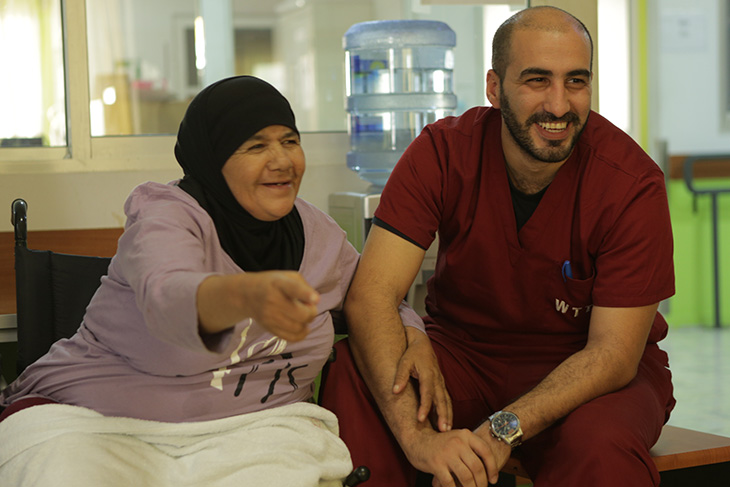 Despite losing her leg, being forced from her home due to clashes, and being away from her children and grandkids; Hamda has not lost her sense of humor and her urge to laugh. She still finds reasons to crack jokes and laugh out loud.
"A couple of months ago, I cried myself to sleep almost every night. But now I feel like I am me again," says Hamda. "Physically and mentally, I am still in pain – but I don't keep the pain to myself anymore. Half of my pain evaporates when I find someone who sits with me to say: I am listening."
Services at the Weapon Traumatology & Training Centre in Tripoli – all free of charge – are accessible to anyone who has been wounded by explosive weapons, regardless of their nationality or background.