Myanmar: The man who thought he would never walk again
After a freak accident turned 29-year-old Sai Kay's life upside down, a chance meeting with an employee of the International Committee of the Red Cross (ICRC) led to his miraculous recovery.
Sai Kay, who worked on a pig farm in Mong Ping, in Myanmar's Shan State, was driving home from a friend's wedding one night when his motorbike hit a boulder on the dark road, knocking him unconscious. When he regained consciousness the next morning, he discovered that couldn't move his legs or get up. Somehow, Sai Kay managed to drag himself up a small hill where a kind store-owner helped him home.
Since Sai Kay's village was very far from the hospital, he sought treatment from a local healer who used herbs to help the young man get better. Although his wounds healed, Sai Kay did not regain mobility. Housebound and depressed, Sai Kay feared for his future and ability to provide for his aging mother.
"I was crawling on the ground, using my hands, I couldn't walk on my feet. I had to rely on other people for everything, even for basics like drinking water or eating food." 
After two long, bleak years, Sai Kay got a call from his uncle, a monk at the monastery in Kyaing Tong. He'd met a visitor who worked as a guard at the nearby physical rehabilitation centre, run by the ICRC in partnership with the Ministry of Health and Sports. The guard had told Sai Kay's uncle about the centre that was only a few hours' drive away and offered different kinds of free medical help to people like his nephew.
Sai Kay didn't have high hopes, but he reluctantly agreed to undergo the suggested treatment at the centre. The young man was told that physiotherapy and crutches might yield some results over time. He exercised at the centre for three hours every day, spending his evenings with the local monks, often sore from the intense physical activity.
Much to his surprise, there were noticeable improvements just within two weeks. Sai Kay could not only take a few steps with his crutches, but also regained the movement of his knees, bending them as he started to slowly walk again.
"Your body tends to slow down if you haven't walked in a while. These exercises make the body regain strength and movement. It helped me walk again," he smiles.
After eight weeks, Sai Kay could walk painlessly for 13 metres and after three months he could cover over 300 metres without crutches.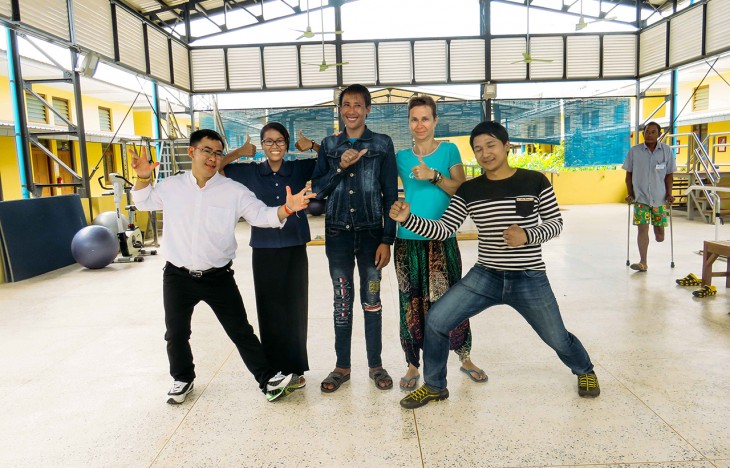 Doing much better than he had expected, Sai Kay is now determined to follow his dream of building a small farm to support his family and show people that anything is possible.
Sai Kay is extremely grateful towards the physiotherapists and staff, but they credit his inner strength and determination for his recovery.
He says, "Nothing is impossible if we really try. Come to the centre and do the exercises, gain confidence and hope. There is hope for everyone!"