Niger: Thousands displaced from Lake Chad islands
Niamey/Geneva (ICRC) – The situation is deteriorating in Diffa in Niger, just across the border from north-eastern Nigeria. The International Committee of the Red Cross (ICRC) and the Red Cross Society of Niger have distributed food and other essential items to over 20,000 people – both locals and recently displaced people affected by the fighting.
In recent weeks, several thousand people have been forced to flee the islands in Lake Chad and take refuge nearby, but their situation remains precarious. "Many are women and children and some had to walk in the heat for miles to get here, where they hope they'll be safe," said Loukas Petridis, head of the ICRC delegation in Niger.
"They need food and water urgently," said Mr Petridis. "Not enough is being done to cope with such large numbers of people on the move."
But the local communities playing host to the displaced people are already facing economic hardship. Dwindling trade with neighbouring Nigeria because of the fighting and a bad harvest in 2014 mean many are struggling to cope. The economy is grinding to a halt, security restrictions have dragged down the quality of life and locals are increasingly dependent on humanitarian aid.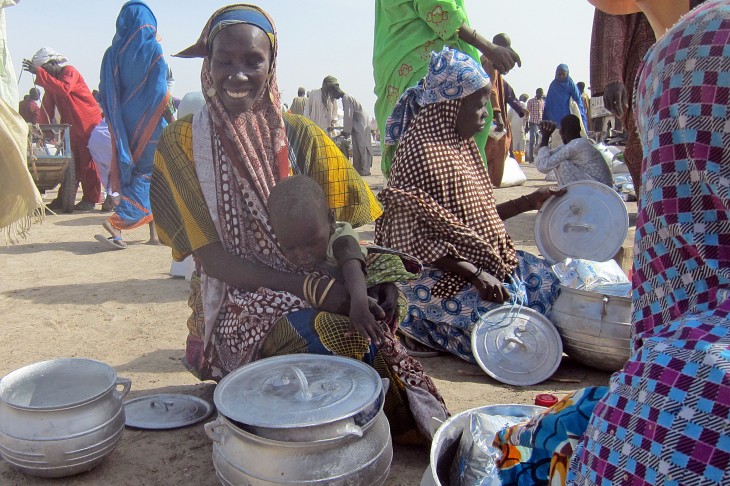 Last week, the ICRC and the Niger Red Cross distributed food in Yebi and Bosso to around 15,000 displaced people who had fled the fighting on the Lake Chad islands. More than 5,000 of them also received essential household items, such as clothing, kitchen utensils and tarpaulins. In the worst-affected areas, aid was provided to another 3,000 local people. Food was also handed out to 3,000 refugees, most of whom were from Malam Fatori, a Nigerian border town that has been affected by the violence several times in recent months.
"We are very worried that the situation may worsen," said Mr Petridis. "The impact on civilians is growing all the time; even so, civilians are not being sufficiently taken into account. We call on all parties to act in strict compliance with international humanitarian law in the conduct of hostilities."
For further information, please contact:
Oumarou Daddy Rabiou, ICRC Niamey, tel.: +227 96 66 99 12
Jean-Yves Clémenzo, ICRC Geneva, tel.: +41 22 730 22 71 or +41 79 217 32 17