Niger: Putting lives back together
The ICRC has been providing support to the physical rehabilitation centre in Niamey National Hospital since 2012. The number of patients from the Diffa region has been growing steadily as the conflict drags on near the Nigerian border. Maimouna, Abakar and Issoufou told us about the day their lives changed forever.
Maimouna
"I'm from Niger, but I was living near Maiduguri in Nigeria when it happened. The area had been dangerous for a long time, and we lived in constant fear of attack. But we had to work to survive. I have a large family to feed and was four months pregnant. That morning started like any other: we were working in the fields when suddenly there were shots. I thought, Quick! Run! Find the children and run! Then I took a bullet to the arm and passed out." Maimouna was rushed to the hospital and awoke in incredible pain.
"I thought I'd die from the pain. They told me there was no way to save my arm and they had to amputate. I was desperate: without my arm, I felt physically and psychologically incomplete and – worst of all – useless. I couldn't really work or help provide for my family. I felt like a burden."
Maimouna returned to Niger, where a routine visit to Diffa Regional Hospital brought good news at last. "The ICRC medical team told me they could transfer me to Niamey to finish treatment. Lots of us here at the physical rehabilitation centre have been scarred by the conflict. Some have bullet wounds, like me. Others were injured by landmines or other explosives. I may have lost my arm, but I'm alive. With my new artificial arm and the rehabilitation I've had here – and the support of my family – I can finally make a fresh start."
Abakar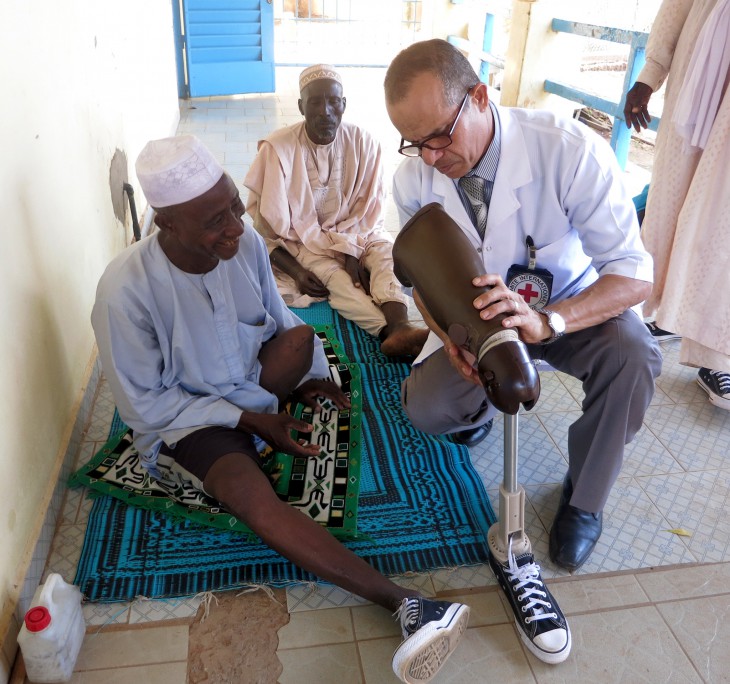 "I'm 58 and a farmer in the Diffa region. We live off the fields: we can't survive without them. But family comes first. So when my brother died, I travelled to Borno state in Nigeria for his funeral. The day I arrived, the village was attacked. The villagers knew where to run, but me? I was a stranger there. I just ran without knowing where I was going and was shot in the knee. Blood spurted everywhere and I fell down in terrible pain. Finally, once things calmed down, they took me to Diffa Regional Hospital back in Niger. I couldn't feel my foot. I didn't understand what was happening to me. The doctors amputated my right leg, and the pain finally went away."
Abakar's relief didn't last long. He soon realized the difficulties he would have to face. "I couldn't work in the fields like before, and I had to use a piece of wood as a makeshift crutch. Life was hard. Then one day, a family member told me that the ICRC could help, that they don't just give out food, water and tarpaulins to people who have been displaced, but that they also help the wounded."
Abakar, along with five other patients, was transferred to Niamey National Hospital, where he is learning to walk with an artificial leg. But that's not all: "Thanks to the rehabilitation sessions, my new leg is starting to feel like a part of me. I've even tried out a few dance steps!"
Issoufou
"It feels like death follows me everywhere. But I'm still alive. I was living in Baga, in north-east Nigeria, when the town was attacked. I'd had a successful business there, but I lost everything in the violence. Some of my close relatives were killed, and my business went up in smoke. With what was left of my family, I fled back to my native Niger. We were totally dependent on friends, relatives and humanitarian aid. We had nothing left, but we received a lot of help. So I wanted to give back by becoming a Red Cross volunteer."
Barely a month after returning to Niger, Issoufou left to visit relatives some 30 kilometres away. "The region seemed calm that day, but suddenly the town was attacked: it was apocalyptic, just like in Baga. I started running but got shot in the leg. They took me to Diffa Regional Hospital with my leg in tatters and my life hanging from a thread. The doctors saved my life, but not my leg. With my disability, I couldn't work anymore. I couldn't even provide for my family. So getting admitted to the centre in Niamey and being fitted for an artificial leg gave me a glimmer of hope. I feel like I'm on the way to getting my dignity and place in society back."
The physical rehabilitation centre at Niamey National Hospital was renovated by the ICRC in 2012. It provides care to patients from all over Niger and offers prostheses, orthoses and walking aids. Limb-fitting services help people living with a handicap regain their mobility and dignity get back to work and play an active part in the social life of their communities again. The number of patients seeking treatment at the centre has been on the rise due to conflicts with the Tuareg people in northern Niger in 1990 and 2006, violence between communities in the Tillabéri region, and the recent conflict in the Diffa region.
The ICRC continues to provide the centre with components and raw materials for making prostheses and orthoses. We also help train ortho-prosthetic technicians and physical therapists, in close collaboration with our Special Fund for the Disabled (SFD), which has its headquarters for Francophone West Africa in Lomé, Togo. In 2015 alone, technical and financial support from the ICRC made it possible for over 540 patients to be treated at the physical rehabilitation centre at Niamey National Hospital.