Peshawar's Lady Reading Hospital gains innovative nursing skills lab
Nurse Rehana Rehman has been taking care of the grievously sick patients at the Lady Reading Hospital in Peshawar for over 20 years now. Having helped save many lives in the accident and emergency department of the hospital, where the veteran nurse is deputed, nurse Rehana knows that it's important to impart basic life support (BLS) training to all members of the nursing community. And this is where the recently established ICRC-supported nursing skills laboratory at the hospital comes in.
"All through my career as a nurse, I have been assisting doctors in the treatment of critical patients. But thanks to the new lab, I feel much more empowered as a health-care provider. In life-and-death situations, I can start airway breathing and circulation maintenance, as well as performing cardiopulmonary resuscitation (CPR) on the patient, all thanks to the skills I have sharpened in the BLS lab," nurse Rehana shares.
The lab, the first of its kind in the public sector in Pakistan, will focus on evidence-based training to continuously improve the skills of the nursing community. It has been set up as part of a memorandum of understanding between the ICRC and the hospital.
Lab manager Tania Jamal said the skills being imparted in the lab would help reduce mortality rate, especially in cases where patients suffer a cardiac arrest.
"There was no concept of capacity-building of nurses at a public hospital. The ICRC helped us with this critical initiative by setting up a lab," said Shaheen Ghani, the director of nursing at the hospital.
John Bert Macato, the ICRC teaching nurse at the hospital, said they had started the training sessions for nurses from the accident and emergency department as that was a priority area.
Approximately two training courses are held on a weekly basis and around 35 sessions have been conducted so far in the laboratory. To ensure sustainability of the project, an entire team – including a lab manager, seven clinical nurse teachers, two support staff and an ICRC teaching nurse – has been set up. Close to 180 nurses have so far benefited from the BLS training while approximately 80 have been trained in intravenous therapy.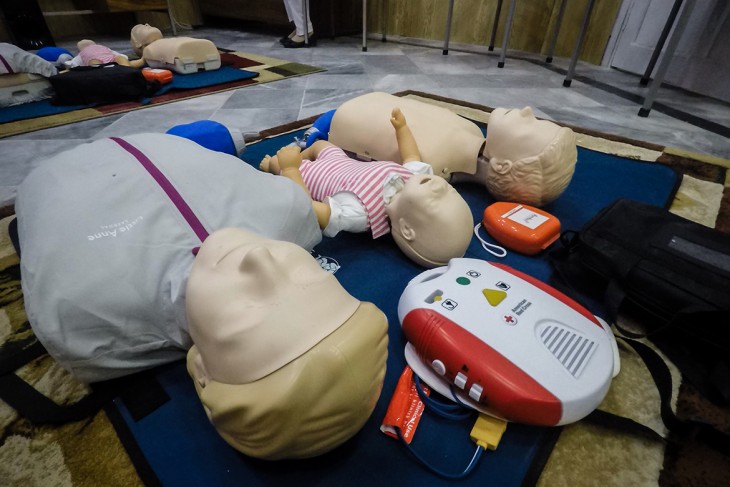 But this, the ICRC teaching nurse says, is just the beginning. "We will expand this training to include nurses from the other parts of the hospital. Training all health-care providers in resuscitation and building a better team response is also part of the plan," he said.