Professional standards for protection work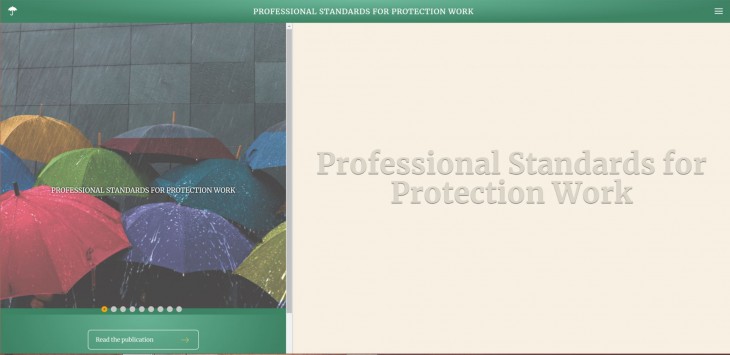 The Professional Standards for Protection Work (third edition) (also available in an abridged version) constitute a set of minimum but essential standards aimed at ensuring that protection work carried out by human rights and humanitarian actors in armed conflict and other situations of violence is safe and effective. The standards reflect shared thinking and common agreement among humanitarian and human rights practitioners and were adopted following an ICRC-led consultation process with UN agencies, NGOs, and components of the International Red Cross and Red Crescent Movement. See this short video with members of the Advisory Group for more information.
Using interactive case studies and exercises, this eLearning allows learners to become familiar with the set of minimum standards that human rights and humanitarian actors engaged in protection work must apply to ensure an effective protection response.
This eLearning, based on the publication, is divided into seven sections:
The overarching principles in protection work
Managing protection strategies
Outlining the protection architecture
Building on the legal base of protection
Promoting complementarity
Managing data and information for protection outcomes
Professional capacity

To reflect the recent evolutions that have occurred in the environment in which protection actors operate, a strong emphasis was made on measuring the outcome of protection activities in terms of the extent to which identified risks have been reduced, and on monitoring and evaluation. A more detailed orientation is also provided on the need to uphold a principled approach to protection work when interacting with UN peace operations and other multinational forces. Additionally, given the rapid developments in information communication technology and concurrent growth in data protection laws, a comprehensive module on protection information management guidelines has been incorporated.
In order to make the Standards more accessible and user-friendly, the eLearning is also accompanied by a mobile application (available for iPhone and Android devices).