Republic of Korea: Exhibition on 'torn apart' lives of conflict affected people
Seoul (ICRC) – An online and offline exhibition illustrating the consequences of armed conflict was launched on March 19 in Seoul. Organized by the International Committee of the Red Cross (ICRC) in partnership with Seoul Shinmun (Seoul Newspaper), the exhibition titled "Torn Apart" draws attention to the suffering of people who have been affected by war, through images and videos captured by the ICRC staff.
The exhibition can be accessed online for the rest of the year. Those interested in seeing it in person, may visit the exhibition at display in the Korea Press Center in Seoul until 23 March. The exhibition portrays how war penetrates into every aspect of people's lives, from being displaced to being separated from loved ones. At the same time it also depicts how the immediate impact of war can gradually develop into long-lasting consequences.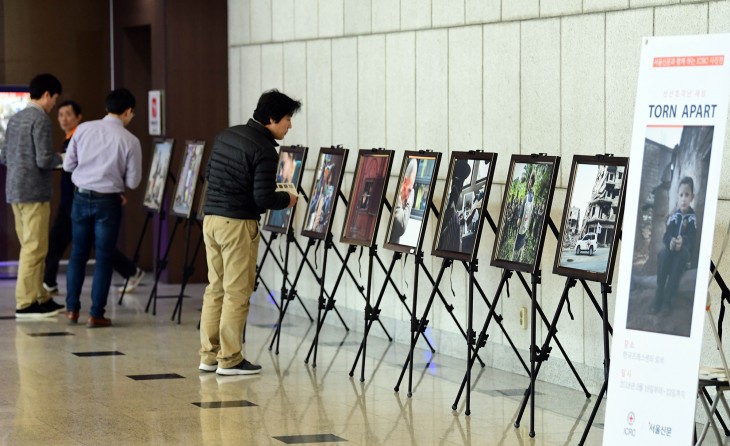 "Not everybody realizes what it means for ordinary people to be in the middle of a conflict zone and lose everything in a few minutes", said Georgios Georgantas, head of the ICRC Seoul mission. "Thus through this exhibition, we hope to raise awareness among the Korean public of the humanitarian consequences of conflict and at the same time tell Koreans what the ICRC does to provide the necessary protection and assistance to the affected people."
Established in 1863, the ICRC is an independent and neutral organization operating in more than 80 countries around the world, mandated to help people affected by conflict and armed violence and promote the laws that protect victims of war. The ICRC's Seoul mission, which opened in 2015, works to promote international humanitarian law and foster support for the ICRC activities in the region and worldwide.
For further information, please contact:
Georgios Georgantas, ICRC Seoul, tel.: +82 10-5254-5375, Soyoung KIM, ICRC Seoul, tel.: +82 10-7232-1575
Valery Mbaoh Nana, ICRC Regional Delegation for East Asia, Beijing, tel.: +86 186 0025 3392
Or visit our website: www.icrc.org
To preview and download the latest ICRC video footage in broadcast quality, go to www.icrcvideonewsroom.org
To find out what the ICRC is doing to put an end to attacks on health workers and patients, go to
www.healthcareindanger.org
Follow the ICRC on facebook.com/icrc and twitter.com/icrc