Rules of IHL are not just suggestions: Senior minister of state
This year marks 70 years since the four Geneva Conventions were universally adopted by States as a reflection of their shared values and ethics in 1949. On 25 September 2019, the Singapore Red Cross (SRC), the International Committee of the Red Cross (ICRC), the Swiss Embassy in Singapore, Law Society of Singapore and the National University of Singapore (NUS) Faculty of Law, jointly commemorated this milestone with a public seminar at the National Library.
The event was attended by over 200 people ranging from government officials, academics and SRC members to people from the legal fraternity, diplomatic circles and general public. It promoted the principles underlying the Conventions, appreciated their function in situations of armed conflict and considered their contemporary relevance.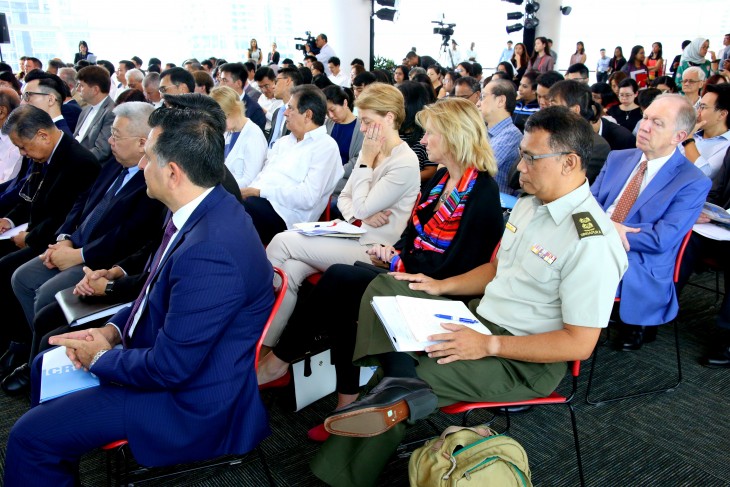 Speaking at the event, Edwin Tong, the senior minister of State for Law and Health, underscored the Conventions' role in minimizing violence and suffering during armed conflict. Reiterating Singapore's commitment to the Geneva Conventions, he said Singapore will carry out the obligations that it acceded to on 27 April 1973. Tong also reminded everyone that the fundamental rules of international humanitarian law are not mere suggestions or ideals.
They are in fact internationally binding rules, which serve to limit the human cost of war.
Biljana Milosevic, the head of the ICRC's regional delegation in Malaysia, called on States to renew their commitment to the Geneva Conventions, adding, "We hope that as we step into the next 70 years of the Geneva Conventions facing many contemporary challenges in an ever-changing world, we all will remember that the Conventions remain as relevant and applicable today as they were in 1949."
Jeffrey Chan SC, an adjunct professor at the NUS Faculty of Law who was formerly SRC vice-chairman and Singapore's former deputy solicitor-general, enriched the discussion by highlighting Singapore's own experience with the Geneva Conventions, especially during the Second World War and retracing case law which was decided by the Judicial Committee of the Privy Council.
In his closing remarks, SRC chairman Tee Tua Ba emphasized the Geneva Conventions' role as a compass for humans in the worst of situations, saying that even when the Conventions are violated, we are and must be conscious of their protective capacity.