Rwanda: Eliane finds her family after 24 years of separation
Eliane Ibemaso is not going to forget 29 May 2018 anytime soon. That's the day she was reunited with her family after 24 long years. Unfortunately, she couldn't meet her parents who had passed away a few years ago.
"I am contented to know the fate of my parents, though I learnt that they passed away. I am no longer worried since I know that I have a little sister, a maternal grandmother, uncles and aunties who are still alive," said Eliane while hugging her maternal grandmother who now lives in Gasabo District, Kigali city.
"For sure, this is God's miracle. It's unbelievable," said her grandmother, Therese Mukasekuru, who was unable to hold back her tears when hugging Eliane.
Now married and a mother of two, Eliane was separated from her family by tragic events of the 1994 genocide when she was only three years old. She fled with her paternal grandmother to the Democratic Republic of the Congo, who suddenly passed away a few years after, leaving her to struggle with life alone in Congo.
In 2007, she decided to return to Rwanda but had no clue of her origin and faced difficulties integrating with the Rwanda community where she didn't know anyone. Despite the best of her efforts, searching for her family turned out to be fruitless. Disappointed, she decided to head back to Congo.
In 2011, when she moved to Rwanda, she pursued her efforts to trace the fate of her parents and siblings. She was discouraged by the lack of relevant information. "At certain times, I lost hope but I kept thinking of my parents every single day and night," said Eliane.
In May 2017, she was informed that the International Committee of the Red Cross (ICRC) could help trace her family. She immediately rushed to the ICRC's office in Kigali Rwanda and submitted a request.
A radio announcement was aired and two months later, the ICRC received Bonaventure Kagina who claimed to be Eliane's uncle. A day later, the ICRC put them in contact and all her family members instantly recognized her claiming she resembled her mother so much.
When she reached home, her uncle Kagina quickly ran into the room to bring the photo of Eliane's mother. "You could not imagine how I have been living in extreme sadness having lost the memory of my mother's face. Though she passed away, I am still happy to see her face," Eliane said, staring at the photo of her mother.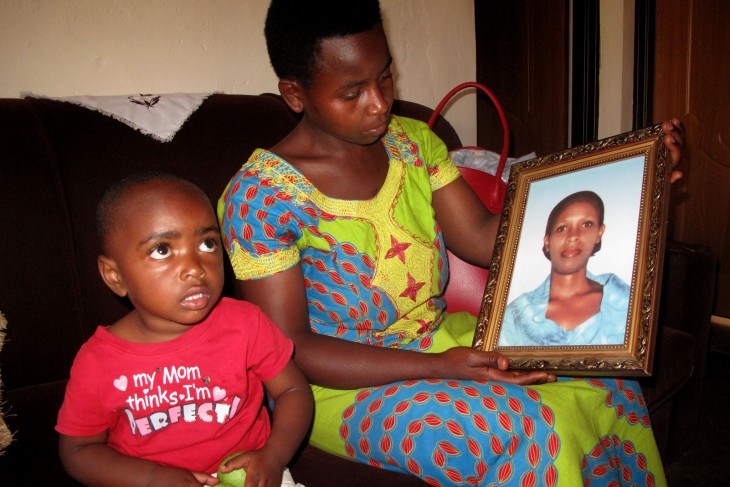 Eliane had lived in Nyanza city, south of Rwanda, for seven years not knowing that her paternal family was living in Kigali, just around 110 kilometers away. She was saddened to know that her mother died in 2013 when she was already back in Rwanda.
However, she was very happy to learn that she had a little sister who is pursuing her studies in Malaysia.
The ICRC continues to help separated family members find each other, working with the Rwanda Red Cross Society. As of May 2018, we were still searching for the relatives of more than 30 unaccompanied Rwandan children and more than 80 adults separated by conflict. In addition, we are helping Burundian and Congolese refugees in Rwanda who want to stay in touch with their families abroad or find them if they have lost contact. As part of this help, we offer phone calls and phone-charging services to enable them to stay in touch with their loved ones.