Thailand: Small businesses, big hopes
A micro-economic initiative done right
Losing a loved one is not only a huge emotional blow, but can also threaten the family's survival if the deceased happened to be the sole breadwinner in the house.
There are many families in southern part of Thailand who are struggling to make ends meet after losing their sole breadwinner and this is where the International Committee of the Red Cross (ICRC) has been trying to make lives better via its micro-economic initiative. Over 450 families have been provided with grants in the form of tools and equipment, helping them run a small business and sustain themselves.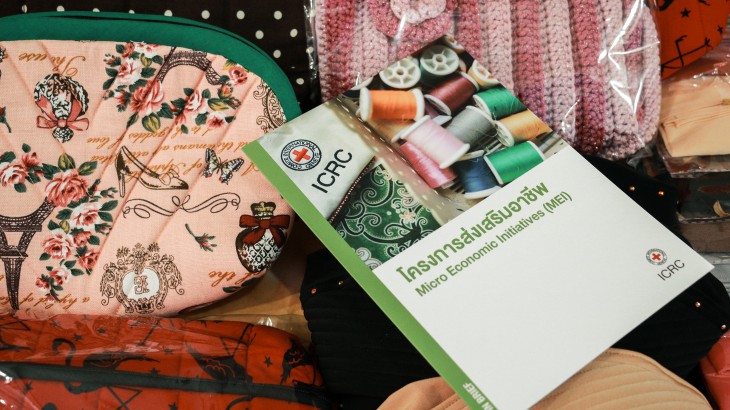 Mena, who has also benefitted from this programme, shared her experiences of working with the ICRC. "After my husband passed away, I was left with the impossible task of looking after our nine children alone. Neither did we own a house, nor did we have any savings or a source of income. I worked from dawn to dusk, seven days a week, so that my children could continue their education. It's then that a friend advised me to seek help from the ICRC," she related.
Once Mena got the grant, she started a small business venture of selling dried fruit and fish crackers. Encouraged by the response, she will soon add pineapple jam to the kitty.
Like Mena, many others who have been able to stitch their lives together with the ICRC aid participated in an event organized by the Thai-Muslim Housewife Foundation in Bangkok in November.
One of the beneficiaries, Pla, said after her husband passed away in 2007, she had to get on her feet so that she could take care of her little daughter. "With the help I got from the ICRC, I started selling grass jelly, dry noodles and fermented powder. They deserve a million thanks for coming to my assistance when I needed it the most."
Apart from individuals, the ICRC also supports small local businesses. Sri Maya group is a good example. Their local hand-dyed technique using natural colours is eco-friendly and generates income for the community. "This collaboration has made us more confident about taking the business to a wider market, thus providing employment to more people," said Nawarat Noipong of the Sri Maya group.
"While each context is different and each household has specific needs, we try and help set up sustainable business ventures as part of this programme. Participation in events like these helps the beneficiaries improve their business acumen and also gain exposure," said Feisol Hamad of the ICRC.
Apart from tools and equipment, the ICRC also provides training sessions as part of the initiative.