Somalia: Farming cooperatives mean more food for everyone
The ICRC is working with farming cooperatives in Somalia to increase food security amid erratic climate conditions that alternate between drought and floods. This approach with cooperative movements on farms was very effective before the outbreak of Somalia's civil war.
Marie Del Marmol, the ICRC agricultural specialist for Somalia recently spoke about her experience with cooperatives.
Tell us about this new approach to supporting cooperatives.
A cooperative means uniting people to help everybody, and this is already a social pattern in Somali culture. We felt that when farmers come together and form a group, it is easier for them to share resources like equipment, new farming techniques, ideas and access to services.
How does the ICRC support cooperatives?
We engage the farmers in discussions and offer them technical support. We also train the board members of each cooperative on management, as the cooperative is really a social and business entity. We encourage them to develop their ideas and share their needs with each other. Last year we distributed tractors to 31 cooperatives. The tractors offer different services like harrowing, farrowing and ploughing at a subsidized rates to members of the cooperative, which drastically reduces their costs and this has a direct impact on their income. We train the farmers on how to use, repair and maintain a tractor.
More requests are coming from the community and by the end of 2016 we shall engage 20 more cooperatives into the programme.
How do you interact with communities so that residents are interested and engaged with the program?
We first hold discussions with community elders and other authorities before the start of any program. We then share with the farmers the program's goals and expected outcomes. Afterward we answer any questions they might have and listen to their feedback, including suggestions that could improve the program.
Do you use a specific criteria when engaging a cooperative?
We work mainly with pre-existing informal farming cooperatives. The rain-fed farms usually produce crops, while others specialize in growing vegetables using the irrigation system. In the coastal areas, fishing cooperatives are active and we are in discussions on how we can work together. In the riverine areas we engage subsistence fishermen. Over 80% of the farmers in the cooperatives we support also produce honey, which they sell in the local market.
The ICRC supports cooperatives in the regions of Hiran, Lower and Middle Shabelle as well as cooperatives in Puntland, the Jubas, Gedo, Bay and Bakool.
What are the advantages for the farmers?
In some regions members of the cooperative divide themselves into wealth groups categorized by the size of their farms. Those with smaller farms pay a reduced fee for registration and equipment hire. In some cases the fee is waived, and this benefits the small farmers who would otherwise feel vulnerable.
Within the cooperative, the farmers maintain a strong network with each other and have the strength to adapt to new farming innovations and improved crop production and cultivation techniques, which result in higher yields. As a group, they can access and advocate for partnership with larger entities and organizations. In 2015, a cooperative in Bacaadley, Jowhar district that received training was able to hire a local contractor to dig irrigation canals. They paid him 50% of the fee and promised to pay the balance after the harvest, knowing that they would produce enough after making use of the tractor and farming skills learnt. This kind of internal planning and organization is exactly what we expect from them in the long run.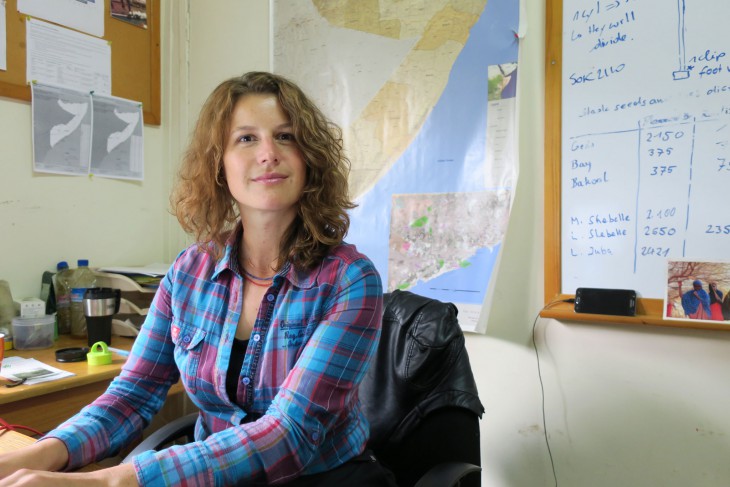 When you talk to farmers, what do they tell you about the program?
They are very happy with the level of support the ICRC is giving especially in terms of big machinery. We continue to hold continuous discussions with them so that they may understand that the aim is to move from dependency to resilience. It is for this reason that we are offering capacity building training to build their confidence.
Have you encountered any challenges while running this programme?
The availability of spare parts for equipment like the tractors was a challenge at the beginning, threatening the sustainability of the programme. After discussions with some companies, suppliers are beginning to stock the spare parts.
Otherwise, while women farmers make up an impressive percentage of the overall farming community in Somalia, we hope more will join our focus group discussions in the future.
How is the ICRC developing this programme?
We will continue to encourage the exchange of ideas and information between cooperatives on food storage, cultivation and links to markets. We shall provide qualified staff to advise farmers throughout the annual cycle and we shall continue to provide training and demonstration fields.
In the future, together with a research centre based in Somalia, we shall identify cooperatives to pilot seed multiplication and seed banks. This will ensure the availability of good quality seeds in the market at an affordable price throughout the year.
Read more about how we are helping to improve the economic security of individuals and communities.