South Sudan: ICRC calls for more support to the families of missing persons on International Day of the Disappeared
Juba, South Sudan (ICRC) – To mark the International Day of the Disappeared, the delegation of the International Committee of the Red Cross (ICRC) in South Sudan, together with the South Sudan Red Cross (SSRC), showed their solidarity with the families of the missing persons at a commemorative event that took place on Wednesday, August 30.
The families of the missing, representatives of government bodies and the civil society attended the event with the theme of "Together for the missing" held at the South Sudan Council of Churches ground.
The families spoke about the suffering they endure due to the absence of their loved ones, the challenges they face in their search, and the need to know the whereabouts of their missing family members.
After the speeches, the SSRC drama group and the choir of the families of the missing from the Don Bosco Internally Displaced Persons Camp performed on stage.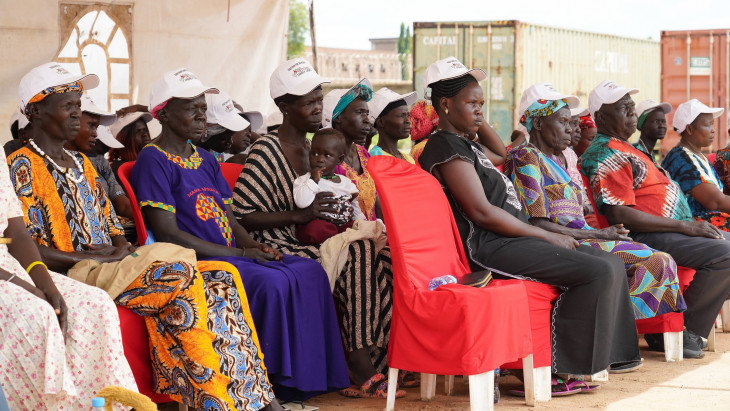 "When our relatives go missing and no information on their whereabouts is provided, no one can tell us whether they are dead or alive. It creates wounds in our hearts," said Priscilla Dudu, whose brother went missing years ago.
The ICRC called on all stakeholders involved to provide more support to the families searching for their missing relatives.
"It doesn't matter if the person went missing due to armed conflict, violence or a natural disaster, the suffering of the families is immense. The ICRC has been working with partners to support and accompany these families by bringing them together so they can share the weight of the absence of a relative and receive psycho-social support," said Florence Gillette, ICRC's head of delegation in South Sudan.
"In South Sudan, the authorities have expressed genuine interest in this issue. Indeed, it is the authorities who bear the primary responsibility in addressing the needs of the families and clarifying the fate of the missing persons. We would like to see even stronger support provided to the families of the missing." Gillette added.
Since the independence of South Sudan, the ICRC and the SSRC have recorded approximately 11,000 cases of missing persons in the country and in neighboring countries.
While the fate of an approximate 5,000 could be clarified, the ICRC and the SSRC, in line with their humanitarian mandate, continue searching for over 5,900 persons and accompany 81 families.
Meanwhile, many more cases of missing South Sudanese remain undocumented.
Since the beginning of this year until the end of June, 290 new tracing requests were collected, and 267 cases were resolved, while seven family unifications were facilitated by the ICRC and the SSRC.
During the same period, the ICRC provided 17, 567 phone calls to families separated by conflict, violence, and natural disasters, among which, 4,885 calls were offered to South Sudanese returnees and Sudanese refugees fleeing the conflict in Sudan.
 For further information, please contact:
Yuxia Jiang, ICRC Juba/South Sudan, Tel: +211 (0) 912 179 318, yjiang@icrc.org
Darko Jordanvo,  ICRC Juba/South Sudan, Tel: +211 (0) 912 360 023, djordanov@icrc.org