South Sudan: Prosthetic leg transforms disability into ability
In October 2015, British photographer Giles Duley travelled to South Sudan with the International Committee of the Red Cross (ICRC). Himself a triple amputee – the result of an IED in Afghanistan – Giles visited the Physical Rehabilitation Reference Centre in Juba, which helps people with physical disabilities to rebuild their lives. There, he met Nelson Nyumbe.
It's impossible not to warm to Nelson when you meet him. "Excuse me Sir," he says with a beaming smile, "may I ask to see your legs?"
I was visiting the ICRC's Physical Rehabilitation Reference Centre in Juba, South Sudan. Since it was built in 2009, this 50-bed centre has been providing rehabilitation, prostheses and orthotic devices for a wide range of beneficiaries from across the country. As you would expect, after decades of war, the majority of patients are those injured by landmines and other remnants of war. But it also treats those with disabilities from birth, those who have been disabled by illness and, increasingly by car accidents. It is estimated that in South Sudan there are over 40,000 people in need of this service.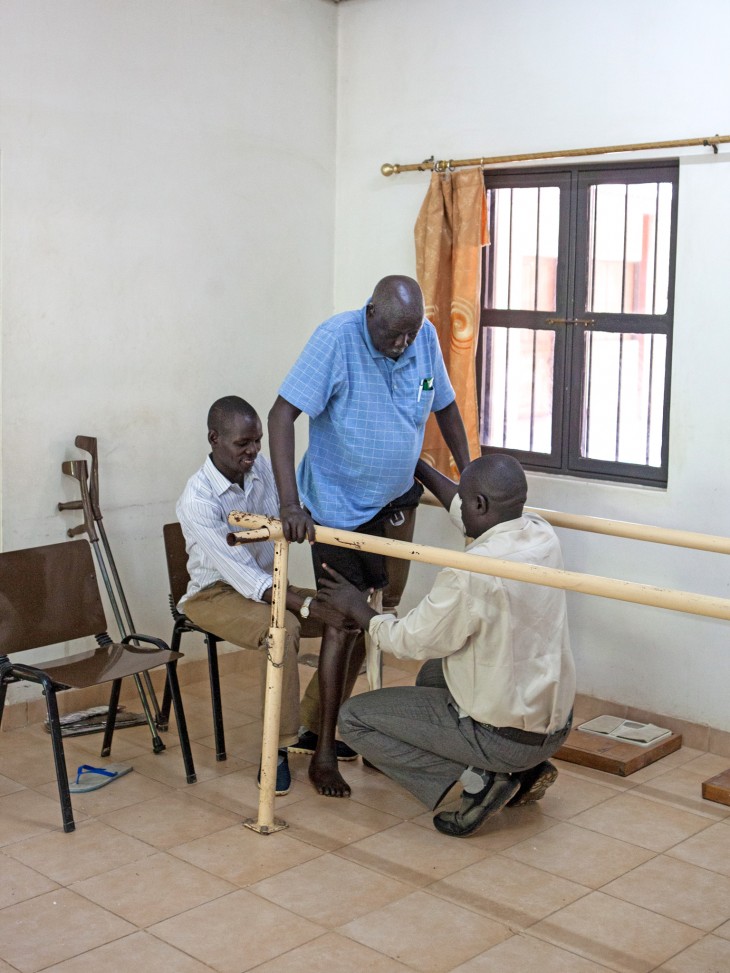 Their latest patient was Nelson Nyumbe, 70, who had his leg amputated in April 2015 following complications associated with diabetes. When I met him, he was waiting to have his fist prosthetic leg made.
Being an amputee myself, I know how hard those first months are. To go from an active life, to suddenly being dependent on others. It's a time of such uncertainty, of unexpected change. I remember what it was like being faced with prosthetics for the first time, and so I understood Nelson's curiosity about my legs.
We sat and chatted for a while, Nelson examining my legs and asking questions. For him, the thing was being dependent on others.
"So many people are abandoned when they get disabilities," explains Nelson, "this is an important project for those people. I don't want to be dependent on my family, I want to do things when I want, for myself."
It was ten days later when I returned to the Rehabilitation Centre and a beaming Nelson greeted me, stood between the parallel bars on his new leg.
"Look," he exclaimed, "I am standing! I want to be abled, not disabled, and this new leg will give me my independence again."
It was incredible, in just over a week, Nelson had his first prosthetic leg and was taking his first steps to independence. Having gone through the same experience, I know how vital and life-changing this moment was. Without the ICRC's work in South Sudan, thousands like Nelson would never get their independence back.
I for one am grateful for their work.