Ukraine: Lending a heart to detainees' health
Keeping in mind the staggering number of heart disease-related deaths in Ukraine's prisons, the ICRC has put in place a programme to allow for effective treatment of cardiac patients in detention.
An ordinary room at the Oleksandrivska Hospital in Kyiv has turned into a lecture room for a week. But it does not sound like a normal lecture – the listeners actively share their opinions as the professor listens attentively. This rather unusual setting is part of the first seminar on cardiovascular diseases that the ICRC has organized for prison doctors.
While doctors are used to attending lectures to upgrade their knowledge, most of these talks traditionally emphasize on treatment of diseases like tuberculosis or HIV. It's rare to come across a training, such as this one, that focuses only on cardiovascular diseases.
"A significant number of mortality cases in places of detention are related to heart disease," says Alexander Grif, who takes care of detention-related activities at the ICRC delegation in Ukraine. "Given the statistics, prison doctors play a central role in providing effective treatment."
According to the official statistics, 140 detainees in various penitentiary institutions of Ukraine died of cardiovascular diseases in the first ten months of 2017, accounting for almost 30% of all deaths in detention.
"The existing cardiovascular problems get exacerbated as soon as a person gets detained," explains Dr Yevhen Andrieiev, an associate professor of internal medicine at the Bogomolets National Medical University. "These diseases are not difficult to diagnose. In fact, it's easy to get a blood test or a cardiologist's opinion regarding a detainee's cardiogram. The only question is how to transfer this data from a prison hospital to a regular one," Dr Andrieiev adds.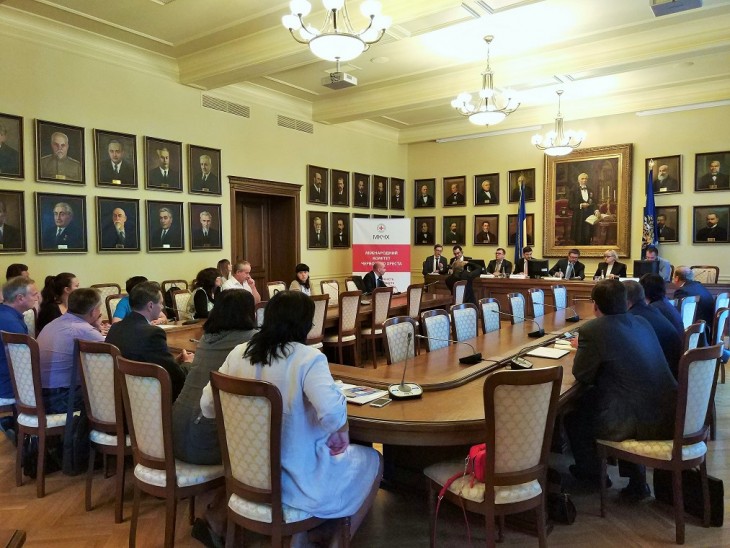 Victoria, who participated in the ICRC seminar, is a doctor at the Vilniansk Correctional Labor Colony No. 20 in the Zaporizhia region. She admits that doctors often lack in-depth knowledge of cardiovascular diseases and their treatment.
Irina, a physician at the Punishment Execution Facility No. 19 (Lviv), says the lecture helped her understand the kind of assistance that the ICRC could extend in facilitating the transfer of a seriously ill patient to a specialized medical institution, which requires changing the conditions of detention.
The ICRC role includes reporting seriously ill patients to the prison medical staff and prison administration, whenever our teams come across such cases during routine detention visits. Apart from these training programmes, the ICRC provides essential drugs and basic diagnostic equipment to selected detention facilities.
Earlier this year, the organization facilitated the repair of the Kyiv SIZO pharmacy, which is at one of the main prisons in Ukraine, and also stocked it with medicines. The ICRC has also financed refurbishment of two prison pharmacies, a medical laboratory, and donated various pieces of furniture to several detention facilities across Ukraine.
Within the framework of the ICRC health in detention project, 20 prison doctors from ten major prisons received clinical training and educational material like clinical algorithms, screening tools and medical ethics in 2017 alone. These doctors work in prisons that, together, host approximately 10,000 detainees, or 17% of the country's prison population. There are currently 832 prison doctors for a prison population of 58,311.
"Our health in detention project tackles a significant, but often overlooked problem of heart disease in prisons," says Faraz Jamil Kakar, the ICRC detention doctor at the delegation in Ukraine. "The key is to adhere to evidence-based clinical guidelines and promote safe, effective and ethical medical care to patients in prisons. The task is massive, but we are confident that the results will start to show soon."