ICRC exhibition brings reality of war to Australian cities
To watch the city you love die is heart-breaking, yet this is a reality for many as wars are increasingly fought in urban areas. When wars are fought in cities, they devastate buildings and infrastructure, they endanger the lives of civilians. And even after the fighting ends, the effects last for decades.
This year, the International Committee of the Red Cross (ICRC) is bringing the War in Cities exhibit to Australia, with showings in Canberra, Brisbane and Melbourne. A powerful new commission from artist Marwa Charmand joins the exhibition, showcasing human stories from conflict. The exhibition will next be shown at the University of Queensland's School of Political Science and International Studies from 16 August - 1 September, in partnership with the University of Queensland Rotary Peace Centre and Visual Politics Research Program.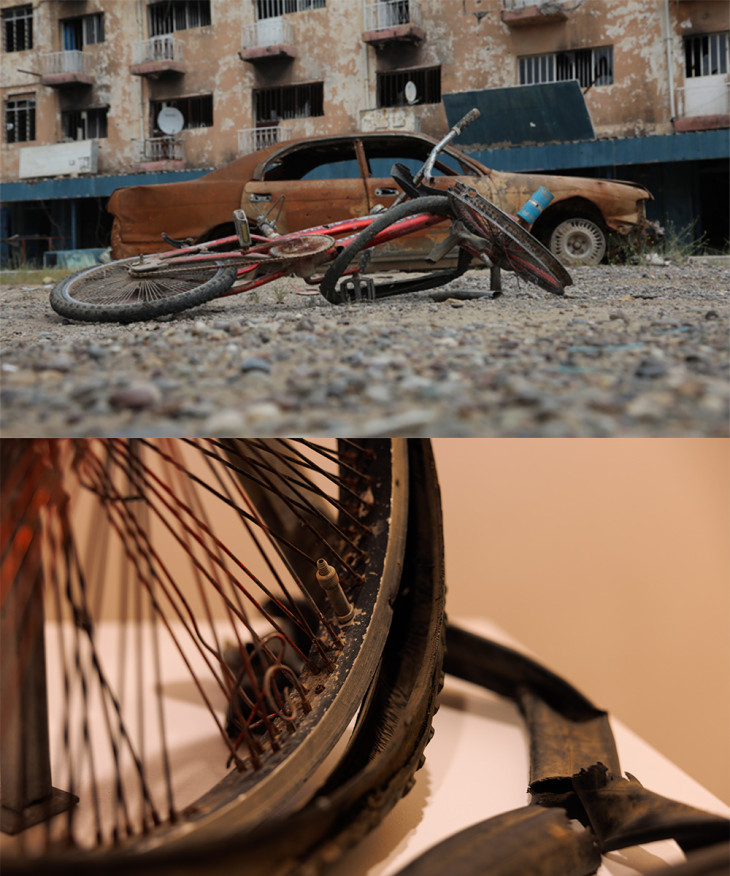 What happens when war quite literally knocks at the door of your apartment? The horrors of being trapped in a city at war are manifold: the water stops flowing, the light and heating go off, windows are shattered by shock waves from nearby explosions, food becomes scarce, and life turns into a constant struggle to survive. Unearthing new strength from within becomes a new way of life as routine things like having clean water can be an unrelenting challenge.
In 2017, we asked our ICRC colleagues in Iraq to collect objects from areas they visited just after the fighting had stopped as they brought relief or family news to survivors. The request was unusual and it took a few trips to identify, photograph and collect these items from the destroyed cities of Baiji and Ramadi. With the authorization of their owners or the local community, these objects were collected from destroyed buildings that had just been cleared of explosives, from the streets and from a school left in ruins.
Objects collected from battlefields, historical and contemporary audiovisual materials from the ICRC tell a story about the staggering toll of urban warfare on people, the humanitarian needs that arise, and people's resilience.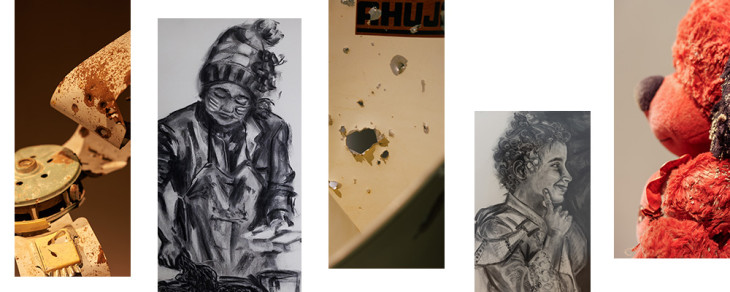 Wars are generally represented in museums long after the facts have been documented and the dead buried. But wars can be told in a different way: a teddy bear covered with grey concrete dust or the few delicate porcelain remnants of tradition recount another, no less important, story from this modern battlefield.
The exhibition will be showcased at the University of Queensland's School of Political Science and International Studies, at level 4 & 5 of General Purpose North Building 39A, from 16 August 2023 - 1 September 2023. 
And in Melbourne at Testing Grounds from 14 - 26 November 2023. 
'War in Cities' was shown at F Block Hall, Gorman Arts Centre from 31 May 2023 - 6 June 2023. The program was supported by Arts Capital at Ainslie and Gorman Arts Centres.
For any queries please reach out to canberra@icrc.org.
FREQUENTLY ASKED QUESTIONS
What time can I visit the exhibit?
The exhibition will be showing from 16 August 2023 - 1 September 2023. The space can be visited between 9AM and 4PM during the week.
Where is it located?
The exhibition will be showing in two spaces, in room 402 on the 4th floor of the General Purpose North building (39A), and in the foyer on the building's 5th floor at the University of Queensland's School of Political Science and International Studies, Saint Lucia campus.
What can I expect to see?
While not graphic, the exhibition focuses on war and its impacts. The exhibit contains objects that our colleagues found or sourced in armed conflict-affected cities in Iraq. Our teams visited these places after fighting happened so they could bring relief or family news to survivors. The objects gathered for this exhibition are not archaeological artefacts, unique works of art or even beautifully crafted. Many could be found anywhere: a handbag, a fan, a doll. Yet we displayed them with respect, as they bear witness to the suffering of civilians in today's urban wars and demonstrate why the law of war matters. These objects are real – they once served a simple purpose in a community or a school, brought joy to a child or pride to a household. That is, until a bomb exploded and their owners had to flee.
A work by artist Marwa Charmand will also be at the exhibition, showcasing portraits and photos from populated areas around the world that are impacted by conflict.
Download the exhibition book to learn more:
Date & Time
16 August 2023 09:00 - 1 September 2023 16:00 AEST
Venue address
School of Political Science & International Studies
Level 4 & 5, General Purpose North Building (39A), The University of Queensland , St Lucia QLD 4072, Australia