Leave a legacy for life beyond armed conflict
Request our brochure
Remembering the ICRC in your will is really easy to do, and is one of the most wonderful ways you can help people caught up in armed conflict. Request our legacy brochure today.
Leave a legacy for life beyond armed conflict
Remembering the ICRC in your will is one of the most wonderful ways you can help people caught up in armed conflict. You can give back a future to people who can see no hope of one right now. Years from now, we'll be there with practical and emotional support for victims of conflict thanks to your kindness. Please remember the ICRC with a gift in your will. Thank you.
It's so easy
It is so easy to remember the ICRC in your will. All you need is our name and address.
You can bequeath a specific sum of money or a percentage of your estate. Every gift, however large or small, makes a difference. Every gift will go directly to helping those enduring armed conflict. But if you would like your legacy to be used for a specific region or operation, please contact Marie-Jo Girod.
Writing your will
Your will enables you to leave part of your estate to a cause you believe in. It is important that you make a valid will, so please seek professional advice.
A will gives us all greater freedom of choice to give what we want to friends and family and to charities we are passionate about.
A will is easy to make and often costs little or even nothing.
It is also important to remember that you can revoke or change your will at any time.

How to make a will
The requirements for a will vary widely from one country to another. In Switzerland, for instance, a signed, dated, handwritten document, stating the place of signature, constitutes a valid will.
In Switzerland there are two kinds of will you can make:
∎ Holographic will: written entirely in your own hand, this is the simplest kind of will.
∎ Notarial will: drawn up in the presence of two witnesses and before a notary or any other person empowered to do so, this document guarantees that your will complies with the law.
If you opt for a holographic will, you should be sure that the document will ensure your final wishes are respected.
You should always consult a professional, such as a notary public, lawyer, bank official or financial consultant, to make sure that your will says what you want it to and that it complies with the law, especially regarding the entitlements of family members.
How to include the ICRC in your will
Because the term "Red Cross" is open to a variety of interpretations, please make sure that you include your first name, last name, date of birth and address, as well as the name and address of the ICRC:
International Committee of the Red Cross (ICRC), IDE: CHE-105.924.024
19 Avenue de la Paix
1202 Geneva
Switzerland
Please specify the kind of legacy gift you wish to leave. Indicate the place and date of signature and, finally, please make sure you sign your will.
It is entirely your choice what you leave in your will and depends on your personal circumstances but includes:
∎ A sum of money
∎ A percentage of your estate (e.g. 1%, 10%, or up to 100%, depending on your personal circumstances and domestic inheritance laws)
∎ Shares and other investments
∎ A specific item (e.g. a painting or piece of jewellery that you own)
If you would like the ICRC to receive all or part of your estate after the death of the original beneficiary (in other words, the ICRC would receive your gift only after the death of your husband/wife/son/daughter), you can specify this in your will. For more information, please contact Marie-Jo Girod. She will be happy to help.
A delegate's story
Twenty-eight year ago, Alberto Cairo arrived in Afghanistan on his very first ICRC assignement. He never left. Insteadm he has dedicated his life to helping the Afghan people deal with the consequences of nearly 40 years of conflict. Now he's head of the ICRC's rehabilitation programme in Afghanistan. Over the years, his team has taught nearly 150,000 people, including thousands of children, not only how to walk again, but also how to reclaim their independance and their future.
Disabled people need more than a plastic leg and the ability to walk again: they need a role in society to regain their dignity and self-respect
In the picture, you can see four-year-old Manijà, who has been coming to the ICRC's clinic in Kabul for regular physiotherapy since February. Manijà suffers from cerebral palsy, but she hasn't let that stop her. "The day Manijà came was her birthday," recalls Alberto. "She is a very lively girl, always smiling."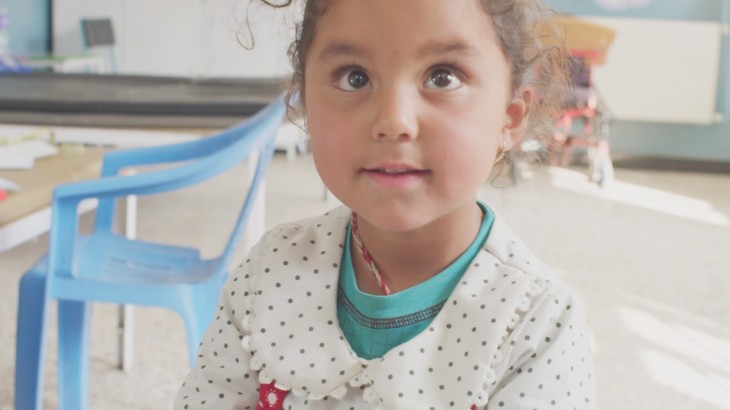 Children are innocent victims of war. Help us give them a future, and through them, give their country a future too.
Since 1863, it has been the ICRC's humanitarian mission to help and protect the lives and dignity of victims of armed conflict and other violence. The ICRC was the founding member of the International Red Cross and Red Crescent Movement and is the guardian of international humanitarian law, also known as the law of armed conflict.
By making a gift in your will to the ICRC, you give future generations the hope of a life beyond armed conflict.
Click here for more information about the history of the ICRC.
Our promise to you
We understand that including a gift in your will is a personal matter that requires time and careful consideration. That is why we want you to know how much we appreciate this very special gesture and promise you that
∎ We will always understand that your own family, friends and loved ones come first in your will.
∎ We will not put pressure on you to include a gift to us in your will – it is your decision.
∎ We will never ask you how big or what type of gift you have chosen to make.
∎ We will always respect your privacy – you do not have to tell us your intentions. However, we would like to be able to thank you and to offer a way of having your generosity remembered by future generations.
∎ We fully understand that personal circumstances change and there might come a time when you have to remove the ICRC from your will.
∎ We promise to use your gift wisely.
∎ We will honour your wish if you would like your gift to be used in a special way.
Meet Marie-Jo Girod, our Legacy Programme Manager

I was an ICRC delegate for eight years before taking up my post as legacy programme manager. I have seen first-hand the good that donations and legacy gifts do for people shattered by war. They help to rebuild communities, restore strength and give people the hope of a life beyond conflict.

If that is something you would like to do, please consider leaving a legacy gift to the ICRC.
We're here to help
If you would like to talk about anything to do with leaving a gift to the ICRC in your will, please get in touch. I will be very happy to help
Your questions answered
What will happen to my estate when I die?
If you don't leave a will, your estate will be settled in accordance with the law of your country. If you live in Switzerland, the entire estate will be shared between the legal heirs. If you have no heirs, your estate will be awarded to the canton or the municipality where you lived.
Not leaving a will means that your wishes won't be taken into account and your assets may not be divided up as you would have wanted. Furthermore, you will not be able to leave part or all of your estate to a charity that you believe in.
Will the ICRC have to pay inheritance tax?
In most countries, the ICRC is exempt from inheritance tax on legacies. However, it is a good idea to contact us first to make sure, or to seek professional advice.
Can I leave a gift in my will for a specific ICRC programme or country?
Yes, you can if you choose something that is already part of the ICRC's work. However, we do not accept donations or legacy gifts for a specific hospital, village, project or group of individuals, nor for a specific area of a conflict zone. As a general rule, we advise against restricting the use of legacy gifts to specific programmes or countries. That way, we can use funds to help those most in need immediately. In addition, the programme in question may no longer exist in the future.
Would a small gift in a will make any difference to the ICRC?
Yes. Whatever the amount involved, every gift is a meaningful act. It shows support for the ICRC and helps the victims of armed conflict to have a better life and future beyond war. Everyone can be a part of what we do by leaving a legacy, no matter how large or small. The size of gift depends only on your family circumstances, your personal wishes and your country's inheritance laws.
Should I inform the ICRC of my intentions?
That is entirely your choice. We would like to be able to thank you for your gift. But you might also like it to be used for a specific region of the world or a specific programme. If you would like to talk to us about this, we can help ensure your gift is used for the purpose you are most passionate about. Please contact Marie-Jo Girod, who will be happy to help.