Displaced persons in Democratic Republic of the Congo
Read how the ICRC works in the Democratic Republic of the Congo helping displaced people including women and children.
Serious violence in the Democratic Republic of the Congo has led to mass displacement with many people finding themselves far from their homes and unable to grow their own food. This in turn has created a food crisis with new cases of acute malnutrition among children under five.
In the Kasai Region, over a million people have been displaced due to the fighting that has been going on for nearly two years. And according to the United Nations, more than 650,000 people have been forced to flee the violent clashes in Tanganyika Province.
Kyungu Mayaula is one of the people who fled from the fighting in Tanganyika Province. Together with his two wives and 12 children, they walked over 50 kilometres to escape the bloody communal violence. Desperate to meet his family's basic needs, he was forced to take more risks for their survival. These risks led spinal shock and a fractured arm when he fell from the top of a palm tree. Despite this, he refuses to return to his home village, fearing that the violence will start up again.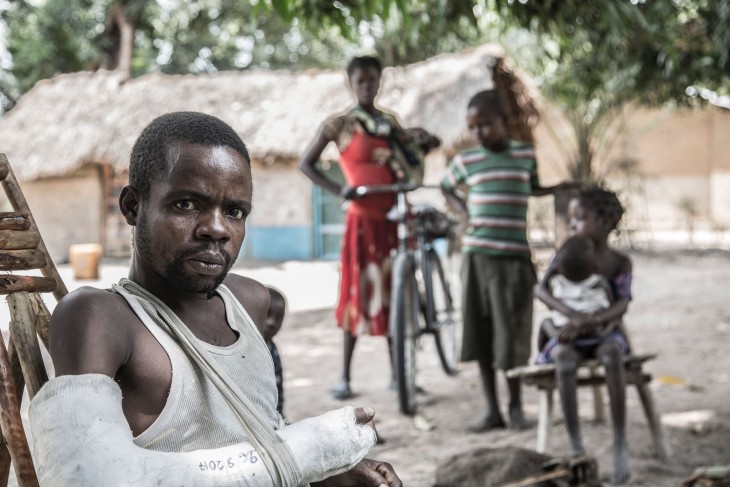 The extremely brutal clashes between groups, armed mainly with axes and machetes, has had very serious consequences for people of all ethnicities in the local population: many have been killed, wounded or traumatized, villages have been burned and fields destroyed and there has been massive population displacement.
The effects of this outburst of violence are still very visible today. The situation remains volatile and threatens to flare up again at any moment, preventing the displaced from going back to their villages and living a normal life.
The ICRC is concerned about this crisis. We provide medical care to the displaced and travel to the most affected villages to treat the ill among the victims of this violence, regardless of their ethnicity. We have also supported health centres in the Tanganyika region by repairing buildings and donating furniture, medicines and medical equipment.